Paul Butterworth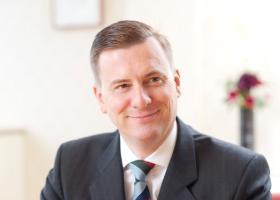 Paul Butterworth graduated from Aber in 1996 with an LLB. He was a Lieutenant Commander in the Royal Navy before leaving in 2005 to take up a career in international recruitment and is now a Partner at Odgers Berndtson, one of the top six global headhunters and is based in London.
What do you remember most about your time at Aber?
I was sponsored by the Royal Navy to attend university so was in the fortunate position of having already gained employment. It allowed me to fully enjoy university life without worrying about finding a job after graduation. A real highlight was being Alban Davies Hall Chair and also Cathsoc President for a year. Every Aber grad has fond memories of walking up Constitution Hill, 'Kicking the Bar' and discos at 'the Footy'. Once finals were over, many afternoons were spent on the beach enjoying fantastic weather hoping a return to the real world would be a long time in coming! In the Law Department – Tort lectures with Richard Ireland and Professor Dick Kidner and Contract with the legendary Koffman & McDonald.
What are you doing now career-wise and how has your Aberystwyth Degree helped?
Upon graduation I returned to the Royal Navy full time and undertook professional courses in navigation, warfare and engineering. Deployments to various parts of the world included the Falkland Islands, West Africa, South America as well as Europe and the Far East. I was closely involved in events in Sierra Leone in 2000 and following that period at sea, I was appointed to the high profile role of Flag Lieutenant (or Aide-de-Camp) to the Commander-in-Chief Fleet. This period saw the UK response to 9/11. My best job in the RN was being in Command of my own ship, HMS BLAZER and also commanding Southampton University Royal Naval Unit or URNU (there is a Wales URNU!). This was followed by a second ship Command of HMS PURSUER, based in Cyprus conducting anti-terrorist and security operations in the Eastern Mediterranean. My law degree gave me an excellent grounding in logical argument and taught me how to frame a view in such a way as to gain buy-in from others, together with a fantastic understanding of 'reasonableness' and a few tricks learnt in crime lectures helped when representing my sailors in disciplinary matters! It also helps even now in understanding what my barrister wife talks about when we're at home! I left the RN in 2005 as a Lieutenant Commander and now enjoy life as an international headhunter at Odgers Berndtson, where I lead our Maritime & Shipping Practice, helping shipping, ports and marine services clients to hire the very best senior executives and non-executives for their businesses.
What advice would you have for a student doing your course now?
A law degree will NEVER be wasted! Even if it is not pursued professionally, the life skills learnt will always be valuable in any commercial or personal context. Reasoned argument, logical thought and true presentation skills are rare indeed – a law degree is a great foundation to work from! And a distant memory of contract law is always of some use in business.