Martin Smith
Martin Smith graduated from Aber with a BSc (Econ) in Marketing in 2015. As well as working full-time in marketing, Martin is using the qualifications he gained at Aber to pursue further studies.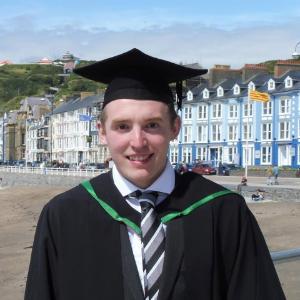 What do you remember most about your time at Aber?
As I'm sure with most Aber alumni, I cannot pick just one thing that stands out from my time studying at Aberystwyth University!
I was really impressed with the personal relationships that a student builds with their lecturers and personal tutors. I always felt like I was supported throughout my degree and I hold the highest regard for everyone who taught, advised and helped me along the way. Then, even after you graduate, the door isn't slammed shut behind you. The relationship continues and enables you to grow from strength to strength in the business world outside of the Aber bubble.
I also made fantastic lasting friendships with other students. Since graduating, I have had the honour of being the Best Man at my best friend's wedding, the married couple meeting whilst at Aber. I now have many friends from all over the world, and ones that I am sure will stay strong for life.
Finally, I cannot miss out the stunning seaside location. I grew up in the middle of Derbyshire, so as far away from the sea in any direction you can get. Therefore, I was incredibly lucky to discover such a fantastic university and town that was located right next to the sea; it felt like I was on holiday all year round when I saw the sea!
What are you doing now career-wise and how has your Aberystwyth degree helped?
I now work full time as a Marketing Officer for a small but highly ambitious company that deals in processing machinery and overall site maintenance for distribution centres.
My day to day job is ensuring that our customers such as TK Maxx, New Look and Super Dry are updated with all our latest products and industry information. This involves using our e-marketing and CRM systems to track the high value orders and pitch premium products to these customers through email campaigns that I design myself, along with site visits to meet the managers in person.
In my first year a university-run marketing competition introduced me to the 'inner circle' at Aberystwyth Town Football Club and I began volunteering with the club as a Marketing Officer. I helped to manage the digital marketing aspects such as the official club website, social media channels and the e-commerce shop. During this time, I completely redesigned and developed the club's official website, which I have subsequently done for my current employers. At the end of the 2014/15 season, I was awarded with the Clubman of the Year award, one the highest awarded from the club.
As well as working full time, I am studying towards completing the CIM Level 6 Diploma in Professional Marketing, helped by the exemptions gained with my Marketing degree from Aberystwyth.
What advice would you have for a student doing your course now?
My advice would be quite simple; have fun and enjoy yourself.
As much as going to university is about studying hard towards a degree, I also believe that leaving home and going to university is about discovering yourself as a person. If I had let myself get super-stressed out with all the studying, exams and assignments, I wouldn't be where I am today.
There is so much that you can do at Aber, so make the most of it and you will become a better person. For example, have barbecues and fires on the beach (where permitted!), hike to the top of Constitution Hill to marvel at the awesome views and go for seaside jogs along the promenade then kick the bar under Consti.
You are fortunate enough to live in Aberystwyth for at least 3 years, so go out and enjoy it!