James Maitland Wood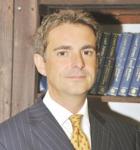 James graduated from Aber in Law in 1987.
I have fond memories of my time at Aberystwyth, both academically and socially. From working long hours to complete assignments; to meeting people from many different places; to living in Borth and enjoying country pursuits, I enjoyed the friendly and collegiate atmosphere it offered.
What are you doing now career-wise and how has your Aberystwyth Degree helped?
I am currently the Attorney General for Anguilla. Prior to this appointment, I held the office of Attorney General for Montserrat, another British Overseas Territory. My degree at Aberystwyth assisted from the outset of my career, by bringing out and developing an interest in international law, constitutional law and criminal law. I have been fortunate in being able to apply many legal principles that seemed so distant at the time. For example, It is unusual for a practitioner to have the opportunity to be involved in the reform of a constitution, but I had the honour of assisting in the negotiation and drafting of the new constitution for Montserrat, which came into force in 2011.
What advice would you have for a student doing your course now?
My advice can be distilled into two words: 'work hard'. It is an increasingly competitive world, but opportunities do exist for those who persevere and who are determined. At the same time, it is wise to remember that Aberystwyth is surrounded by fantastic countryside and the sea. Whenever the opportunity properly presents itself, it is good to make the most of being in such an environment.