Georgi Enchev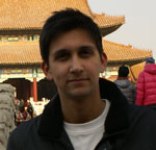 Georgi graduated in 2011 with a BSc (Econ) in International Politics. Having lived in Bulgaria, Canada and the United States of America, Georgi is currently broadening his international experience even further by studying Chinese Economics in Beijing.
What do you remember most about your time at Aber?
Today, even though thousands of miles away and in a completely different environment, I quite often find myself thinking back to my time in that small town on the Welsh coast. Aberystwyth holds for me the best memories of my life - the experiences and the very people that I met there made me who I am today. I remember so vividly most of my time there because I literally grew up whilst listening to my international politics lectures in Penglais campus or hanging out with my mates in the cafes and pubs of town. Being quite young when I started at Aberystwyth, every moment for me was a lesson in life as well as a chance to learn more about a subject I was, and still am extremely passionate about.
Just like most of the students there, for me Aberystwyth was the place that I experienced most of the good things in life for the first time. Perhaps the fondest memories I have of my studies there are during the final year of my undergraduate degree. I recall the day we turned in our dissertations as if it were yesterday. After we handed in our papers to the department, we all headed to the beach in one of the sunniest and warmest days I have ever seen in Aberystwyth. We celebrated into the night surrounded by the smoke of firewood and the smell of barbecue on the salty sea air. Each of us felt as if the world was open for us to conquer. Aberystwyth, truly unlike any other university in the world, gives you the feeling of simply being able to enjoy each day there and celebrate being a student.
What are you doing now career-wise and how has your Aberystwyth degree helped?
Following my graduation, I decided that I wanted to stay in Wales so I moved to Cardiff and started working in the banking sector. This lasted only briefly however, as what I truly wanted to do was to continue studying and developing what I had learned in Aberystwyth. Having lived in Bulgaria, Canada and the USA before I moved to the UK, I felt the need to challenge myself again and take on another culture for my postgraduate studies. This is when I moved to where I am now - Beijing, China. In fact, because of the skills I learned from my life in Aberystwyth, I was able to quickly adapt to this new dynamic and quite different surrounding. Initially, I took a semester to better my knowledge of Chinese, which I actually first started learning back in Aberystwyth. After completing this, I enrolled at Renmin University of China's master programme of Chinese Economics. While it may seem quite different to the international politics I studied in my bachelor's degree - the two are actually very intricately connected. After all, politics and economics are the two sides of the same coin.
What advice would you have for a student doing your course now?
I have switched from being a student in a town of twenty thousand to being one in a city of over twenty five million. Now I have the chance of learning firsthand from one of the fastest developing and most perplexing countries to the minds of the West. Yet, I probably would have never come here and succeeded if it wasn't for the long hours I spent studying in the corners of Hugh Owen library, fuelled by the copious amounts of caffeine consumed in the Arts Centre. Everyone that graduates from Aberystwyth leaves a piece of advice for their current and new classmates, in the hopes that they will have just as great a time being a student as they had - whilst being as prepared as can be for the world beyond the rolling hills of Ceredigion. What I can say to Aberystwyth's students of International Politics is this - study hard, but also enjoy your time there and spend time outside the walls of the library. Most of my friends have only one regret about Aberystwyth - not doing as much as they wanted to besides studying. Finally, it is important to remember that leaving university does not necessarily mean cutting all connections with that place. In fact, that is the time when we have the chance to finally give back something to Aberystwyth and continue making it the best place in the world to be a student.
‌