Fran Button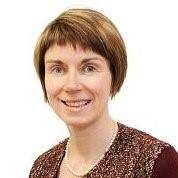 Graduated in 1993 with an LLB in Law.
What do you remember most about your time at Aber?
I have so many happy memories of my time at Aber and the friends that I made there. The Law Department was a very supportive and most importantly a fun learning environment. Student life was brilliant – music at Rummers, discos at the Footy Club, drinks in the Seabank and elephant pancakes (no actual elephant involved!) in the Welsh Fudge Shop. The outdoors seemed to feature heavily in my time at Aber – walks on the seafront and over the cliffs, trips to North Wales with Aber Mountaineering Club and otter surveys on the Ystwyth.
What are you doing now career-wise and how has your Aberystwyth Degree helped?
I am the Legal Director at British Solar Renewables Limited. We develop, design, construct, connect, operate and manage high quality renewable projects in the UK and overseas. We have built the 4 largest ground mounted solar parks in the UK. One of these is Europe's largest private wire solar park which provides power to a paper mill. My role involves managing the legal and compliance aspects of our business and I am also heavily involved in developing our large scale international solar offering. My Aberystwyth degree is in law and so it was a natural progression (and always part of my plan) to qualify as a solicitor, which I did in 1996. I then followed the traditional route of going into private practice, spending most of my time with Pinsent Masons LLP and specialising in engineering and construction law.
What advice would you have for a student doing your course now?
My advice would be study a subject that you love – so many people tried to talk me out of law and I am glad that they failed. Within your study of law pick modules that you are genuinely interested in. Be flexible – I went into Aber wanting to be a criminal barrister and came out a commercial solicitor. Be open to the whole experience that Aber offers. For me the most valuable part of my education at Aber was the confidence it gave me, the good friends that I made (still friends today) and the adventures that I had. Be determined and persistent – these are two qualities that have served me best in my studies at Aber and in my subsequent career.