Carwyn Jones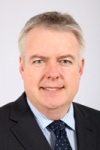 Carwyn Jones graduated from Aberystwyth with an LLB in 1988. He is former First Minister of Wales.
What do you remember most about your time at Aber?
I enjoyed it-perhaps a bit too much! Most of the people that I knew there are still friends now. Many of them live around Cardiff and we make the effort to meet up now and again. My wife is also an Aber graduate. She was on the same course at the same time and even though I knew who she was we never once spoke to each other in the time we were there (we later met in Cardiff, although in the company of a group of ex-Aber friends!)
I could talk about remembering wet Sunday afternoons playing at Blaendolau or Rag week but my great memory of Aber will always be watching the sun set into the sea on an early summer's evening, usually from the terrace of the Glengower or the Seabank (sadly gone now). There's no better place in the world for me on an evening like that.
What are you doing now career-wise and how has your Aberystwyth Degree helped?
When I left Aber I went to the Inns of Court School of Law in London to train as a barrister. After that I spent a year in Cardiff in pupillage before moving to Swansea to practice. After a spell as a tutor in Cardiff University I was elected to the Assembly in 1999 to represent Bridgend and after holding various ministerial posts became the First Minister in December 2009 until 2018. I am currently Assembly Member for Bridgend.
What advice would you have for a student doing your course now?
I would advise anybody studying law now to look at a range of careers. Don't assume that it's a passport to a job. Ten times more lawyers graduate than can be found jobs. It's worth looking at other professions as well because law gives a good grounding in skills that are transferable, even in politics!