Ben Thompson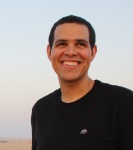 Ben graduated from Aber with a BA in Film and Television Studies with Drama in 2002 and now works as the Shorts Film Programmer for the Tribeca Film Festival in New York.
What do you remember most about your time at Aber?
What I remember most about Aber is the landscape. It was what strongly influenced my decision to study there. The backdrop of the sea, the breath taking views from campus, the mountains and the buildings, both old and new are still so vivid in my memory. I found a lot of peace and beauty studying in Aber and I think it really gave such a wonderful and gentle transition in to the life I now live in New York.
What are you doing now career-wise and how has your Aberystwyth degree helped?
For my day job I work as the Shorts Film Programmer for the Tribeca Film Festival here in New York. I also work as a freelance filmmaker. I primarily direct short films and documentaries and have screened my films at festivals around the world and been fortunate to have had my work broadcast on television in the UK and US. I find it a very fulfilling career as I see both sides of the fence as a filmmaker and as a programmer. At Aber I studied Film and Television and also Drama. My degree in film really helped my career as a programmer as it gave me a strong foundation to critically analyse and appreciate creative works, which is a huge part of the programming process. My degree in drama really prepared me for working with actors and developing stories while becoming more confident with myself and my own work.
What advice would you have for a student doing your course now?
For film students I would say really try to shoot as much as possible. Aberystwyth is one of the richest and most beautiful locations in the world and the university is a wonderful platform for experimenting with new ideas and stories. Get your friends together, go out on weekends and shoot stories that take place in the woods, the mountains, by the sea, around the old college, the landscape will really inspire you. Also it is a great habit to get in to and will give you a wealth of experience. It is a great time in your life to try out new things and really help you refine your craft.