Aysegul Ersoy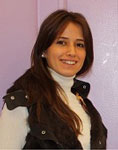 Aysegul graduated with an MSc (Econ) in Management and Marketing in 2012 and has now returned to Turkey to work in advertising as Assistant Brand Manager at Mey Icki, part of the FTSE 100 listed multinational company Diageo.
What do you remember most about your time at Aber?
Compared to Istanbul where I come from, Aberystwyth is a really small town. There is, of course, some adjustment needed arising from this difference, however the town was friendly, lovely, peaceful and easy place to live, especially for students. The only thing I could not adapt to was the cold weather, but this applies not only to Aberystwyth, but all of the UK!
What are you doing now career-wise and how has your Aberystwyth Degree helped?
When I was looking for the right MSc programme I focused on the courses rather than schools. I checked several universities' programmes and I found that Aberystwyth University taught all the classes I needed. Secondly, I could not decide between Management or Marketing courses, and Aberystwyth offered both of them in the MSc Management & Marketing Programme. Aberystwyth has a good reputation for both International Politics and student satisfaction; I hope the Management & Business School will soon be as world famous as International Politics!
Since I graduated in Economics in my first degree, the Management & Marketing Course was good for me. However, if I had had a first degree in Business Management, the MBA would have been a better choice. The teaching staff were very helpful and they encouraged anyone who wanted to improve themself. They also managed the cultural differences successfully; the department was very helpful with every procedure.
What advice would you have for a student doing your course now?
Being an international student in Aber taught lots of things to me. First of all I had lots of international friends from all over the world. Living in the Uni's student accommodation was a good chance to get to know different people and different cultures. And, secondly, we were not a big group of Turkish people in the postgraduate programme and so it was a great opportunity for me to improve my language skills. I recommend Aber to those who want to study at Postgraduate level and at the same time improve their language skills.
Only thing I would add to my recommendation is that if you are coming from a metropolis with a huge population, sometimes you may get bored in a smaller city. So, do not expect to live the same life you used to live. Look to gain a different experience. After all, a part of the goal of going abroad is to gain a new and different experience.