Vicky Halliwell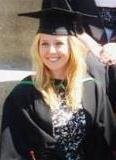 Choosing to study Marketing at Aberystwyth was one of the best decisions I've ever made.
I had never studied Marketing or any business related course before going to university so I wasn't quite sure what I was letting myself in for. Fresher's year gave me a really broad overview of business which I couldn't value enough once I got into 2nd and 3rd year- and even more now I've graduated! Once I got into my second year, the fun began! I was able to use my more creative side, and really get into the psychology and imagination involved with Marketing. It gave me the perfect balance of both left and right brain thinking which is so important. In my third year one of my modules involved working in a team with a real business in Aberystwyth to develop their marketing strategies. We pitched our ideas to the business at the end of the module, which was scary but pretty exciting.
I honestly think the best thing about my course was the lecturers- They didn't even pay me to say that! I got on so well with all of them; I definitely didn't feel I was just a number. Their office doors were always open, and they always went that extra mile to help me out. The confidence I gained whilst at University was largely down to them. The mixture of creative, strategic and hands-on modules was also great.
Outside of study, Aberystwyth was definitely the place for me. It was over 250 miles from home but well worth it! Everyone is so friendly; you can't walk up Penglais hill without bumping into friends. Then there's the beach, I had so many BBQ's and evenings with friends there I've lost count! I lived in a house on the sea front with my three best friends.
My tutors at Aber encouraged me to start job hunting really early, which definitely paid off. They helped me prepare for interviews, and constantly let me know about relevant jobs. Within two weeks after leaving Aber I had a real grown up job, I had to take time off to go back for graduation! I'm working as 'Marketing Assistant' at Evans Cycles (which is a large British cycling retailer). I get involved in loads of different things every day, it's the perfect first job, I'm definitely still learning!