Sean Thomas Midgley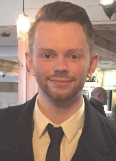 2:1, Marketing BScEcon
Going to Aberystwyth was one of the best things that I've ever done! My degree in Marketing has opened up doors for me and having the University brand behind me has also helped me into the position that I am in right now.
First year of the Marketing degree is all about building skills and knowledge in the foundations of marketing and other realms of business, as well as getting to know this fantastic, little (but with a huge range of things to do!) town and everyone in it. The lecturers and other staff members in the department are there to help you grow as a person, academically and professionally. Second and third/fourth years are all about specialising in the specifics of marketing – such as marketing communications or consumer behaviour. Here your real depth of the subject is tested and with a brilliant team who is dedicated to your learning, you gain a full understanding of the subject as well as a real life, working environment view on the industry!
It was these lecturers that also helped me to get onto my Masters course in Corporate Communications and Public Relations, a place that I would not have been able to get to without the support of the lecturers that I had during my time in Aberystwyth. Part of the reason why I got here was the extra-curricular activities that the department gets involved in, for example the many internal marketing competitions, which helped me to hone my skills and put them into, practice. Not to mention the Chartered Institution of Marketing's national Welsh competition called Brolio The Pitch, where you compete as a team against other groups from Welsh institutions and create a marketing campaign – you can find me on 2014 Brolio The Pitch video on YouTube.
The time that I spent in Aberystwyth, both the university and the town, has helped me grow into a person that is professional, confident, and knowledgeable and this is all thanks to the lectures and the people of the university. I have met friends that hail from across the globe, all of which have become life-long friends thanks to the unique community that you build throughout your time here.
They say that you're best years of your life are when you're at university, and this was definitely true for me, here at Aberystwyth.