Glyn Jenkins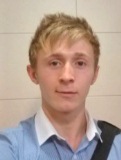 After finishing school and receiving my A-level results the prospect of having to decide upon a professional career became real and very daunting.
Having heard many positive things about Aberystwyth University from older friends I decided to study Psychology and Marketing, two things that always sparked my interest. As the course progressed my passion for the two disciplines grew. Learning about all the different methods of marketing from some of the best in the field was amazing! The enthusiasm and dedication of the lecturers really helped me focus on what I wanted to do after graduation.
By my third year my mind was set on a career in marketing. By this time I had made some great relationships with the many people who had helped me on my journey. I am currently a graduate trainee at Aberystwyth University working on the organisation of events for the Conference Office, and I am also in the early stages of launching my own online business by using the invaluable skills that I have developed during my studies.
I owe a lot to the University and the people whom I met and continue to meet on a daily basis through my job. It really is true what they say. Your university years really are some of the best you will experience. Never waste an opportunity!