Daniel Isaac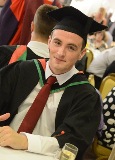 I made it my intention to study for a joint honours degree so that I could combine the study of two different subject areas, so to give me a broad knowledge base which would help to increase my career prospects. Aberystwyth was one such institution that would allow me to combine the study of both accounting and economics. I chose to study at Aberystwyth as after attending a visiting day I felt that it offered a particularly comfortable learning environment, and I could see that there were many opportunities to get involved in activities outside of academic study. I also received a merit award, after sitting an entrance scholarship exam, which helped me out financially.
Staff and tutors at SMB were approachable and were always prepared to offer help and assistance if you had any questions to ask. SMB places a great amount of value on its students and recognises hard work and achievement. The careers service is a valuable resource and I would recommend that all students make use of the service. They assisted me in obtaining a short work experience placement in the finance department at Ceredigion County Council.
There is a great spirit amongst all the students at Aberystwyth. There are a number of sports clubs and societies for you to join and there is something to cater for all interests. Joining a club or a society is a great way of meeting people with similar interests and a great way to make friends. During my time at Aberystwyth I was part of a team in the DIGS football league and took the opportunity to captain the side in my final year. I also regularly made use of the facilities offered by the sports centre such as the gym.
Through my academic study and involvement in other activities whilst at Aber I was able to significantly develop my interpersonal skills and I feel that I have been provided with a solid platform for my future. I am soon to begin a training contract at KPMG, to become an ACA Chartered Accountant.