University staff and students raise thousands for Bronglais Chemotherapy Day Unit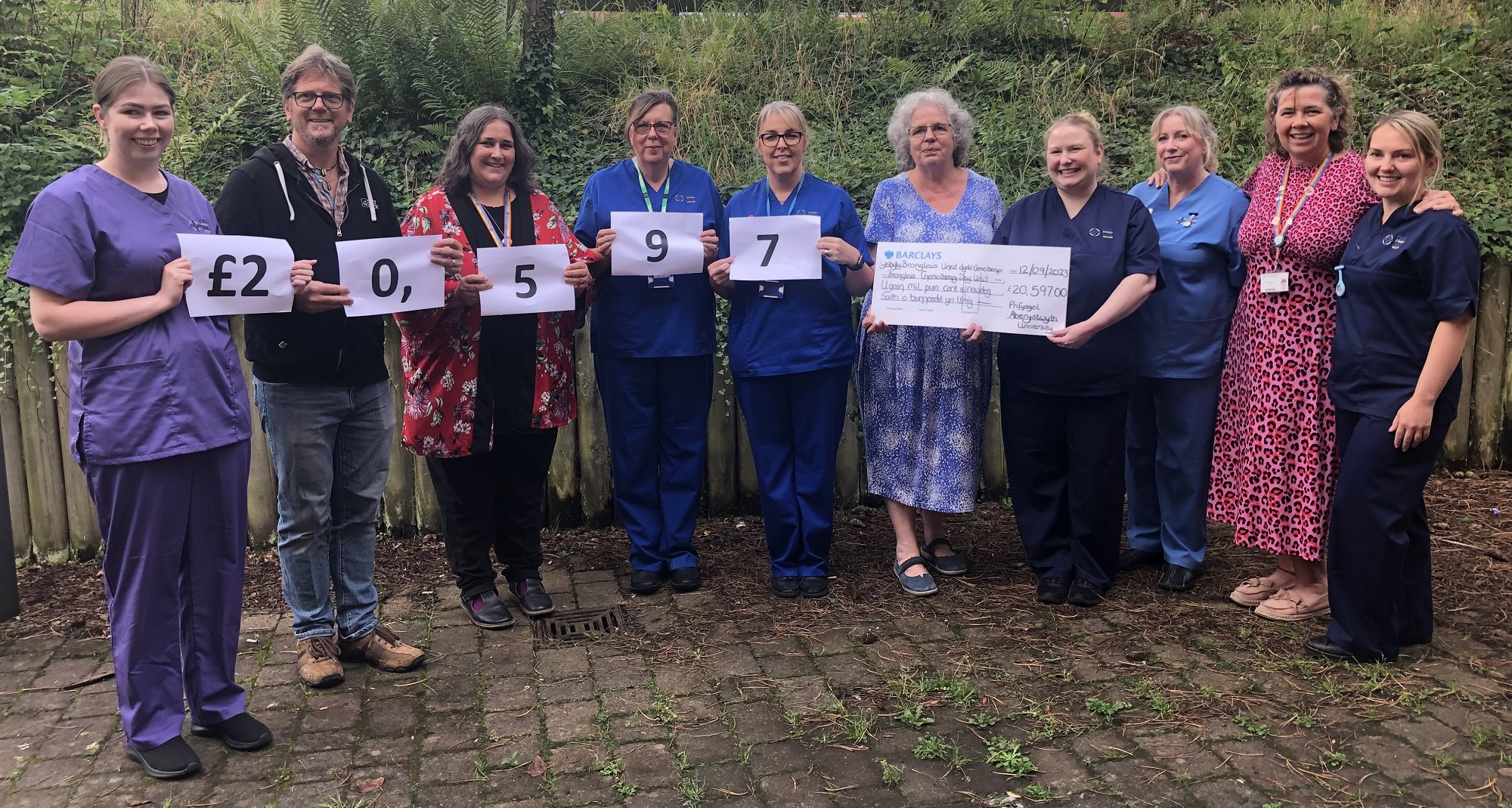 Aberystwyth University Vice-Chancellor, Professor Elizabeth Treasure, along with staff and students from the University, present a cheque for £20,597 to Bronglais Chemotherapy Day Unit
Aberystwyth University staff and students have raised £20,597 to support the new Chemotherapy Day Unit at Bronglais General Hospital, Aberystwyth.
Fundraising events and activities have taken place during the year to raise money for the cause, which was voted by students and staff as the University's Charity of the Year for 2022-23.
In May, a group of Aberystwyth University and Students' Union staff completed the Welsh three peaks challenge.  Setting out before dawn, the team of 21 climbed yr Wyddfa, followed by Cadair Idris, and finally reached the summit of Pen y Fan in the evening sunshine, completing the challenge in 16 hours. 
Later the same month, student nurses and nursing lecturers from the University's Healthcare Education Centre collected sponsorship to walk the length of Aberystwyth promenade 10 times.
In July, a team of staff and postgraduate students from the University's Department of Geography and Earth Sciences raised money by running, walking or cycling from Penglais Campus to the University's upland research centre at Pwllpeiran, near Cwmystwyth.
Money was also raised through a special charity event to celebrate the 150th anniversaries of Aberystwyth University and the Scarlets Welsh Rugby Union team, and by a University team taking part in the Aberystwyth 10K.  There was also a host of on-campus fundraising activities.
Professor Elizabeth Treasure, Vice Chancellor of Aberystwyth University said:
"Supporting the new Chemotherapy Day Unit at Bronglais Hospital is an issue close to the hearts of our staff and students, and I am absolutely delighted at the total they have raised during the course of the year. The enormous benefit of this local facility will be felt by hundreds of patients and their families across mid-Wales and, as a University, we are really pleased to have contributed to it."
The new chemotherapy day unit at Bronglais Hospital, which is due to open in late 2024, will provide a larger, purpose-built treatment area for patients, including an isolation facility, along with reception, outpatient and waiting areas, as well as consultation and examination rooms. Additional facilities will include a meeting room with video-conferencing facilities, counselling rooms and private spaces for patients.
Bettina Vance, Chemotherapy Clinical Nurse Specialist at Bronglais Hospital, said:
"We are absolutely thrilled by the incredible fundraising by students and staff at Aberystwyth University for the chemotherapy day unit at Bronglais. The unit delivers cancer services to patients from across mid Wales. The donations will support the department to provide services and activities above and beyond what the NHS can provide, and will have a big impact on the experience of patients, families and staff. On behalf of the unit I would like to say a huge thank you for your support."
Since 2012, the University Charity of the Year appeal has sought to raise money for a worthy cause chosen by its staff and students.