£1 million pea protein research aims to cut soya imports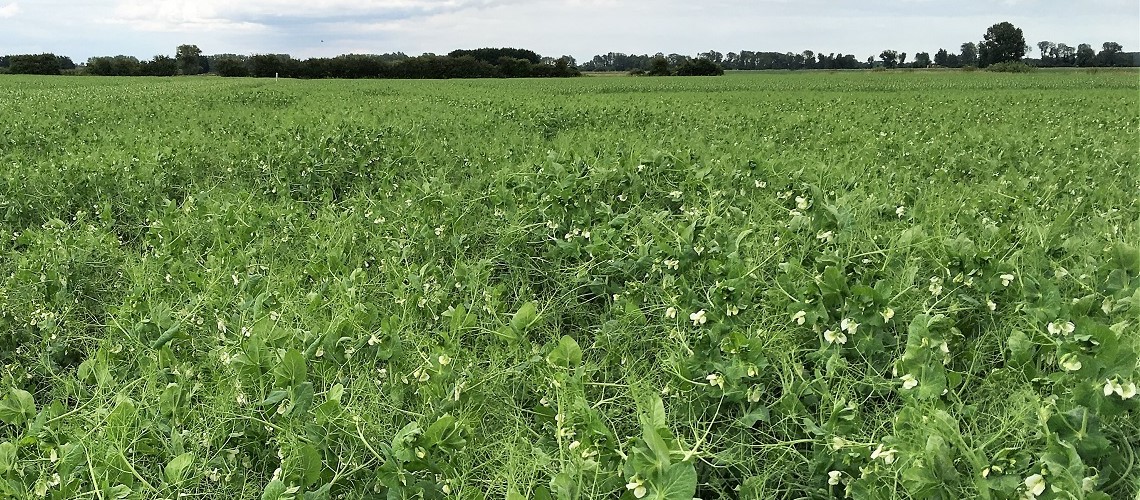 Peas growing at Gogerddan, Aberystwyth University
A new £1 million project will research new varieties of peas to reduce the UK's reliance on soya imports, it has been announced today.

The 'Pea Protein' project, which involves academics from Aberystwyth University, is being spearheaded by grass and forage seed specialists and breeders, Germinal.

In 2022, the UK imported three million tonnes of soya for use in human and animal feeds.  Soya is also a crop associated with deforestation in South America, which contributes to the acceleration of climate change.

Demand for plant-based proteins is increasing.  Soya forms the basis of most plant-based protein options, but they are currently difficult to grow in a UK climate.

The aim of this project is to use peas as a home-grown protein source that can replace soya in human foods. Peas are suited to the UK climate, are environmentally friendly, boost soil health by fixing free nitrogen from the air and even leave some in the ground for the next crop.

Germinal Horizon, the company's Research and Innovation division, will collaborate with IBERS at Aberystwyth University, the John Innes Centre, and PGRO on the project. Its aim is to address three important challenges: the urgent need to replace soy with UK protein crops; meeting market demand for taste and functionality; and growing a soya protein alternative sustainably.

Dr Catherine Howarth from IBERS at Aberystwyth University, one of the researchers on the project, said:

"Peas have an excellent nutritional profile and are an important part of sustainable rotations in UK agriculture. They can also help reduce our reliance on imported soya, which will support society in meeting the government's net zero targets. There is a vast array of products that include peas as an ingredient, and we are excited to be part of this project."

Paul Billings, Managing Director of Germinal UK and Ireland, said:

"Finding a sustainable alternative to soya is a priority for the food industry. Protein crops such as peas are ideal for the UK climate but one of our challenges is their flavour profile in human food.  Pea flavours are undesirable for consumers in processed food, so the goal is to produce peas that are tasteless but retain nutritional value. The gene for flavourless peas was first identified in the 1990s by scientists at the John Innes Centre (JIC) in Norwich.

"This exciting breeding programme will use innovative research in pea genetics to develop new varieties without the traditionally associated problems."

The programme is part-funded by Defra's Farming Innovation Pathway via Innovate UK, which is part of UK Research and Innovation.

As well as delivering environmental sustainability, the research aims to offer new economic opportunities for farmers to replace soya with a home grown alternative. The project will include robust testing on farms to ensure that only the varieties that meet market demands and the agronomic requirements of UK farmers will go to market.