Students win trip to major New York film festival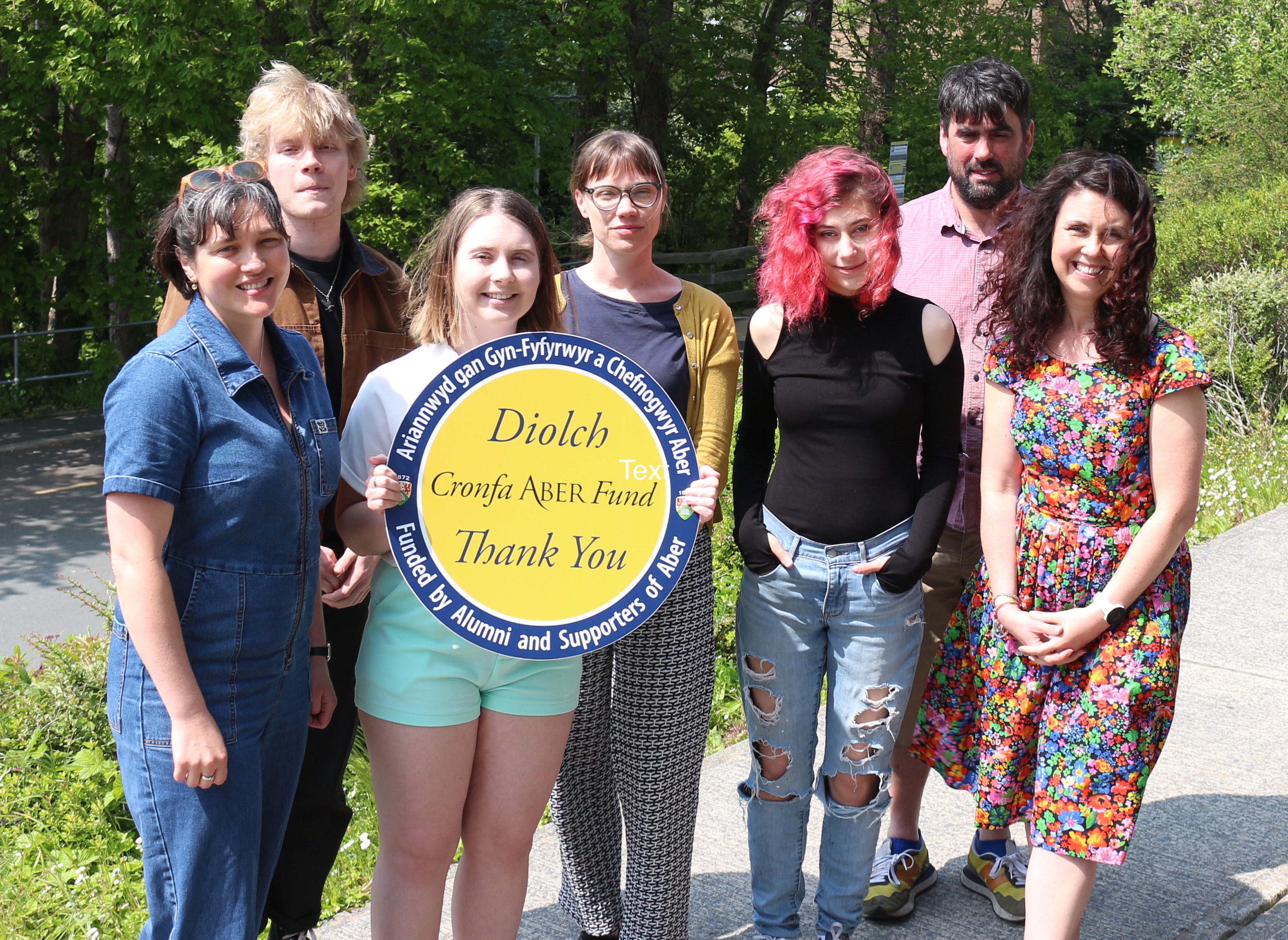 Students Juliette Daum, Justas Kavaliauskas, Lucy Thomas and Elena Bloomquist with Becky Underwood (University Alumni Engagement Manager), Dr Greg Bevan and Dr Kate Woodward.
Four Aberystwyth University film and television students will be flying to the United States in June 2023 to attend one of the world's leading film festivals.
Elena Bloomquist, Juliette Daum, Justas Kavaliauskas and Lucy Thomas were selected as part of an annual competition run by the University's Department of Theatre, Film & Television Studies.

They will spend four days at New York's prestigious Tribeca Festival, which was set up by Robert De Niro and Jane Rosenthal in 2001 to help revitalise downtown Manhattan following the 9/11 attacks on the World Trade Center.
The undergraduates' visit is funded by generous contributions to the Aber Fund, the giving programme for alumni, parents, staff and friends of the University to support projects that directly enrich student experience and development.
The students will receive return flights and accommodation in New York, as well as a festival delegate pass giving them access to screenings, events, filmmaker's lounges and VIP areas.
This is the sixth year that students from Aberystwyth have been given an opportunity to attend the Tribeca Festival, which showcases new work by established filmmakers as well as emerging creators.
Lucy Thomas, a third year BA Film and Television Studies student at Aberystwyth, said: "I feel incredibly grateful to have the opportunity to attend the Tribeca Festival. As a young prospective filmmaker, getting to attend such a renowned festival is something that in the past I felt I could only dream about and now it's becoming a reality. Getting the chance to meet people in the industry not only from New York but also from across the globe will certainly expand my horizons."
The 2023 programme continues the festival's long tradition of exploring innovations in storytelling across film, television, VR, gaming, podcasts and more. During the event, a total of 109 feature films will be shown from 127 filmmakers across 36 countries, including 93 world premieres.
Dr Greg Bevan and Dr Kate Woodward who teach in the Department of Theatre, Film and Television Studies will accompany the students to the festival.
Senior Lecturer in Film Practice Dr Bevan, said: "Congratulations to all four students on winning this visit to the world-renowned Tribeca Festival. It is fantastic that thanks to the generosity of the University's alumni community, we are able to offer our students this wonderful chance to mingle with some of the most influential names in the world of film and cinema, and benefit from the many learning opportunities it will bring. Our unique relationship with the festival owes a huge amount to the passion and commitment of one of our own graduates, Ben Thompson, who is now the Short Film Programmer at Tribeca."
Dr Woodward, Lecturer in Film Studies, said: "We are very grateful to the Aber Fund for their continued support. Attending the festival is a transformational experience for our students, and helps them make the move from seeing themselves as students, to seeing themselves as filmmakers, directors and scriptwriters. This visit offers an opportunity for our students to watch screenings of premieres and attend masterclasses – and also see some stars. They will mix and network with other young filmmakers and discuss their respective work."
The Department of Theatre, Film and Television Studies at Aberystwyth University offers specialist teaching on documentary film-making, fiction film-making, experimental film-making, multiplatform production, studio production and scriptwriting, as well as art cinema, horror and cult cinema, Hollywood, gender studies, television aesthetics, digital cultures, and video games.