Student enterprise competition winners announced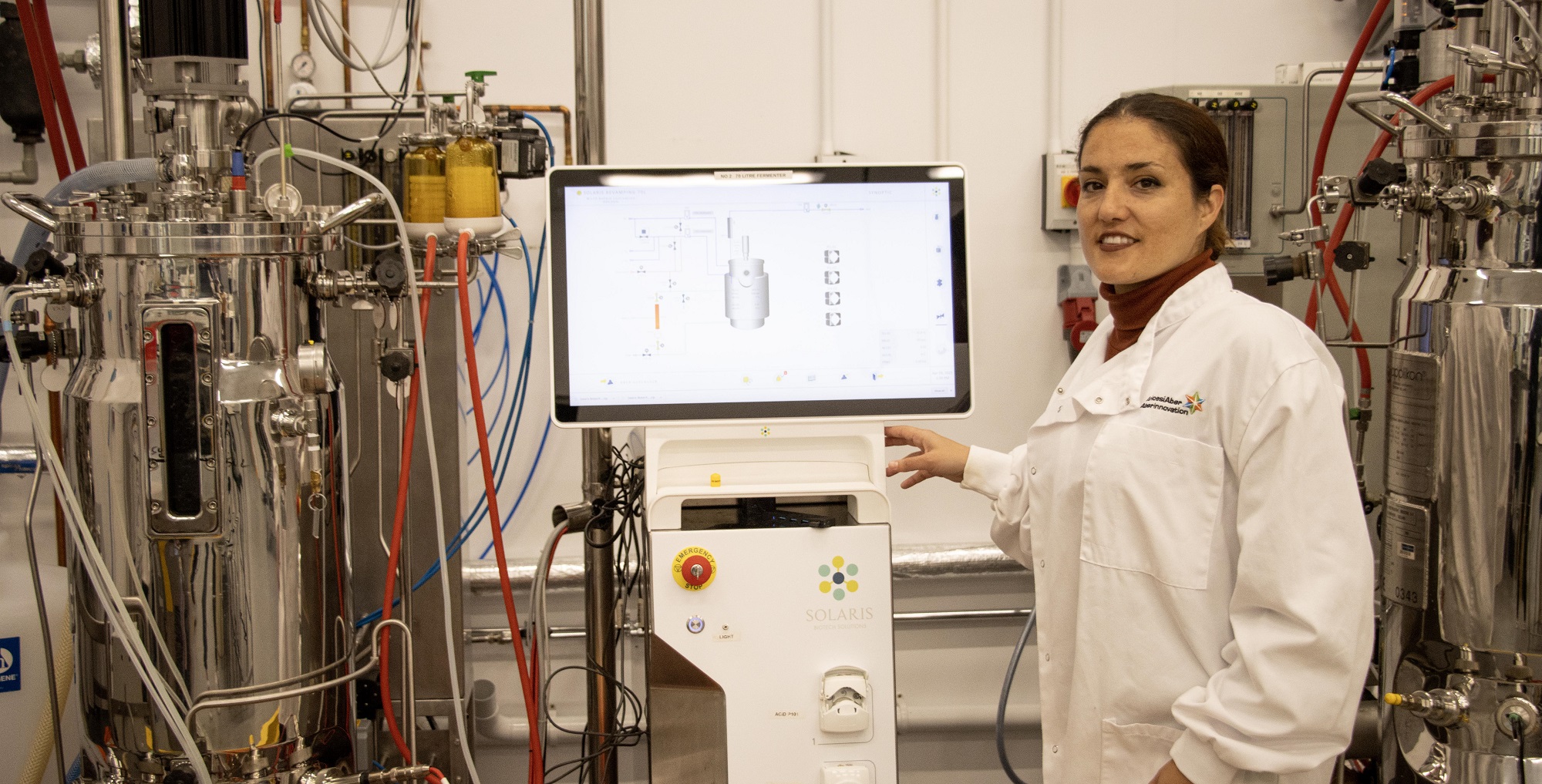 InvEnterPrize 2023 winner, Maria Fernandez
A company looking to harvest and harness a natural animal feed enhancer and food additive from Welsh trees is the overall winner of Aberystwyth University's annual student business idea competition.
Tannin is a substance present in trees and plants. With natural antioxidant and antibacterial properties, tannins have the potential to revolutionise the food industry.
Maria Fernandez, a PhD scholar in the Department of Life Sciences at Aberystwyth University, has been working with tannin rich plants for several years, and is investigating the possibility of exploiting the benefits of tannins for a wide range of industries in Wales.
Fernandez' innovative business idea, Tannos, won her a £10,000 business investment sponsored by alumni of the University and a year of office space at AberInnovation in the University's InvEnterPrize 2023 competition. 
Biotechnologist and animal nutritionist, Fernandez, said:
"I am delighted to have won InvEnterPrize. Through Tannos, I intend to focus on the many practical applications of tannins, which is a hugely underutilised resource, and to set up industrial-scale tannin production using local and sustainable resources. 
"Initially I will focus upon the use of tannins as supplements in compound animal feed production with the aim of reducing methane emissions and improving silage quality. The next step is to provide tannin as an affordable, efficient, and natural solution to other sectors in Wales – such as leather, drinks and the pharmaceutical industry."
Since 2012, the InvEnterPrize competition has invited Aberystwyth University students to develop their ideas for a new product, service or social enterprise, and compete for investment to help turn their concept into a successful venture.
As they develop their entries, the enterprising students have the chance to attend a range of business skills workshops and talks by inspirational entrepreneurs.
The six teams of students that reached the final of this year's contest had developed ideas ranging from a car sales and rental platform, to a hydroponic business looking at growing fruit and vegetables in nutrient-rich water without soil.
The finalists pitched their ideas to a group of 'dragons', many of whom are alumni of Aberystwyth University who have gone on to have successful careers in business.
As well as the main investment, other coveted prizes are up for grabs in the InvEnterPrize competition.
A £3,000 prize donated by the University's Research Wales Innovation Fund for the best entry from outside the science, technology, engineering, and mathematics (STEM) disciplines, was awarded to International Relations and Economics undergraduate Renata Freeman, for a concept for a car rental and selling platform, COUR.
Satellite Media, a marketing service which is the brainchild of students Raex Philip and Callum Payne, was awarded a £3,000 prize sponsored by Engineers in Business.  It also secured a £1,500 voucher for freelancer support donated by the winner of InvEnterPrize 2021, Karl Swanepoel, a tech entrepreneur and CEO and Founder at Revolancer.
Department of Life Sciences student Lindsay Hayns won laboratory access at AberInnovation to further develop her houseplant propagation idea, Prop-a-Plant.
Each of the finalists was awarded £1,000 by the University to develop their ideas further, from its own Research Wales Innovation Fund grant from the Higher Education Funding Council for Wales.
The InvEnterPrize competition is organised annually by Aberystwyth University Careers Service. Careers Consultant and Entrepreneurship Champion Tony Orme said:
"Well done to all of this year's finalists and congratulations to Maria and the other prizewinners. Aberystwyth University's enterprising students provided the judges with a wide variety of inspired ideas and made the most of the entrepreneurial skills training available as they worked on their business plans.
"Our thanks, as always, go to the organisations that donated the prizes for this year's competition, to the Aberystwyth University alumni who donated to the AberFund which provides the main prize, and to our fantastic panel of judges."
Aberystwyth University offers a full programme of events to support entrepreneurial activity amongst students, graduates and staff. To find out more visit the AberPreneurs webpage.