Secretary for State for Wales shown technology innovation at Aberystwyth University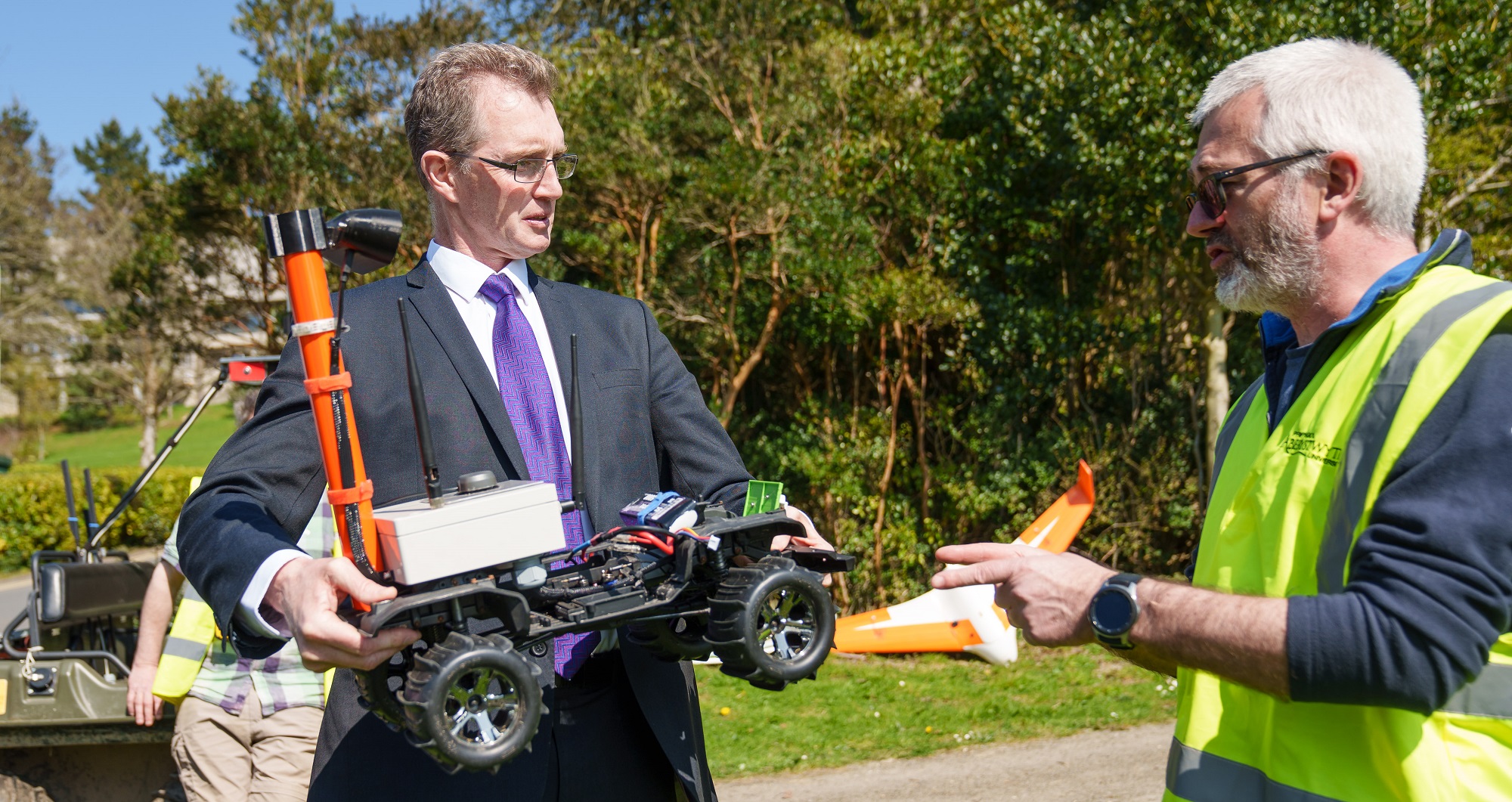 Secretary of State for Wales David TC Davies (left) with Dr Fred Labrosse, Senior Lecturer at the Department of Computer Science (right).
The Secretary of State for Wales was shown the latest innovations in space travel, virtual reality and autonomous vehicles during a visit to Aberystwyth University.
David TC Davies MP was shown research carried out by the departments of Computer Science, Law and Criminology and Physics.
Dr Matt Gunn, Senior Research Fellow in the Department of Physics, showed the Secretary of State a scale replica of the ExoMars rover, which will be searching for life on Mars in 2028. Dr Gunn and Dr Helen Miles, Lecturer at the Department of Computer Science, have built hardware for the rover including equipment that will help it process images.
Dr Sarah Wydall, Reader at the Department of Law and Criminology and Principal Investigator at Dewis Choice, Dr Miles, and Rebecca Zerk, Research Project Manager at Dewis Choice showed how virtual reality technology can be used in police training to help them deal with victim-survivors of domestic abuse and violence.
Dr Fred Labrosse, Senior Lecturer at the Department of Computer Science, demonstrated autonomous vehicles that can be used for last-mile delivery in defence and search and rescue, gathering waste material for transformation into animal feed, and a self-driving craft that can be used in surveying.
Secretary of State for Wales David TC Davies said:
"It was fascinating to visit Aberystwyth University and see first-hand some of the world-class research it does across a huge range of subject areas.
"The UK Government is pleased to support Aberystwyth's incredible work which contributes to the reputation that Welsh universities have for cutting-edge research and development."
Professor Colin McInnes, Pro Vice-Chancellor of Research, Knowledge Exchange and Innovation at Aberystwyth University, said: "We were delighted to welcome the Secretary of State to Aberystwyth University and give him a glimpse of research that is making a real difference on local, national and international levels.
"These projects and others show the diversity and strength of work that is underway. Artificial intelligence, autonomous vehicles, space exploration and virtual reality are transformative technologies and areas that we are the forefront of.
"What excites me most is the manner in which we are applying research in these technologies to address real world needs. These were only a few examples of the many projects which we could have shown the Secretary of State and which are helping individuals and communities in meeting the challenges they face."