Aberystwyth University launches Race Action Plan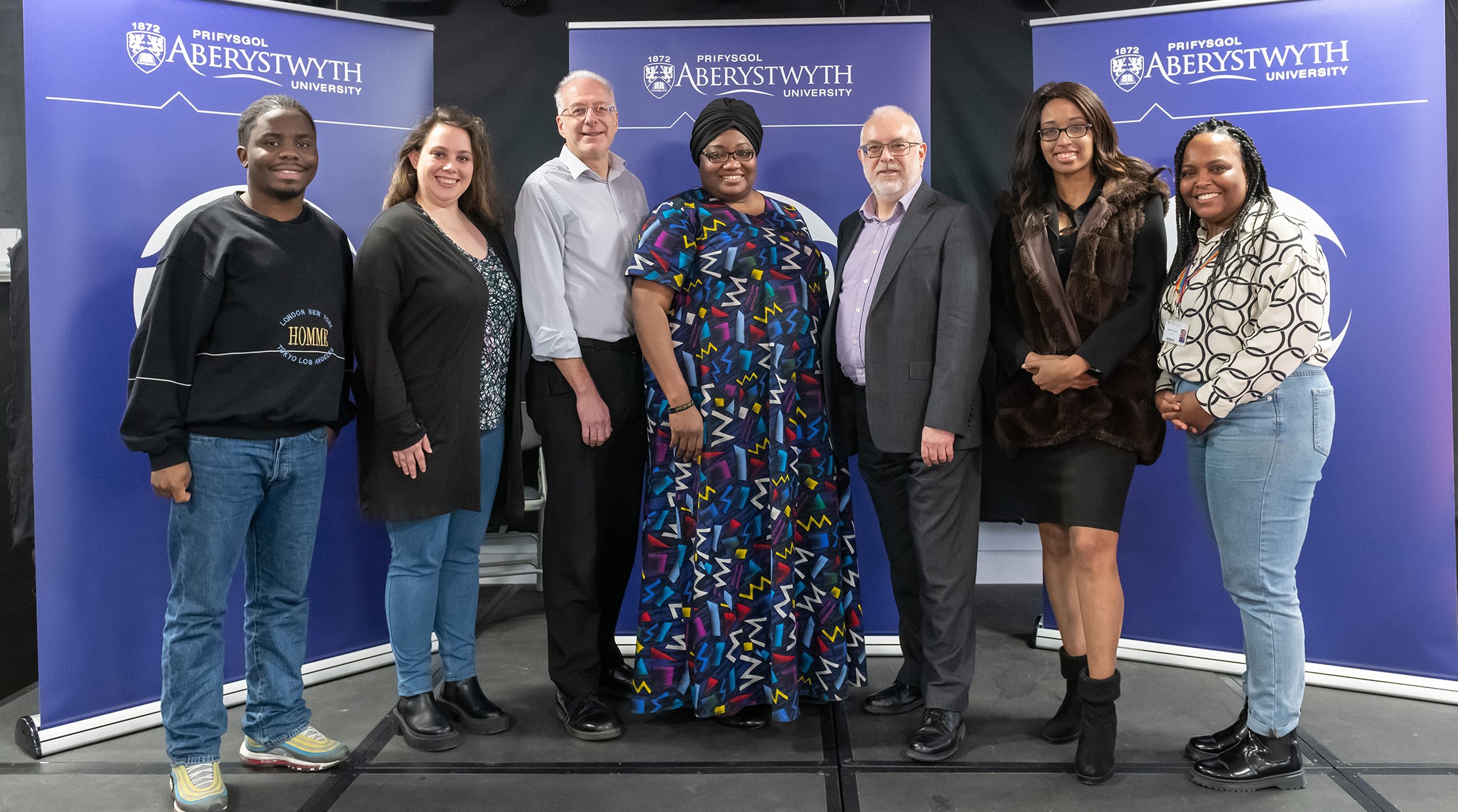 Left to right: Bayanda Bibusa Leatile Vundamina (Black, Asian, Minority Ethnic Officer, Aberystwyth University Students' Union), Dr Caitlin Baker (Lecturer at Department of Psychology, Aberystwyth University), Professor Neil Glasser (Aberystwyth University), Professor Uzo Iwobi OBE (CEO, Race Council Cymru), Professor Colin McInnes (Aberystwyth University), Ify Iwobi (Pianist and Composer) and Sheree-Ann Jonas (Race Equality Officer, Aberystwyth University)
Aberystwyth University marked Race Equality Week (6-12 February) with a special event to launch its Race Action Plan.
'Race Equality – It's Our Business', which took place on Wednesday 8 February, was attended by students and staff from across the University.
The event included a presentation by Professor Uzo Iwobi CBE, Founder and Chief Executive of Race Council Cymru and Vice President at the Royal Welsh College of Music & Drama.
Attendees also enjoyed a musical performance by award-winning Swansea-born pianist and composer Ify Iwobi and RnB singer/songwriter Anwar Siziba, and a poem by Eric Ngalle Charles which was read by Bayanda Bibusa Leatile Vundamina (Black, Asian, Minority Ethnic Officer at Aberystwyth University Students' Union).
Speaking after the event, Aberystwyth University's Race Equality Officer, Sheree-Ann Jonas, said:
"It was great to see students and staff from departments across the University at today's event. The launch of the University's Race Action Plan is an important step in ensuring an equal, diverse and representative university community."
Professor Elizabeth Treasure, Vice Chancellor, said:
"Aberystwyth University is committed to being genuinely inclusive and actively anti-racist. As an institution, we reach our full potential by benefitting from the talents of individuals from all backgrounds and this Race Action Plan reflects our ongoing commitment to ensuring equitable opportunities for all students and staff."
Professor Neil Glasser, Pro-Vice Chancellor with responsibility for Equality, Diversity and Inclusion, said:
"As students and staff, we all stand to benefit from working and studying at a diverse and culturally inclusive university, and we call on the whole University community to pledge their support and commitment to working together to deliver the objectives of our Race Action Plan."
The implementation of the University's Race Action Plan will be led by a newly formed Race Action Group of staff and students. Preparatory work has also begun towards Race Equality Charter accreditation.