Food waste tackled by Aberystwyth student project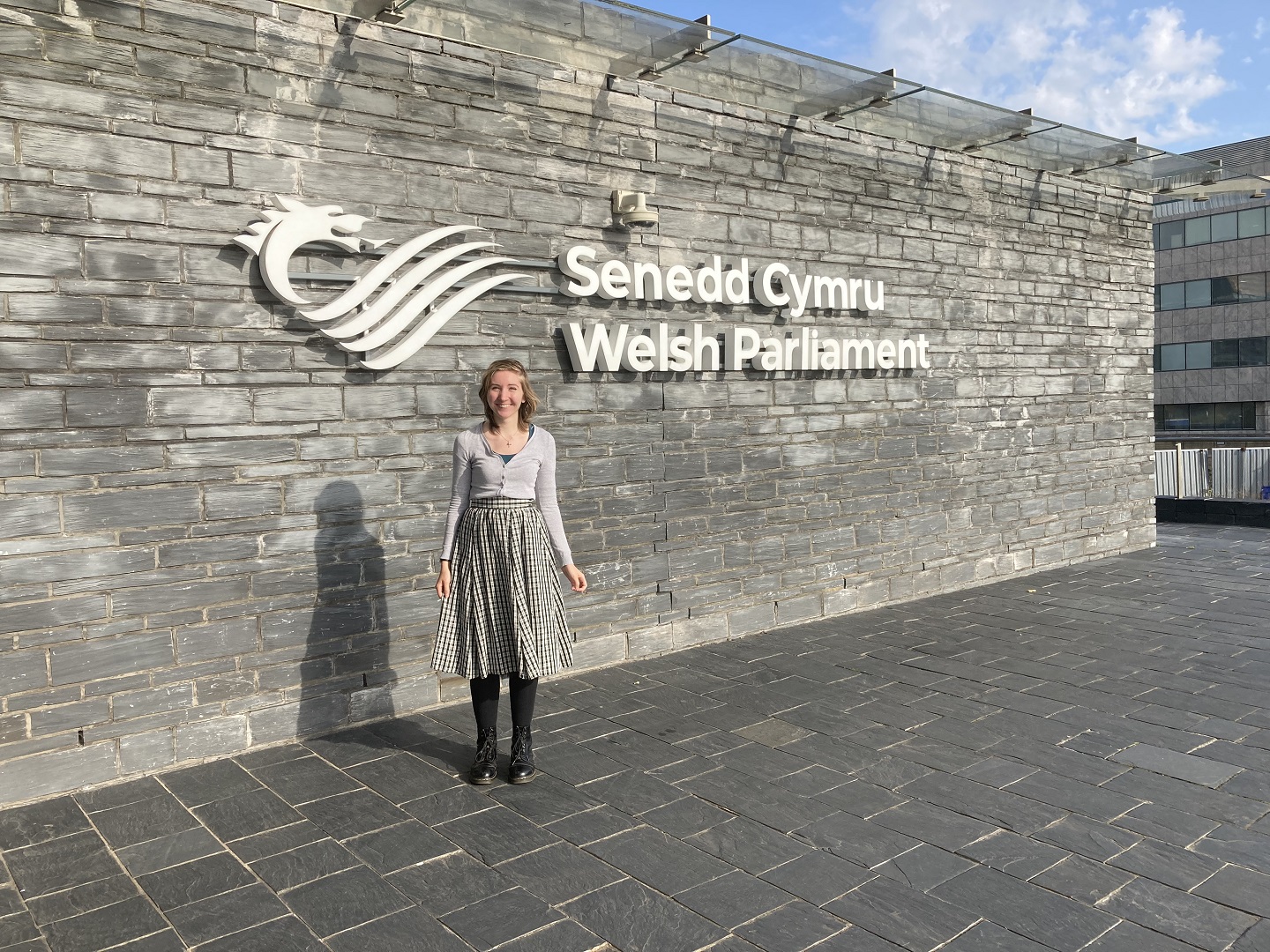 Ellena Jenks attending the 'Feeding Wales and the World' event at the Senedd in October 2022
A pioneering student project to encourage people to reduce food waste has received funding for further development from the British Academy.
Led by Aberystwyth University English and Creative Writing graduate Ellena Jenks, 'A Taste for Change' will explore how local consumers could be educated, encouraged and enabled to make sustainable food choices.
The work will see the development of a social media and poster campaign, as well as local events and activism, to raise awareness of the environmental impact of food waste, and promote ways that individuals can reduce waste.
The project will liaise with local stakeholders in Aberystwyth, such as restaurant owners, to encourage them to take part in food surplus schemes that redistribute food that is nearing its best before date ('yellow label food'). It will also encourage food businesses to support the use of reusable takeaway containers.
The plan is also to work with the University's hospitality services team to implement measures which reduce on-campus food waste, and aim to improve University links with the local community fridge project.
Ellena Jenks explains: "A Taste for Change is about helping students and locals alike to unite penny-saving with fighting climate change from their fridge. If for just one day nobody wasted any food, it would have the same impact as planting a million trees. I am hoping that the project will empower people to make tasty food and save money, all while reducing tonnes of carbon and creating long-term change for Wales."
Professor Anwen Jones, Pro Vice-Chancellor for the Faculty of Arts and Social Sciences, said: "I am really pleased that Ellena's project to raise awareness of the crucial issue of food waste has received funding from the British Academy. Although the project has principally an environmental agenda, the work is timely as the current cost of living crisis makes it all the more important for each of us to learn about the ways we can limit food waste and learn to live more sustainably. I look forward to seeing the impact that her campaign has, both on the University campus, and in the wider Aberystwyth community."
The project is being funded by the British Academy's SHAPE Sustainability Impact Projects, a collaborative initiative by the British Academy and student-led education charity Students Organising for Sustainability (SOS-UK).
The initiative encourages students and academics across the SHAPE disciplines (social sciences, humanities and the arts for people and the economy) to use their subjects to help tackle environmental, social and economic sustainability issues.
Dr Molly Morgan Jones, the British Academy's Director of Policy, said: "The SHAPE disciplines play a critical role in understanding the complex human and social dimensions to environmental challenges.
"It is wonderful to offer students and academics in these subjects an opportunity to test out and grow their innovative solutions to issues of environmental sustainability in their local area through the SHAPE Impact Projects."