Eminent Malaysian Court of Appeal Judge awarded Honorary Fellowship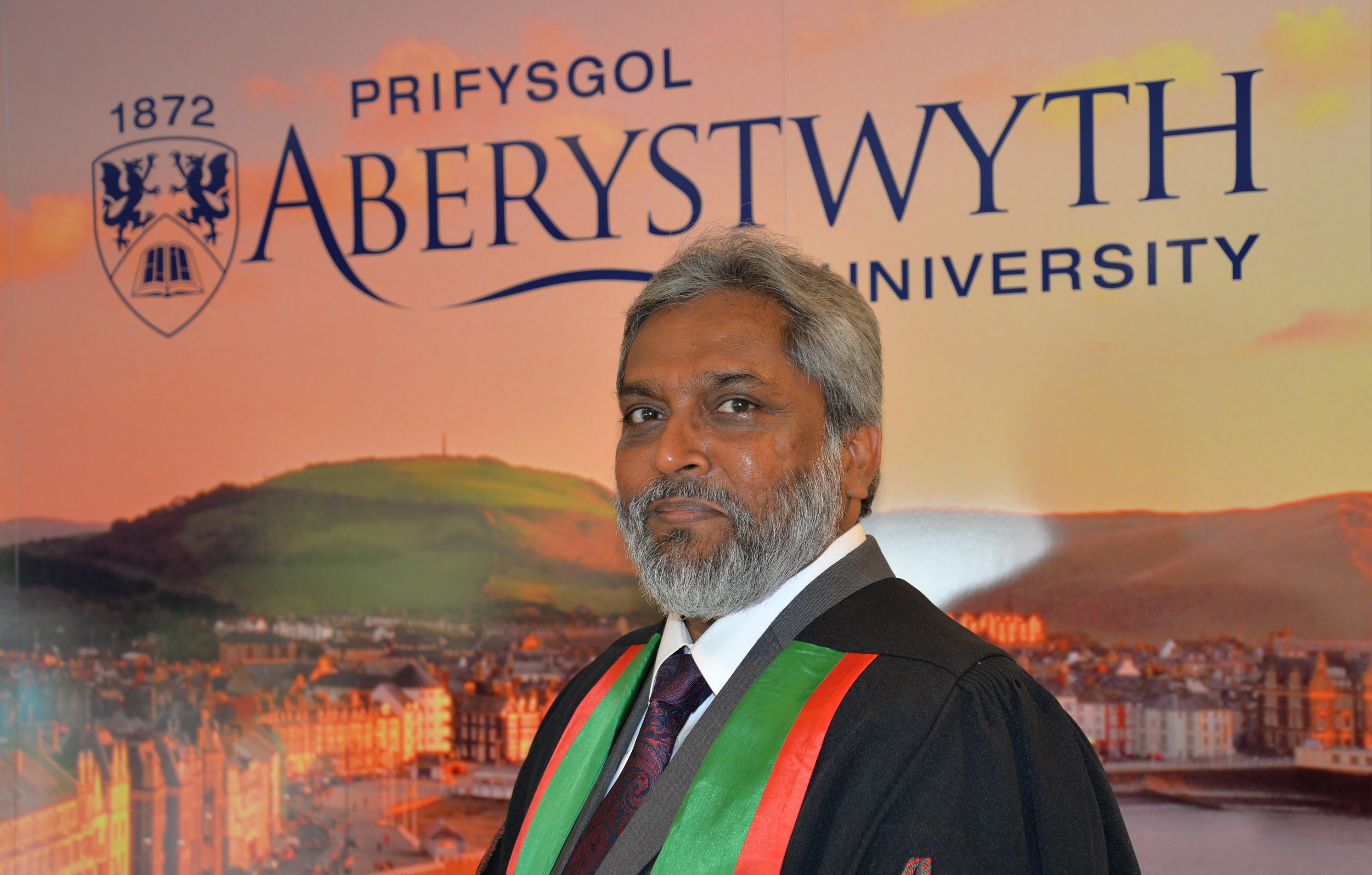 The Hon Justice Datuk Vazeer Alam Mydin Meera
An Aberystwyth Law alumnus, who has made an outstanding contribution to the legal profession in Malaysia, has been presented with an Honorary Fellowship by his alma mater.
The Hon Justice Datuk Vazeer Alam Mydin Meera graduated in Law from Aberystwyth University in 1989, and then worked in private legal practice for some 20 years.
An active member of the Malaysian Bar Council, he was Treasurer (2005-2007), State Bar Chairman (2004-2007) and a trained Advocacy Trainer.
He was appointed Judicial Commissioner in 2010 and was elevated as High Court Judge in 2015.
He served on the Penang, Kuala Lumpur, Shah Alam High Courts and was Senior Judge at the High Court, Melaka.
He was appointed Court of Appeal Judge in 2019, where he currently serves.
He is also an Adjunct Professor at the School of Business, Monash University Malaysia.
For his distinguished services, he has been conferred the Darjah Setia Pangkuan Negeri (DSPN) (Penang), Darjah Indera Mahkota Pahang (DIMP) and the Darjah Mulia Seri Melaka (DMSM) Royal and State awards, all of which carry the title Datuk or Dato'.
He has been a member of Aberystwyth University Alumni Club of Malaysia for more than three decades.
The Hon Justice Datuk Vazeer Alam Mydin Meera was presented as Honorary Fellow by Professor John Williams, Emeritus Professor from the Department of Law and Criminology on Tuesday 12 July 2022.
The full conferral presentation is available below, in the language in which it was delivered.
Presentation of The Hon Justice Datuk Vazeer Alam Mydin Meera by Professor John Williams:
Canghellor, Is-Ganghellor, darpar raddedigion, gyfeillion. Pleser o'r mwyaf yw cyflwyno Vazeer Alam yn gymrawd Prifysgol Aberystwyth.
Chancellor, Vice-Chancellor, prospective graduates and supporters. It is an honour and a privilege to present Vazeer Alam as a Fellow of Aberystwyth University.
Datuk Vazeer Alam bin Mydin Meera left his home in Penang in Malaysia for Aberystwyth in 1987. He graduated from the Department of Law at what was then the University College of Wales, Aberystwyth. He is part of a strong tradition of eminent Malaysians who studied at Aberystwyth, including many who were prominent in forming the state of Malaysia following independence in 1957.
Vazeer, or Vaz as his friends affectionately know him, enjoyed the Aber student experience. Hard work was supplemented by building up many friendships with students from all over the world. He involved himself in the life of the Department and is remembered with fondness not only for his commitment to his studies but also as a likeable and engaging student.
Following his graduation in 1989 with an LL.B (Wales) degree, he returned home to Malaysia and studied for the Malaysian Bar Finals. He then embarked upon a successful career in private practice for over twenty years, joining many other Aber lawyers in Malaysia. In addition to practising law, he was an active member of the Malaysian Bar Council, including being Treasurer and State Bar Chair.
His abilities were recognised at an early stage of his career. In 2010 he was appointed a Judicial Commissioner; the first step on the judicial ladder. He came to the judiciary's attention and in 2015 became a permanent judge of the High Court. I recall the pleasure that his appointment to the Court gave to his friends and colleagues. An elevation he richly deserved.
His judicial career did not stop there. Four years later Vazeer was appointed a justice in the Court of Appeal, the second most senior court in the Malaysian Judicial hierarchy. The Court hears appeals from the High Court on civil and criminal matters and consists only of judges of the highest standing. Aberystwyth can be proud that he is one of the leading lawyers in Malaysia.
His contributions to legal Malaysia have been recognised through the many Royal and State honours conferred upon him. His scholarship is recognised by his appointment as Adjunct Professor at the School of Business, Monash University in Malaysia.
Vazeer is committed to passing on his experience to the next generation of lawyers. For example, he is a member of the International Advocacy Training Council which provides advocacy training for young lawyers.
For over thirty years Vaz has been an active member of the Aberystwyth Alumni club in Malaysia.
He serves as a role model for current and future generations of Malaysian graduates.
Vaz has not lost the passion for the law that he nurtured at Aberystwyth. A senior lawyer in Malaysia said of him,
"Vaz is well-liked by practitioners for his judicial temperament and admired for the clarity of his judgements. In short, he is a great ambassador for Aberystwyth and a great asset to the justice system in Malaysia. Both should be immensely proud of his achievements."
Canghellor, mae'n bleser gen i gyflwyno Vazeer Alam i chi yn Gymrawd.
Chancellor, it is my absolute pleasure to present Vazeer Alam to you as a Fellow of Aberystwyth University.
Aberystwyth University Honours 2022
During Graduation 2022, the University will present ten Honorary Fellowships to individuals who have or have had a connection with Aberystwyth or Wales, and who have made an outstanding contribution to their chosen field.
This year's Fellows include leading figures from the arts, broadcasting, law, agriculture, and the science and technology sectors.
The 2022 Honorary Fellows are (in order of presentation):
Professor Dame Elan Closs Stephens DBE, Electoral Commissioner for Wales and Non-Executive Director of the BBC Board and its member for Wales
Myrddin ap Dafydd, author, publisher and Archdruid of Wales
The Hon Justice Datuk Vazeer Alam Mydin Meera, Court of Appeal Judge, Malaysia
Harry Venning, award winning cartoonist, illustrator and comedy writer
Dr Zoe Laughlin, co-founder and director of the Institute of Making
Rhuanedd Richards, BBC Wales' National Director
Jonathan Whelan, IT consultant, author and Fellow of the British Computer Society
Tom Jones OBE, agriculturalist and founding Chair of the Millennium Stadium Charitable Trust
His Honour Judge Nicholas Cooke QC, former Senior Circuit Judge at the Central Criminal Court, "the Old Bailey"
Gwerfyl Pierce Jones, former Director and Chief Executive of the Welsh Books Council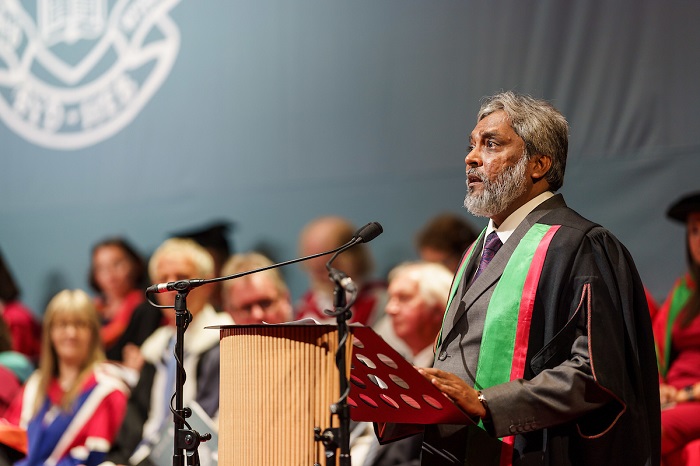 The Hon Justice Datuk Vazeer Alam Mydin Meera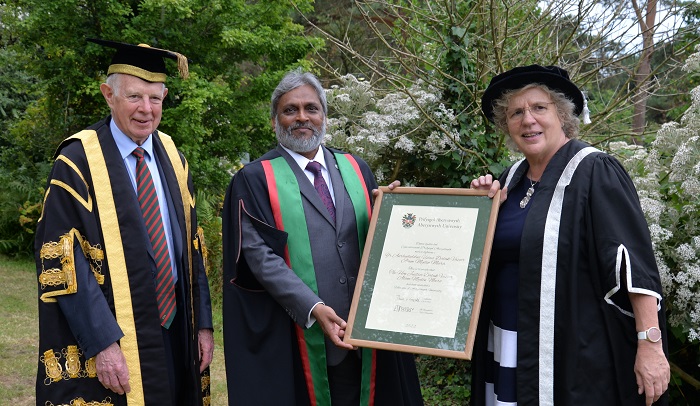 Lord Thomas of Cwmgiedd (Chancellor), The Hon Justice Datuk Vazeer Alam Mydin Meera, Professor Elizabeth Treasure (Vice-Chancellor)