Aberystwyth University student accommodation rated best in UK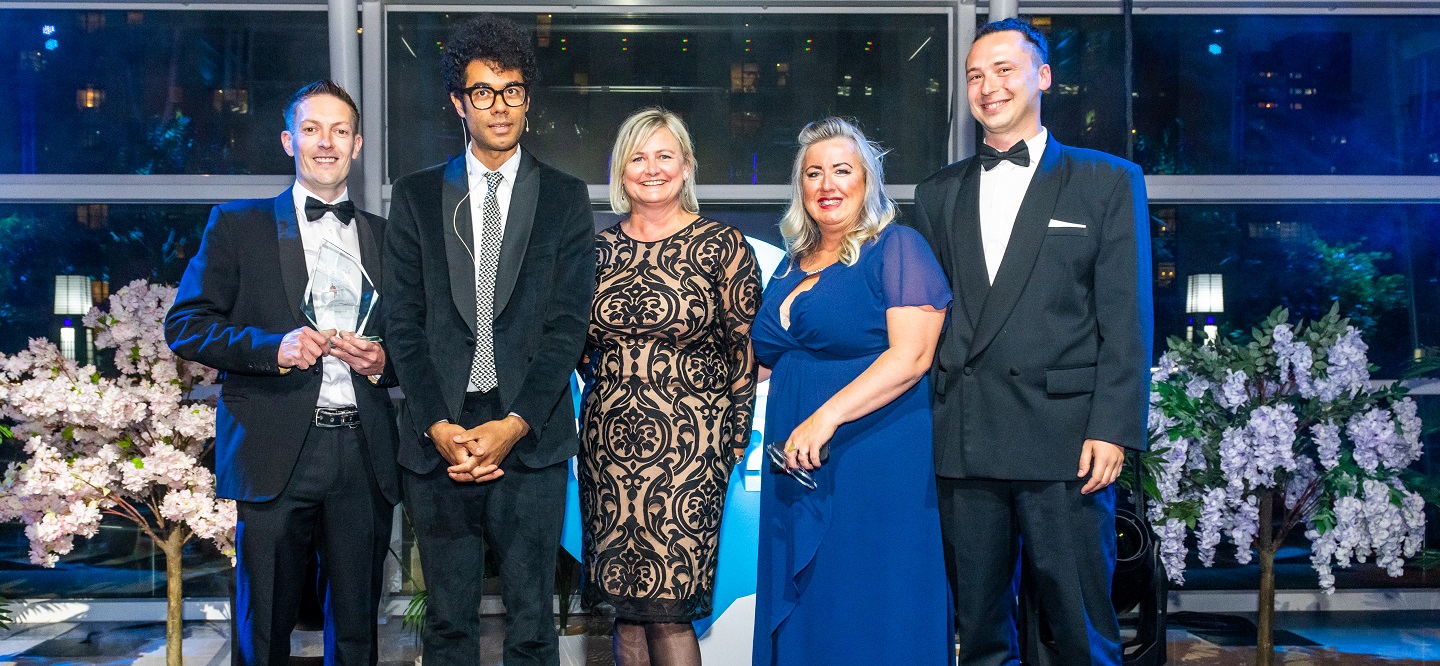 Left to right: Aberystwyth University staff members Adrian Sutton, Beth Roberts, Faye Ap Geraint and Tamas Gyorgy receive the Whatuni Student Choice Awards' Halls and Student Accommodation prize from actor Richard Ayoade (second left).
Student accommodation at Aberystwyth University has been ranked the best in the UK by student review website Whatuni.
The Whatuni Student Choice Awards' Halls and Student Accommodation prize for 2022 was presented to representatives from Aberystwyth University at a ceremony hosted by actor Richard Ayoade and held in Canary Warf, London on Tuesday 24 May.
Now in their 10th year, the Whatuni Student Choice Awards (WUSCA) highlight work carried out by institutions for their students, and are collated from over 30,000 real student reviews, collected from campuses around the UK and from students using the Whatuni website.
As well as being one of ten universities to be shortlisted for the Halls and Student Accommodation award, Aberystwyth was also shortlisted in the 'Learning and Teaching Quality' and 'Student Life' categories.
One student review of halls at Aberystwyth University posted on Whatuni said: "Fantastic halls of residence, very new when I stayed but very cheap in comparison to a rival university. Very clean on arrival, lots of great additions such as on-suites and dishwashers."
Stephen Forster, Director of Finance and Corporate Services at Aberystwyth University said: "We take great pride in the student experience we offer at Aberystwyth University. This award is just recognition for the fantastic work of the whole accommodation and residences teams who deliver such a great service to our students, and whose commitment has been exceptional over the past two years during the restrictions posed by COVID-19. Excellent accommodation is so important for our students - as they adjust to living away from home, often for the first time - and enables them to make the most of their university experience, both socially and academically."
Simon Emmett, CEO at IDP Connect, owners of Whatuni, said: "The thousands of WUSCA student reviews we've received from students across the UK reflect the remarkable commitment, passion and care institutions have demonstrated towards their students over the last 12 months. The higher education sector creates exceptional student experiences and the WUSCAs is about celebrating that but also ensuring students have the insight they need to make the very best decisions about their future.
"As universities continue to battle the challenges posed by Covid, these awards will be a huge boost to universities and colleges who are leading the way in student satisfaction. These invaluable results will help students make the best choice about their next steps into higher education.
"Each of our winners and finalists have gone above and beyond to have a positive impact on student's university experiences and shows the quality of higher education in the UK and its creativity, resilience and innovation."
Aberystwyth University has invested over £60m in new and upgraded student accommodation in recent years.
Fferm Penglais, developed at a cost of £45m and offering en-suite rooms and studio flats for 1000 students, welcomed its first residents in 2015 and the Pantycelyn hall of residence reopened following a £16.5m upgrade in September 2020.
Full details of Aberystwyth University accommodation residences are available online with the majority within easy walking distance to the main teaching campus, Penglais.