Aber at Hay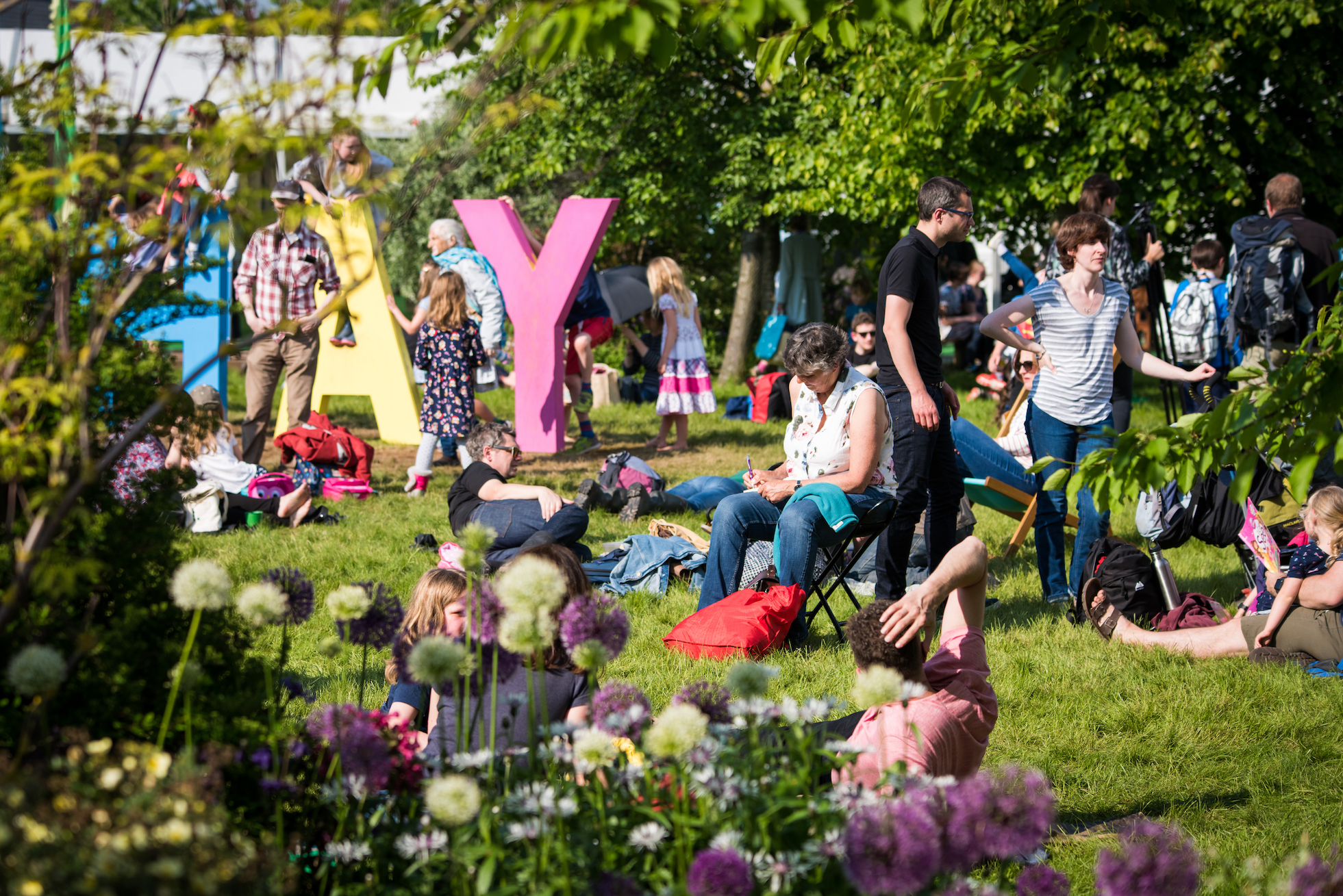 Credit: Sam Hardwick
Developing friendlier and more sociable robots, 40 years of Welsh language television, and historical myths about the human body are some of the subjects set to engage audiences at the 35th Hay Festival.
Aberystwyth University academics will feature in the programme for this year's festival, as part of the University's ongoing partnership with the prestigious cultural and literary event.
The world's leading festival of ideas, Hay Festival 2022 will bring readers and writers together in sustainable events to inspire, examine and entertain from 26 May–5 June in Hay-on-Wye.
In his talk 'Social Computers and Conversational Robots: Imagining a new path towards human-centred technology', Mark Lee, Emeritus Professor of Intelligent Systems in the Department of Computer Science, will discuss how artificial intelligence systems could become more like humans and less like computers, and how this paradigm shift would influence and shape all future digital technology.  His lecture takes place at 11.30am on Monday 30 May on the Starlight Stage.
After the event: See Professor Mark Lee's talk on YouTube.
In another event, Aberystwyth University Honorary Fellow and drama graduate Sioned Wiliam, Comedy Commissioner for Radio 4 (2015 - 2022)*, will chair a panel discussion of the past, present and future of Welsh language television channel S4C, which is celebrating 40 years of broadcasting.  Along with S4C Chief Executive Siân Doyle, Sioned Wiliam will be joined by prominent figures from the worlds of TV and politics as they trace the challenges and successes of four decades.  'S4C@40: the past, present and future of the Welsh language television channel' takes place on Wednesday 1 June at 11.30am on the Llwyfan Cymru – Wales Stage.
After the event:Watch the panel discussion on YouTube.
In her lecture, 'Inner Workings: how we understand and imagine the inside of the human body', Dr Alice Vernon from the Department of English and Creative Writing will share the findings of her research which examines the human body through history from the perspective of our imagination. Dr Vernon will explore a timeline of body myths, from the medieval belief that the corpse of a murder victim would spontaneously bleed in the presence of their murderer to conspiracy theories surrounding vaccines.  She will also demonstrate how our imagination can both benefit and hinder medical understanding.  Dr Vernon's lecture takes place at 7pm on Saturday 4 June on the Llwyfan Cymru – Wales Stage.
After the event:  Listen to Dr Alice Vernon's talk here.
Dr Rhodri Llwyd Morgan, Director of Welsh Language, Culture and External Engagement at Aberystwyth University said: "It is a pleasure to continue our partnership with the Hay Festival, an event which engages and inspires curious minds and where the key issues of the day are discussed and debated. This year we are celebrating 150 years of learning at Aberystwyth. Throughout this time our academics have been pushing the boundaries of knowledge and carrying out research which has a transformational impact on Wales and the wider world. We are delighted to give a flavour of our fascinating and broad-ranging research through three events in this year's Hay Festival programme."
Aberystwyth University's partnership with Hay Festival 2022 is funded from its Research Wales Innovation Fund grant from the Higher Education Funding Council for Wales. Dr Alice Vernon's research was funded by a Joy Welch Research Grant.
*Updated: 23/05/22
Returning for its first in-person spring event since 2019, the Hay Festival programme will feature more than 600 award-winning writers, global policy makers, pioneers and innovators in conversations, performances and debates, while HAYDAYS events for families give young readers the opportunity to meet their heroes and get creative.
Events will take place at the main Festival site on Dairy Meadows, in St Mary's Church, and in a new Festival theatre in the grounds of the restored Hay Castle. The main Festival site will be free to enter, with a range of pop-ups to explore, including the Festival Bookshop, HAYDAYS courtyard, Wild Garden, Make and Take Tent, and a host of exhibitors, market stalls, cafés and restaurants.
To see the full programme of events visit: www.hayfestival.com.