New Ireland Wales initiative to promote sustainable tourism announced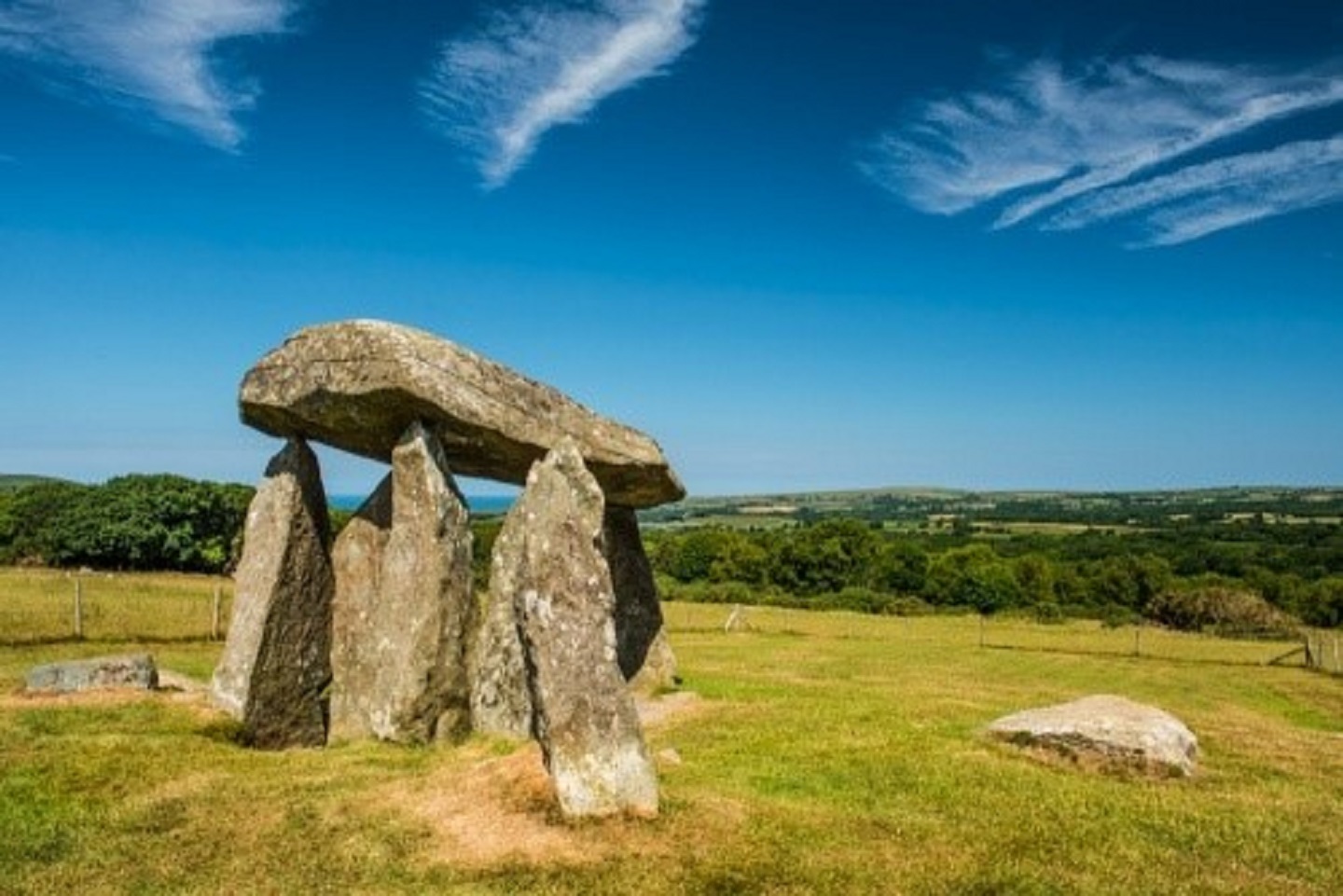 The Pentre Ifan burial chamber in the hills of Preseli, one of the four coastal areas that feature in the Coastal Uplands Heritage and Tourism project.
Academics from Aberystwyth University will lead a new European project to boost tourism in rural areas of Wales and Ireland.
The new initiative, announced on St Patrick's Day, sees researchers from Aberystwyth University Department of Geography and Earth Sciences lead the €3 million project in partnership with University College Dublin and the Dyfed Archaeological Trust.
It is supported by €2.4m from the European Regional Development Fund through the Ireland Wales Cooperation programme.
The scheme will operate for a period of two years in the Cambrian Mountains, Preseli Hills, Wicklow Mountains and Blackstairs Mountains, using their cultural and natural heritage assets to promote sustainable forms of tourism.
The Ireland-Wales project comprises several elements, including: the use of technology to enhance the visitor experience; creating a tourism network and joint marketing strategy; and work with schools and others to record local cultural histories.
The initiative, known as Coastal Uplands Heritage and Tourism project, also aims to bring economic benefits. The ambition is to increase the number of tourists in these areas by 5% along with their spending - creating or expanding eight local microenterprises.
Explaining the work, Professor Rhys Jones from the Department of Geography and Earth Sciences at Aberystwyth University said: "The four coastal upland areas of the Cambrian Mountains, Preseli Hills, Wicklow Mountains and Blackstairs Mountains have historically been reliant on traditional industries such as agriculture and forestry. Each of the areas possesses some tourism infrastructure in addition but, at present, this is relatively under-developed, especially when compared with the mass tourism taking place along the coasts of both Ireland and Wales.
"In Ireland and Wales, Brexit is likely to have an impact on tourism. However, unexpectedly, Brexit and the COVID-19 pandemic may encourage more people to holiday at home. This creates opportunities for more regions to benefit from new types of domestic tourists wanting to actively explore the less commercialised coastal upland areas."
Leading the project in Ireland are Dr Christine Bonnin and Dr Arlene Crampsie from University College Dublin's School of Geography. Drs Bonnin and Crampsie said: "Drawing on the rich natural and cultural heritages of the coastal uplands bordering the Irish Sea, this project offers local communities and tourism stakeholders an exciting opportunity to develop sustainable, locally appropriate tourism offerings. Combining existing and new heritage tourism initiatives, the project will showcase the shared and unique aspects of our joint heritages to a diverse tourist audience, helping to build sustainable tourism through community development."
Economy Minister, Vaughan Gething said: "We welcome the development of projects that will enhance the visitor experience in Wales and also strengthen our relationships with our closest European neighbour, Ireland. This project aligns with our tourism strategy by supporting our ambition to grow tourism sustainably by extending the season and encouraging visitors to discover new tourism-ready areas. We look forward to working with the team on another project which will bring our two countries closer together."
The Irish Government Minister for Public Expenditure and Reform, Michael McGrath, TD said: "I congratulate the partners in the Coastal Uplands Heritage and Tourism (CUPHAT) project for their success in obtaining support from the Ireland Wales Cooperation Programme 2014-2020 to enhance the tourism potential of some of the most peripheral areas of Wales and Ireland. These areas are endowed with great natural beauty and strong historical backgrounds. Building on these resources through the development of sustainable tourism will help unlock the untapped economic potential of these regions. Projects and partnerships such as this one are important symbols of the ongoing cooperation between Wales and the South East of Ireland."
Kenneth Murphy of Dyfed Archaeological Trust said: "This is a great opportunity to showcase to the world these unique upland landscapes in Wales and Ireland. We look forward to working with our partners in Aberystwyth and Dublin."
Full details of the project are available on the Coastal Upland: Heritage Tourism.