Royal Television Society Wales success for Aberystwyth students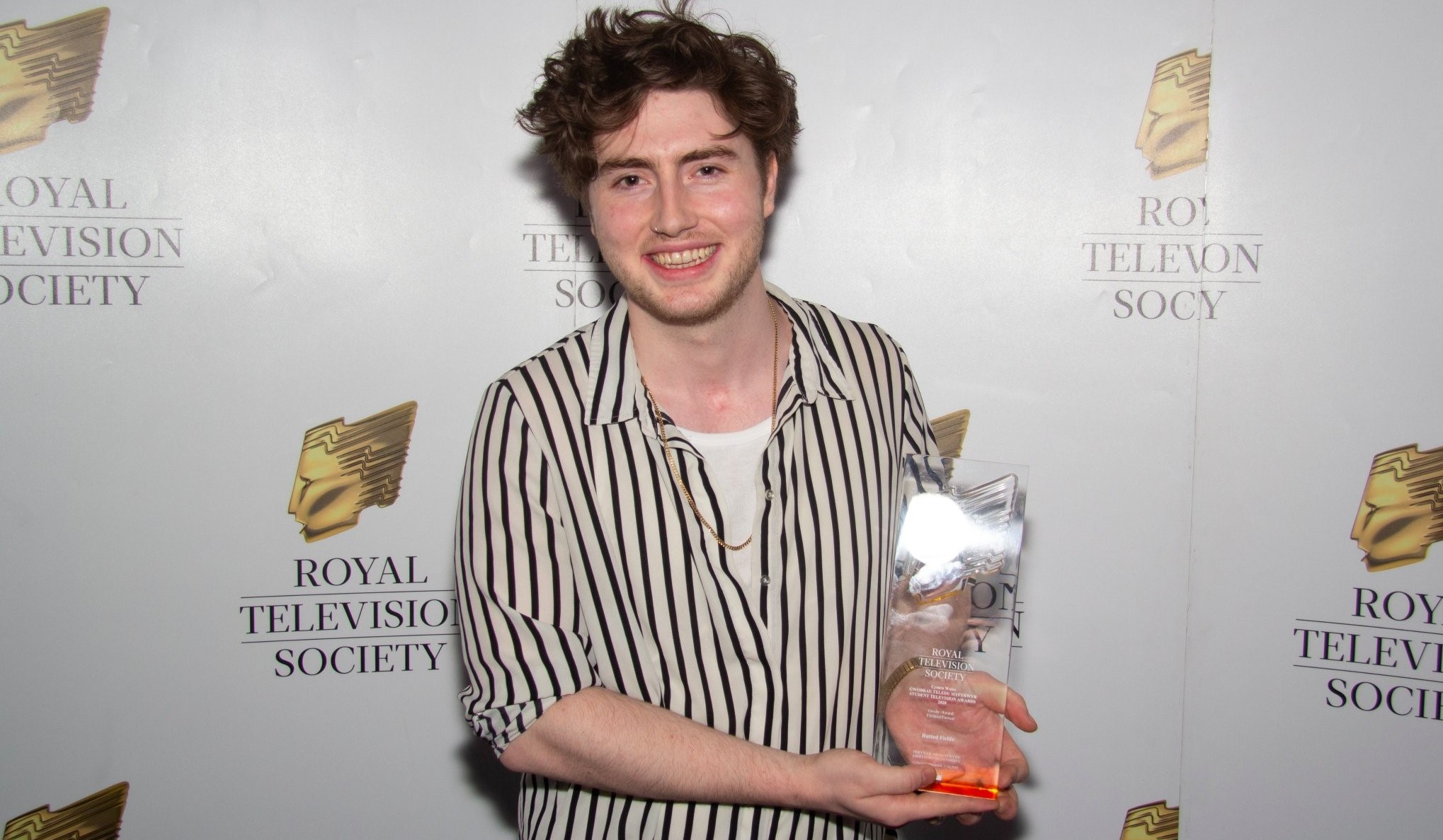 RTS Wales Photo: Sol Gardiner-Wade at the RTS Awards
A factual film by students from the Department of Theatre, Film and Television at Aberystwyth University has once again won an award at the 2020 RTS Wales Centre Student Television Awards.
Rutted Fields by Sol Gardiner-Wade and Monika Bednarczyk is a film about alternative living and has compressed hundreds of hours of a travelling family's archive into a fifteen-minute factual film.
Produced as a final year project, the piece won best Factual film for students at the recently held RTS Awards which took place at Cineworld in Cardiff.
Sol is a Creative Writing and Film and Television Studies graduate and is currently studying for a master's degree in the department, whilst Monika graduated in Film and Television Studies and plans to complete a master's degree in Cardiff next year.
Produced by Sol and directed by Monika the film combines eighteen years' worth of traveling family footage with recent interviews with family members about their memories.
Sol said: "We are delighted with this award. The documentary is simply about alternative living and is a fly on the wall of my new age travelling family. I was born on a bus and during my childhood we travelled around Europe. With a £1,200 loan, Mum bought a camera that was often used as a form of protection. The collection is a wealth of interesting films and demonstrates how different nationalities react to our family and the underlying tensions that follow."
Our aim was to try and challenge people's attitudes towards new aged travellers, a term many people aren't familiar with, by delving into my past to show rather than tell."
Sol added: "The film is called Rutted Fields because when you drive through a field, the tyres leave ruts so it's the only thing you leave behind and take with you. Also, farmers would stop new aged travellers by digging ditches which is also known as a rut. Therefore, Rutted Fields represents travelling but also represents the barriers put into place to live that lifestyle now and indeed identifies the reality of our living situations that we lived in fields and there was mud and dirt everywhere."
Monika said: "Having creative control over the way the story was told and what segments to include was the biggest challenge for me. Sol's family allowed me to dive in to the family's archive and pull out sections that could be used in the film. It was a challenging but enjoyable and formative experience. We are looking to make a feature, who knows what the future holds."
"We would like to thank Elin Morse, coordinator of the module and the technical team, especially Siencyn Langham, the Senior Technical Instructor, who digitalised all the archive, for all their work during this project."
The film was created as part of a third-year module, Documentary Production, led by Elin Morse, lecturer in Media Practice at the Department of Theatre, Film & Television at Aberystwyth University.
Elin said: "We are delighted that Sol and Monika's work has been recognised with an RTS award. This is the fourth time in five years for our films to receive national recognition, highlighting the quality of documentary and fiction films created in our Department."