Drones capture Greenland ice sheet fracturing as meltwater lake drains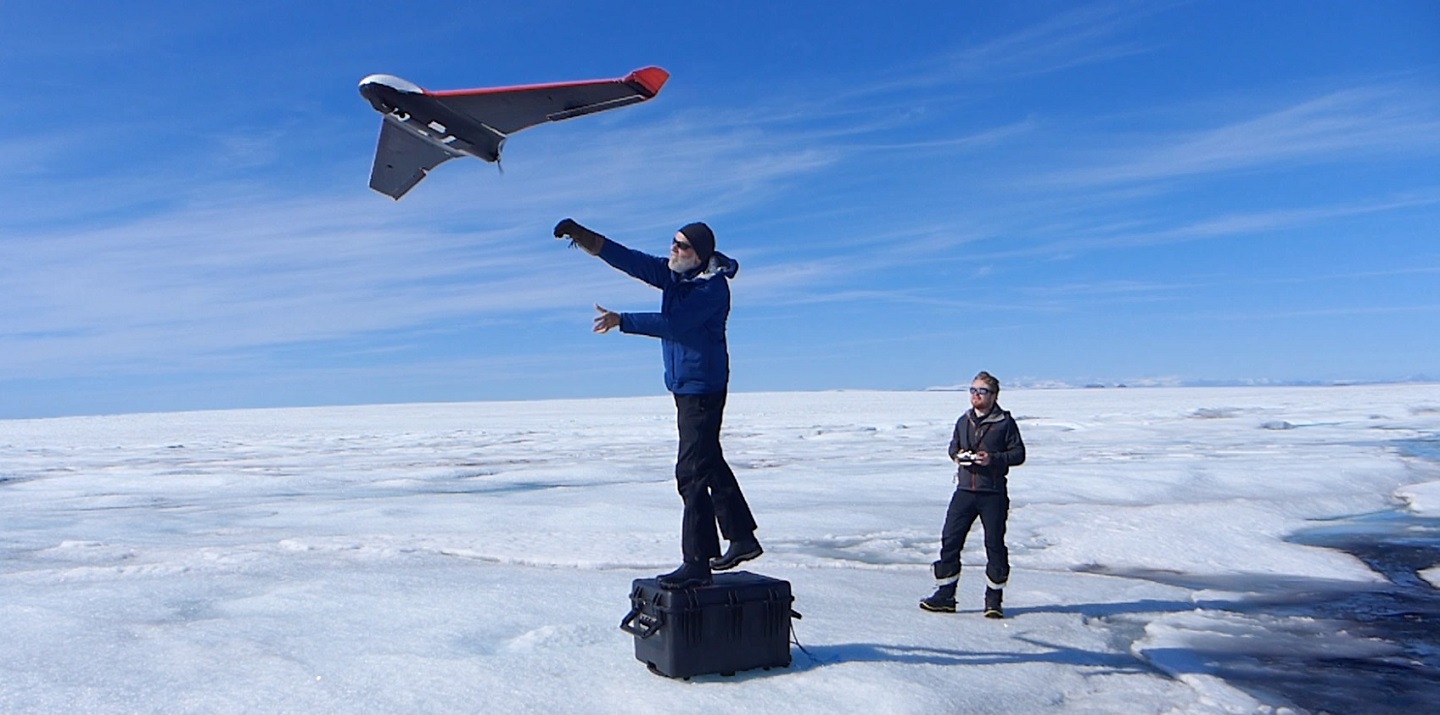 Launching a drone during the 2018 study. Custom-built drones allowed researchers to image the surface of the ice sheet in 3D, allowing the response of the ice to the lake drainage to be mapped in unprecedented resolution. Image: Tom Chudley
Aberystwyth University researchers have contributed to a study investigating how the world's second-largest ice sheet, and the single largest contributor to global sea level rise, is responding to the catastrophic drainage of large meltwater lakes that form on its surface.
Using custom-built drones strong enough to withstand the extreme Arctic conditions, Professor Bryn Hubbard and Dr Sam Doyle worked with researchers at the University of Cambridge to report the first drone-based measurements of how fractures drain meltwater lakes on the Greenland Ice Sheet.
The new study, co-authored by Professor Hubbard and Dr Doyle from the Centre for Glaciology in the Department of Geography and Earth Sciences, contributes to the understanding of how fractures cause catastrophic lake drainages in which huge quantities of surface water are transferred beneath the ice and – through lubricating glacier movement – contribute to sea-level rise.
Professor Hubbard said: "Each summer, thousands of lakes form by the surface melting around the fringes of the Greenland Ice Sheet. Many of these drain rapidly, delivering substantial quantities of meltwater to the ice sheet base in just a few hours.
"Once there, that water pressurizes pre-existing subglacial channels and lifts the ice off its bed, causing ice movement to speed up locally, delivering more ice to the ocean and enhancing sea-level rise."
"In this paper we report first-hand measurements from drones and a network of surface GPSs of the rapid drainage of a lake located immediately adjacent to our ice camp in the summer of 2018.
"It is extremely uncommon to observe such a drainage event, let alone be able to measure its hydrological and ice-dynamical effects, so this was a unique – and likely never to be repeated – experience for me."
Using drone technology, the team was able to document the flow of water into the fracture and the water's subsequent pathway under the ice.
Their footage supports previous evidence provided by computer models to show that drainage of melt lakes in Greenland can occur in a chain reaction.
This new study provides an insight as to how these chain reactions might be triggered, via lakes that can drain through existing fractures.
Using drilling equipment, the team is now exploring how the water is accommodated in the glacier's drainage system and how the ice sheet may change over the coming decades as the climate continues to warm.
This research was conducted as part of the RESPONDER project and is funded by the European Research Council under the European Union's Horizon 2020 programme.