Icelandic 'national icon' discovered at Aberystwyth School of Art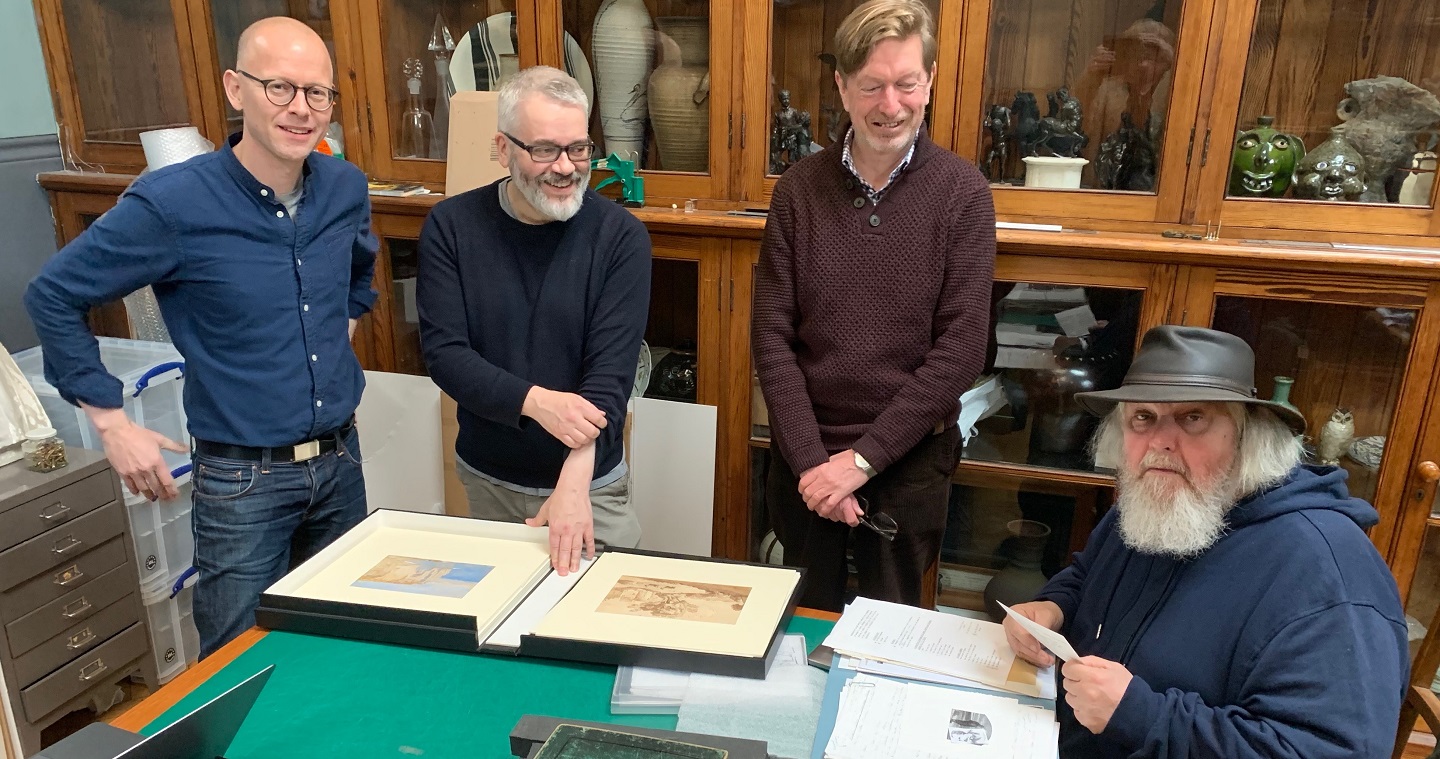 Unnar Örn (Artist, Reykjavik), Neil Holland (Senior Curator), Peter Jones (research facilitator, London), and Gudmundur Oddur Magnússon (Research Professor, Iceland University of the Arts, Reykjavik).
As Britannia is to Britons, Italia is to Italians, and Germania is to Germans, so too is Fjallkona – The Lady of the Mountain – to Icelanders.
Yet all but a handful of scholars know that the first ever female personification of Iceland was commissioned from a German artist by a Welsh patron.
The painting was bequeathed to Aberystwyth University in 1882 and is housed in the School of Art Museum.
It was with much anticipation that Gudmundur Oddur Magnússon, Research Professor at Iceland University of the Arts, and artist Unnar Örn, arrived in Aberystwyth this week to see the original painting of an image that is now so embedded in Icelandic culture.
Gudmundur believes that they are the first Icelanders to see the artwork since it was painted in the mid 1860s prior to its publication as a wood engraving in 1866.
Though the black and white engraving was subsequently copied and reinterpreted over some 160 years, beyond Aberystwyth the existence of the original painting – in colours – was until now forgotten.
The image of The Lady of the Mountain, as executed by German-born, London-domiciled painter Johann Baptist Zwecker (1814-1876) is now a national icon.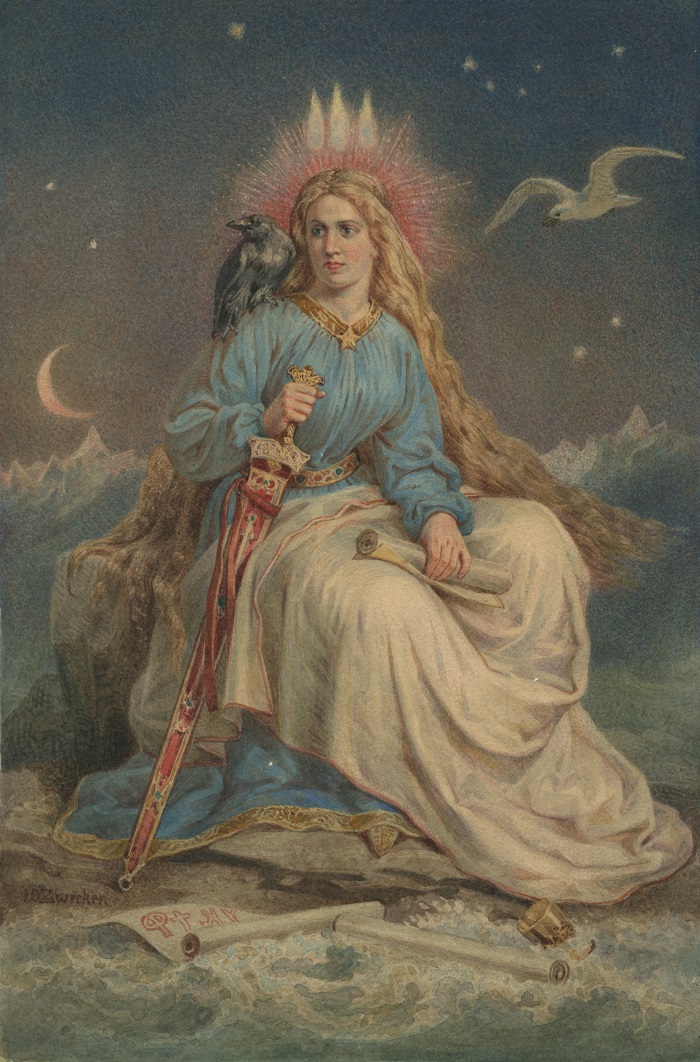 The Lady of the Mountain, Johann Baptist Zwecker (1814-1876)
It has appeared on postage stamps, T-shirts and mobile phone cases. Each year on June 17, Iceland's National Day, Icelandic women commonly dress as Zwecker's Fjallkona.
The original painting of The Lady of the Mountain was commissioned by George E. J. Powell (1842-1882), heir to the Nanteos Estate, three miles south of Aberystwyth.
It was the American poet Henry Wadsworth Longfellow that suggested Powell contact Cambridge University scholar Eiríkur Magnússon. He shared Powell's passion for Icelandic sagas. Magnússon had taught Old Norse to Arts and Crafts artist-designer William Morris who, in the 1870s, journeyed to Iceland in Powell's footsteps.
Together Magnússon and Powell translated folk tales collected by librarian and museum director Jón Arnason. Icelandic Legends was published in two volumes by Richard Bentley in London in 1864 and 1866. Powell made several trips to Iceland at a time of growing national consciousness, amid campaigns for independence from Denmark.
Neil Holland, School of Art Museum senior curator said: "Powell was a supporter of the Icelandic nationalist and writer Jón Árnusson, giving him £1,500 ostensibly to write a definitive history of his homeland which was never completed.' Gudmundur considers Powell to be the 'godfather of Icelandic independence."
As Dr Harry Heuser, Lecturer in Art History and Powell scholar, said: "This attention to language and culture does not mean, as some commentators suggested, that Powell was indifferent to Welsh culture. What some have read as a betrayal of his heritage is rooted in Powell's unhappy family life and his difficult relationship with his father, which led Powell to forge an identity for himself beyond the squirearchical society of Wales."
In fact, Powell did much for Aberystwyth. He contributed to a number of local causes and served as president of the Aberystwyth Literary Institute and Working Men's Reading Room. He was determined to share the wealth of the knowledge he gathered abroad with the people of Aberystwyth, and it is owing to his bequest to the University that Zwecker's Lady of the Mountain has remained in our town.
The first volume of Icelandic Legends carries numerous illustrations commissioned by Powell from Zwecker, the famed illustrator of Scottish missionary David Livingston's Last Journals and Welsh journalist cum explorer Henry Morton Stanley's How I Found Livingstone.
Zwecker's painting of The Lady of the Mountain served as frontispiece for Magnússon and Powell's second volume of translations. Fjallkona established Iceland as the Motherland, counter to the notion of the Danish King as Father.
After the watercolour was transcribed into black and white and engraved onto boxwood by George Pearson, Powell retained ownership of this painting as well as Zwecker's other illustrations for Icelandic Legends. He remained friends with Zwecker and was in regular correspondence until the artist's death in 1876.
Zwecker closely followed Magnússon's specifications. As Magnússon described in an 1866 letter to Jón Sigurðsson, leader of the Icelandic independence movement: "The picture of the woman is to represent Iceland, thus she has a crown of ice on her head, from which fires erupt. On her shoulder is the raven, Iceland's most characteristic bird, Óðinn's ancient friend and the favourite of poets, a great and knowledgeable carrier of news. Over the seas flutters a seagull, but across the surf of time and history are borne rune-staves to the land and up into the embrace of the woman, and she has picked one of them up. This is intended as a symbol of our land of literature and history. It is night, with a starry sky and the moon up. Behind are mountains, moonlight on the ridges."
Professor Gudmundur is working towards a publication and exhibition in collaboration with the National and University Library of Iceland. He believes that when fellow Icelanders learn of the existence of the earliest surviving embodiment of Icelandic national identity, they will be beating a path to Aberystwyth.
Aberystwyth University's Head of the School of Art, Professor Robert Meyrick said: "We were aware of importance of Powell's bequest of paintings, objet d'art, books and bound volumes of correspondences, but we had not until now appreciated the great cultural significance attached by the people of Iceland to our painting of The Lady of the Mountain."
The School of Art Museum has now posted Zwecker's painting The Lady of the Mountain on Wikipedia Commons for all to appreciate.