Speed networking event takes the search out of research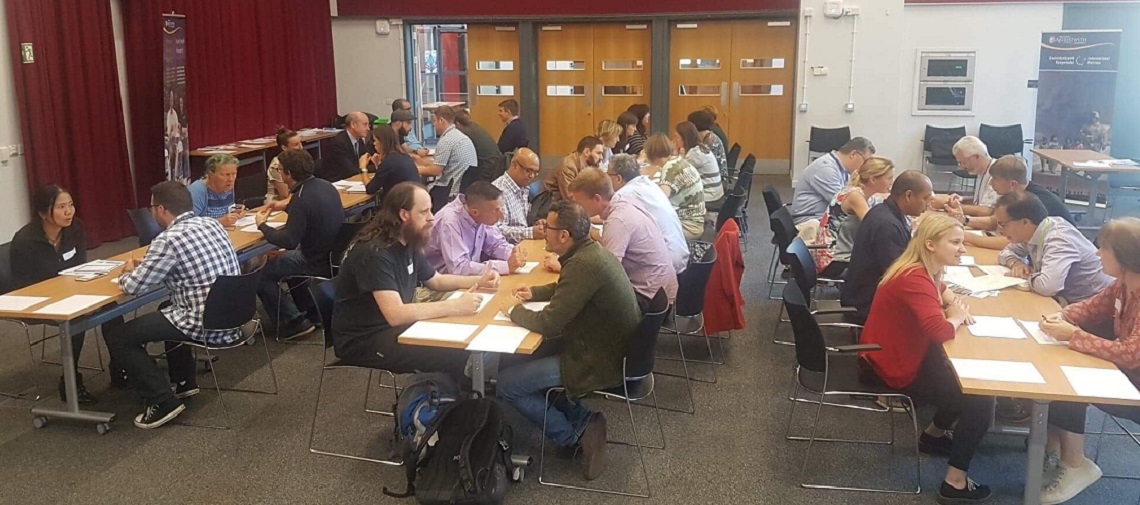 A 'speed networking' event was recently held between academics from Aberystwyth University and staff from the Hywel Dda University Health Board who were seeking their perfect research partner.
Taking place on Aberystwyth University's Penglais Campus on Friday 20 September 2019, the event was a collaboration between The Centre for Excellence in Rural Health Research (CERHR) at Aberystwyth University and Bronglais General Hospital, Aberystwyth.
The networking event provided an opportunity for University researchers to meet with clinical colleagues who would like to develop a research agenda.
Dr Rachel Rahman, Senior Lecturer in Psychology and Director of CERHR, explained: "One of the aims of the CERHR is to develop closer working relationships between the University and the hospital, so that we can maximise opportunities for research collaboration as well as future possibilities for teaching and placements. In addition to strengthening the impact of the University's research on informing the delivery of local health services, the development of a stronger research culture is also key to helping to make Bronglais General Hospital a more attractive place to work for clinical and allied health staff."
"Everyone is tight on time and sometimes we just need to meet the right people to help those ideas become a reality. The aim of the speed networking event is to create that opportunity but without taking up too much of everyone's time."
"We are already seeing some interesting opportunities for future research developing as a result of the event, which we hope will benefit the local community", added Dr Rahman.
CERHR aims to deliver innovative and impactful research which informs the provision of rural healthcare for current and future generations.
It brings together academics from four departments at the University; Psychology, Computer Science, Geography and Earth Sciences and the Institute of Biological, Environmental and Rural Sciences (IBERS), with contributions from other departments being developed.
Working collaboratively with Hywel Dda University Health Board, Powys Teaching Health Board, Rural Health and Care Wales, together with other relevant stakeholders, CERHR builds on the current expertise at Aberystwyth University to consider how interdisciplinary approaches can inform the understanding and future delivery of high quality healthcare to meet the needs of rural communities.