Oliver! opens to rapturous reception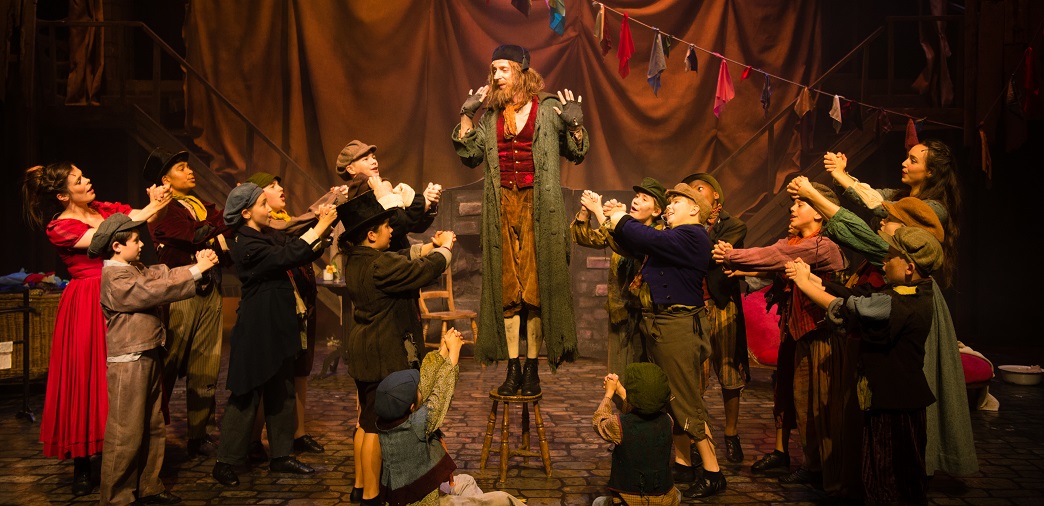 Photo: Keith Morris
Aberystwyth Arts Centre's summer season musical production of Oliver!, directed by Richard Cheshire, enjoyed a sold-out opening night and a standing ovation as the cast took their bows on the first performance of a three-week run.
The production features performances from West End stars including Anna McGarahan and Matthew Ashforde, TV favourites including John Lyons, Ieuan Rhys and Gillian Elisa, and some of the best young acting talent from mid-Wales, including Sam Ebenezer and Bethan Pearce.
For opening night Charlie Longman performed the role of Oliver, with Rhodri Jenkins and Mackenzie Lawlor sharing the role throughout the run. Anirudh Krishna was the Artful Dodger, with Sam Rolt also appearing in the role during the show.
Among those watching Oliver! on its opening weekend was Welsh actor Phylip Harries, who called the production a "top class show". Dame Elan Clos Stephens also called this a "class" production, and praised the quality on what was only the first of many performances; and Alana Spencer of Ridiculously Rich by Alana called the show "absolutely incredible".
Audience responses to the first shows have been exceptional, with some calling the show "West End standard" and others saying that Oliver! is the "best they've ever seen" at the Arts Centre. The professional cast of stars are "excellent" and "amazing," with one audience member singling out Matthew Ashforde's Fagin as "outstanding." The performances from the children were praised, with one audience member calling them "little stars in the making." 
The "top quality" production was praised for its lighting, scenery, choreography and its live band, which plays Lionel Bart's original score to perfection throughout. One audience member remarked that "even Lionel Bart would have been impressed".
Oliver! continues its run at Aberystwyth Arts Centre until 31 August, with evening performances every night Tuesday-Saturday, and matinees on Wednesdays, Thursdays, Saturdays and Sundays.
Tickets are available from the Aberystwyth Arts Centre box office in person, over the phone on 01970 623232 or online at www.aberystwythartscentre.co.uk