Ceredigion peripatetic music teacher presented with Honorary Fellowship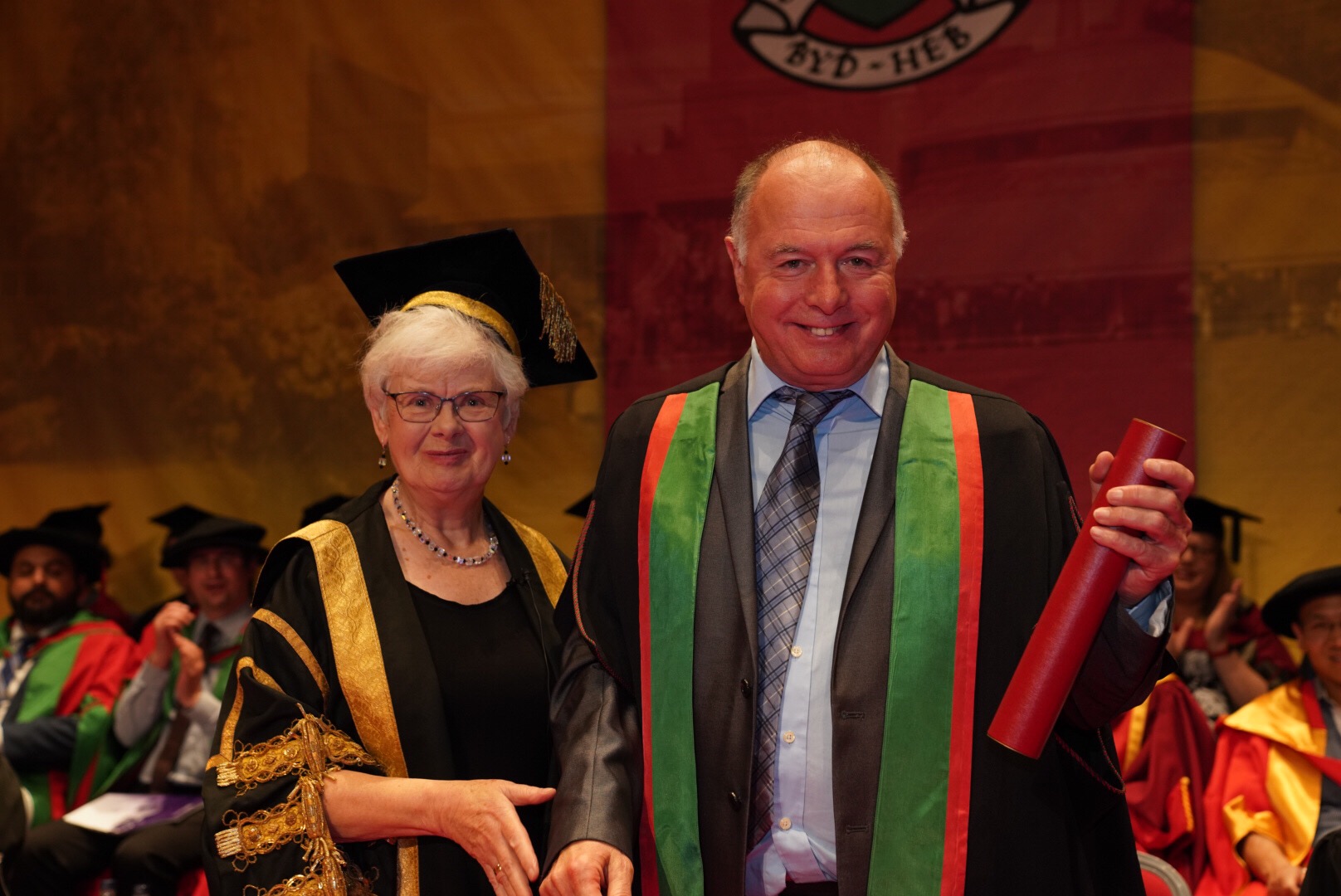 Pro Chancellor Gwerfyl Pierce Jones with Honorary Fellow Alan Phillips
A peripatetic music teacher who worked for Ceredigion Music Service for 35 years has been presented as an Honorary Fellow of Aberystwyth University.
Originally from Treherbert in the Rhondda Valley, Alan Phillips began his music career playing brass with the local Treherbert Band whilst at school.
After leaving school he became a bricklayer - a skill which took him all over the UK and to Europe. Then, at the age of 23 he embarked on a Music degree at Aberystwyth, graduating in 1981.
After gaining a Post Graduate Certificate in Education from Cardiff, a chance encounter with some of his Aberystwyth friends led him to apply for the vacant brass peripatetic post in Ceredigion, to which he was duly appointed.
Over a 35 year career working for Ceredigion Music Service, Alan started the Aberystwyth Town Youth Band, and took numerous groups of young musicians to competitions at home and abroad.
Alan was presented as Honorary Fellow during the first of the University's 2019 graduation ceremonies on Tuesday 16 July by Dr Rhodri Llwyd Morgan, Director of Welsh Language and External Engagement.
The full conferral presentation is available below, in the language in which it was delivered.
Presentation of Alan Phillips by Dr Rhodri Llwyd Morgan:
Dirprwy Ganghellor, Is-Ganghellor, graddedigion a chyfeillion. Pleser o'r mwyaf yw cyflwyno Alan Phillips yn Gymrawd Prifysgol Aberystwyth
Pro-Chancellor, Vice-Chancellor, graduates and supporters. It is an honour to present Alan Phillips as a Fellow of Aberystwyth University.
Rydym yn anrhydeddu Alan heddiw oherwydd ei gyfraniad enfawr fel athro cerdd peripatetig yn ysgolion Ceredigion ac am ei waith diflino yn annog ac ysbrydoli sawl cenhedlaeth o bobl ifanc mewn cerddoriaeth ac mewn grwpiau pres yn enwedig.
We are honouring Alan today because of his huge contribution as a peripatetic music teacher here in Ceredigion and for his tireless efforts in encouraging and inspiring young people locally to take an interest in music and helping them to develop their skills and confidence as a result.
Alan was brought up in the Rhondda Valley in South Wales. He played brass with the local Treherbert Band. He took up bricklaying for a few years but music remained his true calling and he graduated with a Music degree from Aberystwyth in 1981. He qualified as a teacher thereafter before taking up the post of Peripatetic Brass Teacher in Ceredigion, a position he filled for thirty five years before calling it a day last year.
Many of you out there will know the dangers of the humble recorder in the wrong hands, or the aural trauma inflicted by a violin in the hands of the beginner. Or the doleful one-note parping of the novice trombonist. Not good. And we've suffered as a family too. We have not one Euphoniumist in our house but two. Thankfully, miraculously even, under the guidance of dedicated and outstanding teachers, progress is made and you soon find yourself in Junior and Youth Band concerts nodding along to the James Bond refrain or silently whistling The Simpsons theme tune almost in a state of disbelief.     
Alan is one of those outstanding teachers.
He has nurtured, motivated and inspired many hundreds of players during his career and a recurring theme among the people who know him well is that – no matter what your background or how much musical talent you may possess – Alan will get the very best out of everyone. He helps each and every pupil to reach their full potential.
He has also guided many to aspire to the highest standards – a good number of his students, too many to mention, have gone on to professional careers – and the Aberystwyth Youth Band which, yes, Alan founded, has performed and competed nationally and internationally. In their age category (16 and under) the Youth Band under Alan have even been crowned British Champions as well as coming a close second and third on several other occasions.
The people who know him appreciate very well that Alan puts the same effort into everything he does with music – from the junior school bands that compete in the Urdd Eisteddfod prelims or who go with him to ALL the local Care Homes in the area to perform on a regular basis. Alan even takes a youth band with him into the local hospital to perform on Christmas Day – that he does this for other people's enjoyment and that he inspires generations of young people to give up part of this special day to come with him says it all.
For your very special contribution Alan, you are thoroughly deserving of this recognition.
Dirprwy Ganghellor, mae'n bleser gen i gyflwyno Alan Phillips i chi yn Gymrawd.
Pro Chancellor, it is my pleasure to present Alan Phillips to you as a Fellow of Aberystwyth University.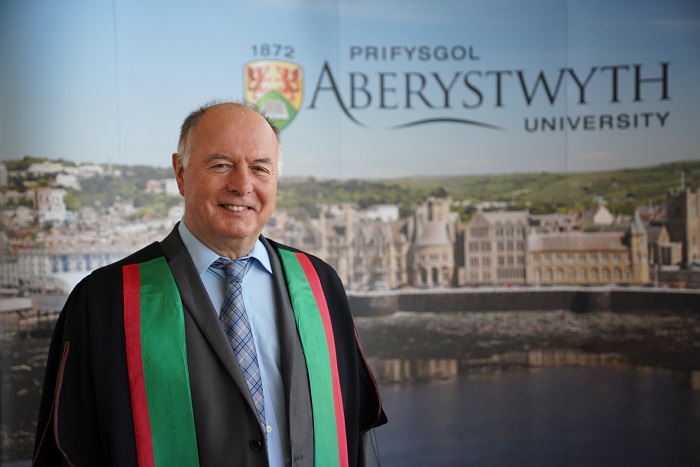 Photo: Alan Phillips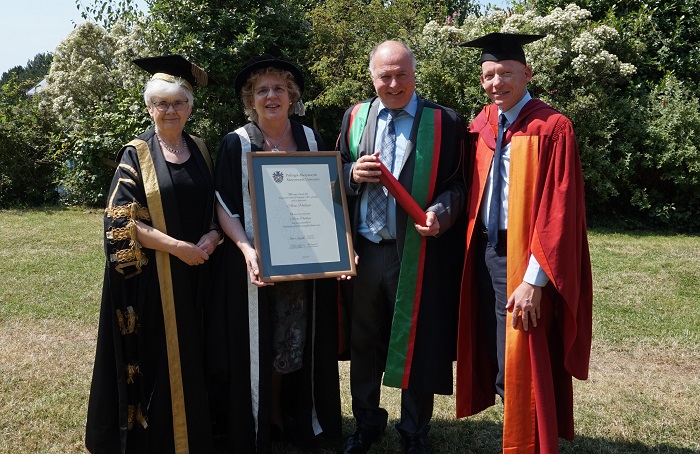 Photo: Pro Chancellor, Gwerfyl Pierce Jones; Vice-Chancellor, Professor Elizabeth Treasure; Honorary Fellow, Alan Phillips; and Director of Welsh Language and External Engagement, Dr Rhodri Llwyd Morgan
Aberystwyth University Honours 2019
Nine individuals are being honoured by Aberystwyth University during the 2019 graduation ceremonies, which take place at the University's Arts Centre from Tuesday 16 until Friday 19 July.
Honorary Fellowships are presented to individuals who have, or have had, a connection with Aberystwyth or Wales, and who have made an outstanding contribution to their chosen field.
The 2019 Aberystwyth University Honorary Fellows are (in order of presentation):
Alan Phillips, retired peripatetic music teacher who worked for Ceredigion Music Service for 35 years
Professor Frank N. Hogg OBE, the first Principal of the College of Librarianship Wales
Ruth Bidgood, Welsh poet and local historian
Professor R Geoff Richards, Director of one of the world's leading orthopaedic research institutes, the AO Research Institute in Davos (Switzerland)
Emyr Jenkins, first Director of the National Eisteddfod and former Chief Executive of the Arts Council of Wales
Professor Virginia Gamba, leading expert in the field of disarmament research and policy formulation
Ian Hopwood, who has worked in the development field for over 40 years in UNICEF HQ and in field assignments in Africa, Asia, and the Arab Gulf States
The Rt Hon Carwyn Jones AM, former First Minister of Wales and Leader of the Welsh Labour Party 2009-18
Judith Diment, a leading global figure in the campaign to eradicate polio