Solar Wind Sherpas prepare to record total eclipse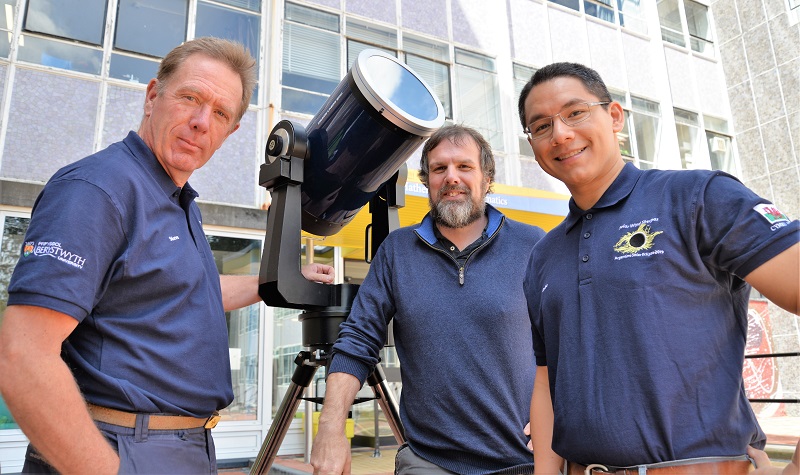 Stephen Fearn, Dr Huw Morgan and Gabriel Muro from the Solar System Physics Research Group and members of the Solar Wind Sherpas
Aberystwyth University's Solar Wind Sherpas are in the Argentinian Andes preparing to record the latest total eclipse of the Sun.
Lasting just 2 minutes 30 seconds and set to take place around 9pm UK time – 6pm local time - on Tuesday 2 July 2019, the total eclipse will be recorded by Gabriel Muro and Stephen Fearn from the Department of Physics at Aberystwyth University.
Using equipment developed by Dr Matt Gunn and Dr Huw Morgan at Aberystwyth University, they will take detailed images of the Sun's corona, the bright ring of light which is only visible when the moon passes directly between the Sun and the Earth.
The data collected will enable them to focus on three precise colours, which indicate iron gas at different temperatures, to see what effects the magnetic field has on the solar atmosphere.
Primarily, they will get detailed information on the heating pattern and particle movement that are far in excess of what space telescopes are currently capable of.
Speaking before leaving for the Andes, Gabriel said: "We will be using equipment developed at Aberystwyth for high resolution spectroscopy during the solar eclipse which gives us a really good opportunity to study the solar atmosphere.
"The solar atmosphere sometimes affects people on earth quite directly. Just like earthquakes, tsunamis and other natural disasters occur on the Earth, these large scale events also occur on the surface of the Sun, in the form of Coronal Mass Ejections (CME).
"The corona of the Sun is an area that we don't understand that well, so by going there and collecting new and unique data we can have a better idea of where and when the CMEs occur and possibly predict them.
"It is important for us to be able to predict them because when they send large amounts of charged particles towards the earth they can damage satellites and our electrical grid and essentially shut down an area on Earth for a day or more, depending on how well prepared we are."
The Solar Wind Sherpas are part of an international team of researchers led by Professor Shadia Habbal from the University of Hawaii.
The work at Aberystwyth University is led by the Solar System Physics Research Group.