Aberystwyth University secures £1.8m EU funding to support Welsh creative industries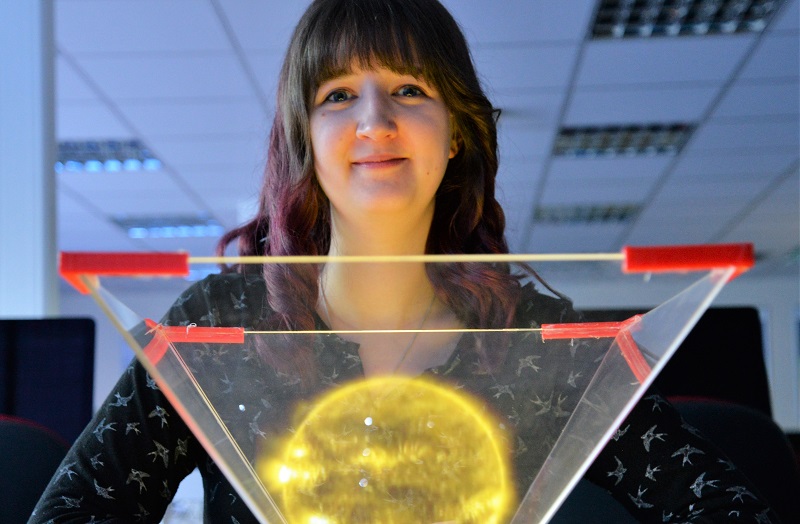 Dr Helen Miles, Project Lead and Academic Coordinator for the Advanced Media Production programme.
Wales's creative industries sector is set to benefit from a £1.8m EU funding investment in a high-level skills programme led by Aberystwyth University.
The funding will support the Advanced Media Production programme, which aims to raise innovation and productivity by working with professionals in the sector, including recent graduates.
As part of the Masters level programme, 155 people will be trained to exploit new technologies in media production over the next four years.
The training will support a more intensive approach to research and innovation within the sector, and will help employers address technical skills shortages in media production by upskilling the existing workforce.
Wales's fast-moving creative industries sector includes film and TV, product design, fashion, music and the performing arts. Through Advanced Media Production, around 50 employers based in South, West and North-West Wales will benefit from the programme.
Counsel General and Brexit Minister, Jeremy Miles, said: "The creative industries economy is worth nearly £1 billion to Wales and is one of the fastest growing sectors in the UK.
"This investment will ensure that Welsh businesses have the specialist skills and expertise to grow in a global industry that is undergoing rapid technological change. I'm also delighted that more than 150 people in this sector in Wales will benefit from accelerated career development and earning potential as part of the programme.
"This is another example of how Wales is benefitting from EU funding, which continues to be vital in modernising our economy and driving real progress in R&D, science, infrastructure and skills. Initiatives such as this are critical to delivering the ambitions of the Employability plan for Wales, which looks to support people into work today whilst also preparing for the immediate and long term challenges of the future."
Through the 2014-2020 EU programmes, Aberystwyth University has secured more than £40m which has supported the development of its new Innovation and Enterprise Campus, a state-of-the-art veterinary hub, the refurbishment of its Old College building and a range of R&D and skills projects.
Professor Qiang Shen, Pro Vice-Chancellor for the Faculty of Business and Physical Sciences at Aberystwyth University, welcomed the new programme, saying: "As a leading research-led teaching institution, our mission is to deliver inspirational education in a creative environment. This announcement marks an important step in making cutting edge research in the areas of virtual and augmented reality accessible to local companies, organisations, and individuals. It can also contribute dramatically to the economy of Wales and the UK, offering a whole new dimension to businesses in an increasingly digital world."
In the last decade, EU-funded projects in Wales have created more than 48,000 jobs and 13,000 new businesses, while helping 86,000 people back into work.