Old College planning applications submitted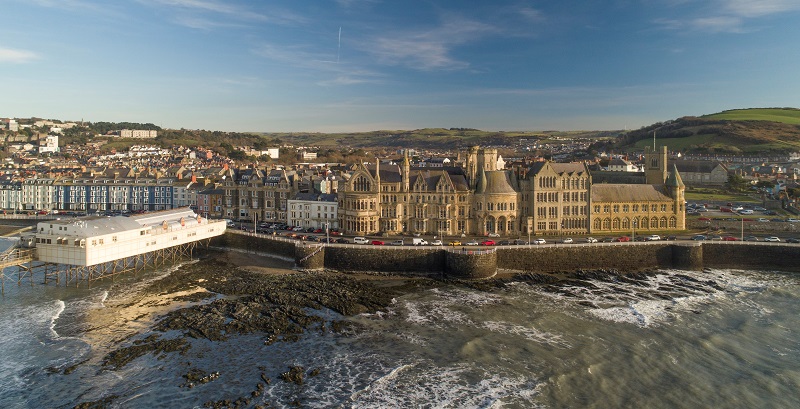 Aberystwyth University has submitted applications for full planning consent to transform the iconic Old College building, which opened its doors in 1872 and was the first home of the University of Wales. Image: Keith Morris.
Aberystwyth University has submitted planning applications to Ceredigion County Council for consent to transform the Old College for the 21st century.
The project to breathe new life into the Old College would provide new cultural, learning, and enterprise facilities for the University, the local community and the wider region.
Detailed proposals for the multi-million pound project were revealed at the launch of a 28-day public consultation held in the Old College in December 2018.
The University's application for full planning consent can be viewed on Ceredigion County Council's website.
The proposals include the creation of spaces for art and other exhibitions, science displays and activities, conference and debating facilities, teaching rooms for languages and lifelong learning, and a 24-hour study space for students.
The wood-panelled Old Library would be used as a space for events, festivals and functions, with the upper floors offering high-quality accommodation in 30 rooms.
Other features of the redevelopment include 12 new business units for the creative technologies sector, with European Regional Development Funding through the Welsh European Funding Office (WEFO).
The proposed redevelopment of the Old College would act as a catalyst for economic regeneration, creating up to 40 new jobs and attracting over 200,000 visitors every year.
Dr Rhodri Llwyd Morgan, Director of the Welsh Language, Culture and External Engagement at Aberystwyth University, said: "Old College is one of Wales's most recognisable buildings and the birthplace of the University of Wales but we need to reinvent its purpose for a new generation and bring this very special building firmly back into the student experience at Aberystwyth. By breathing new life into the Old College, we will also be safeguarding a key part of our heritage and providing a more sustainable future for this Grade I listed building. We have consulted widely and are grateful to all those who have contributed towards the development of these exciting plans."
Drafted by a team of experienced heritage architects and consultants, the detailed proposals to redevelop Old College will cost an estimated £26.2m.
Costs will be met partially through the University's capital investment programme but the main source will be external funding, including grants from trusts and foundations as well as a major public fundraising appeal.   
The New Life for Old College project was granted round one development funding by the National Lottery Heritage Fund of £850,000 in July 2017, and a final decision on the full funding award of £10.5 million is expected before the end of 2019.
The aim is to reopen the building in the 2022-23 academic year when the University celebrates its 150th anniversary.