Aberystwyth students retain prestigious NIAB Agronomy Cup in 2019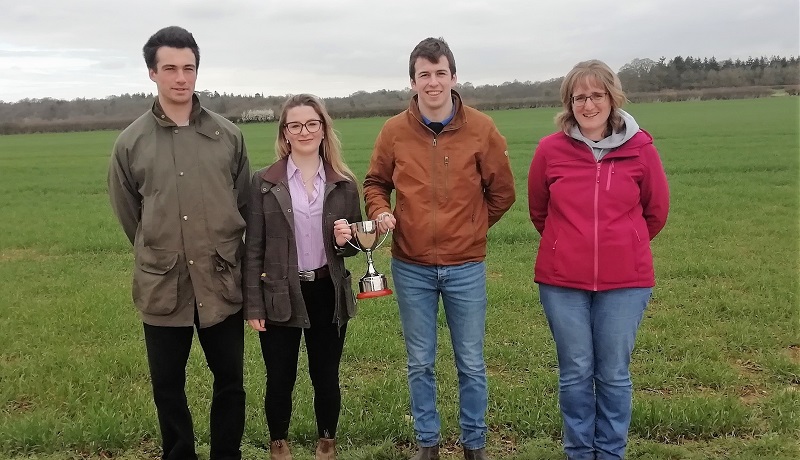 From the left -William Watson, Olivia MacGarvie and Philip Dray, with their Plant Breeding lecturer Dr Irene Griffiths from Aberystwyth University's IBERS 2018 NIAB Agronomy Cup winning team. Missing is team member Will Davies, currently in New Zealand.
A team of students from Aberystwyth University's Institute of Biological, Environmental and Rural Sciences (IBERS) are the winners of the NIAB Agronomy Cup for the second year.
BSc Agriculture students Philip Dray, Olivia MacGarvie, William Watson and Will Davies achieved the highest gross margin of £2,131 per hectare in the annual winter wheat trial plot competition, based on a yield of 12.24 tonnes per hectare and an input cost of £72.15 per hectare.
The IBERS team is the first to lift the trophy twice since the competition began, after winning in 2018 and coming a close second in 2017.
They beat six other university and colleges, with a team from Diss Young Farmers Club, in Norfolk coming second and Lancashire's Myerscough College taking third place.
Launched in 2012, the NIAB Agronomy Cup competition is open to agriculture and crop science students from universities and colleges from across the UK.
Hosted by Cambridge based NIAB, the competition aims to challenge teams' agronomy, farm management and agricultural decision-making skills.
During the competition the team were required to make regular visits to crop growing plots at NIAB's Hereford site. The competition was carried out on the wheat variety KWS Siskin on five sites across the UK.
Agriculture lecturer Dr Iwan Owen said: "I am delighted that the IBERS team has once again won this competition, highlighting the cereal growing expertise our students are developing as part of the agricultural courses here."
"Winning the prestigious NIAB trophy is particularly pertinent this year as we celebrate 100 years of award winning world renowned plant breeding expertise in Aberystwyth."
NIAB national trials co-ordinator, Ian Midgley said: "The Aberystwyth University IBERS team has been very diligent, considering how far they have to travel to check their plots.
"They took note of all the site information provided by NIAB staff, made good use of plot visits to our site at Hereford, identified the disease present and understood the strengths and weaknesses of the competition variety."
The Aberystwyth University Team Captain, Olivia McGarvie said: "It was a fantastic opportunity to put our newly found agronomy know-how to the test.
"The NIAB Agronomy Cup competition allowed us to apply the knowledge gained on our university course, to real practical situations and we would like to thank our lecturer in Plant Breeding, Dr Irene Griffiths for her highly informative lectures."