Space age technology could benefit mid Wales companies says Aberystwyth physicist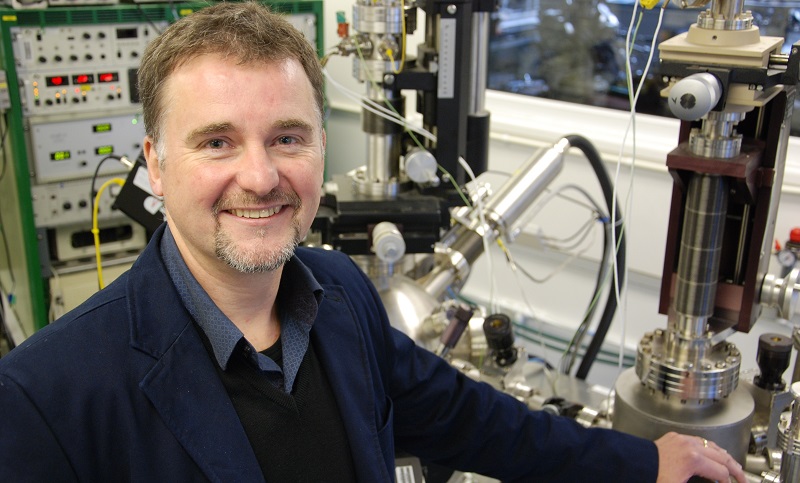 Professor Andrew Evans, Head of Physics at Aberystwyth University
The announcement of £3.7m of EU funding in December 2018 by Welsh Government's Mark Drakeford to create a world-class research network to help industry embrace cutting-edge technology has been welcomed by an Aberystwyth University scientist.
Professor Andrew Evans, Head of the Department of Physics at Aberystwyth, is an authority on semiconductors and has recently published research on graphene - a single layer of carbon atoms and one of the strongest materials ever tested.
Professor Evans believes that space age technologies developed at Aberystwyth University could benefit companies in mid Wales, thanks to the new £5.8m Centre for Photonics Expertise project.
Professor Evans said: "Wales is known across the world for its expertise in photonics and optics – technology that is found everywhere, from parking sensors in cars to lasers used in surgery and cells that capture solar energy."
"Aberystwyth University has a long tradition of working with glass, semiconductors, thin films, transparent materials, and solar cells, and in developing instrumentation for space research, including missions to study Mars, Jupiter, Mercury, the Moon and the Sun.
"The knowledge and expertise of knowing how to build the best cameras and detectors, which components to use and how to make them work in extreme environments of space could be used to assist industry as they work to develop new technologies for the commercial sector."
The Centre for Photonics Expertise project will bring together expertise from across Wales and establish collaborative research projects to encourage industries to embrace photonics technology in the use of lasers, sensors and fibre-optics.
Led by Glyndwr University, the three-year project will be delivered in partnership with Aberystwyth, South Wales, and Bangor universities, who will work with companies across West and North Wales and the South Wales Valleys in areas such as manufacturing, healthcare, telecommunications, energy and agriculture.
Announcing the funding in December 2018, the then Cabinet Secretary for Finance Mark Drakeford said: "It is vital Welsh industry has access to the knowledge and expertise in our highly-acclaimed universities so we can drive innovation and put Wales on a global platform for success.
"This investment highlights the importance of securing replacement funding from the UK Government to support growth and jobs in Wales following our exit from the EU."
Caroline Gray, director of Wrexham Glyndwr University's OpTIC Technology Centre, said: "We are delighted to receive this funding and to be leading the project with our partners and other sectors in West Wales and the Valleys.
"The centre will bring together all areas of academic expertise across photonics technology, helping industry develop the next generation of processes and products while boosting business growth and efficiency for the Welsh economy and future generations."
Photonics is the science of using light to generate energy, detect or transmit information and other forms of radiant energy whose quantum unit is the photon.