Festival of Learning offers New Year study opportunities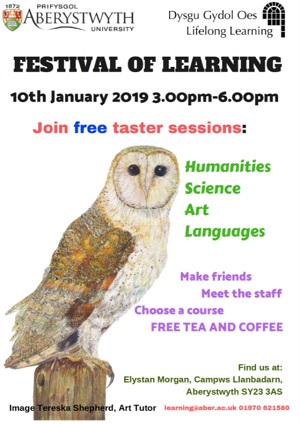 Are you planning to make it your New Year's resolution to try something different or learn a new skill?
If so, Aberystwyth University's Festival of Learning could be exactly what you need.
Organised by the University's Lifelong Learning department, the event takes place between 3pm and 6pm on Thursday 10 January 2019 at the Elystan Morgan Building, Llanbadarn Campus.
The Festival offers free 40 minute taster sessions in the humanities, science, art and languages, and visitors can drop in to any session or stay for the full three hours.
Sessions include:
Lest we forget: what can we find out about our ancestors who fought in the global conflict
Figuratively speaking: Carve a woman of Willendorf from a bar of lemon soap
Try out your Spanish: Greetings
Ferns and how they reproduce
Story Workshop
What do you know about Spanish culture? Quiz session
A wash with watercolour: short activity
Looking at art history
A contemporary twist on the Still Life
A warm welcome awaits, with ample free parking and complimentary hot drinks.
Alison Pierse, Lifelong Learning Co-ordinator at Aberystwyth University said: "The New Year offers an excellent opportunity to take on a new challenge, try something new, develop a skill perhaps or learn a new language. Our Festival of Learning is all about giving people an opportunity to have a go, see what might appeal, and hopefully provide that little extra incentive that will take them on a voyage of discovery, be that for pleasure or to enhance their career potential. And what could be better than doing this in a friendly environment where you can meet interesting people and make new friends."
The event will also offer an opportunity to enrol on courses and take advantage of the 'early bird' discount.
The Lifelong Learning department at Aberystwyth University offers a wide range of courses from Junk Art to Japanese, Printmaking to Permaculture, and Scriptwriting to Still Life.
To find out more, visit the department's online pages or get in touch on (01970) 621580 / learning@aber.ac.uk.