Detailed plans to transform Old College unveiled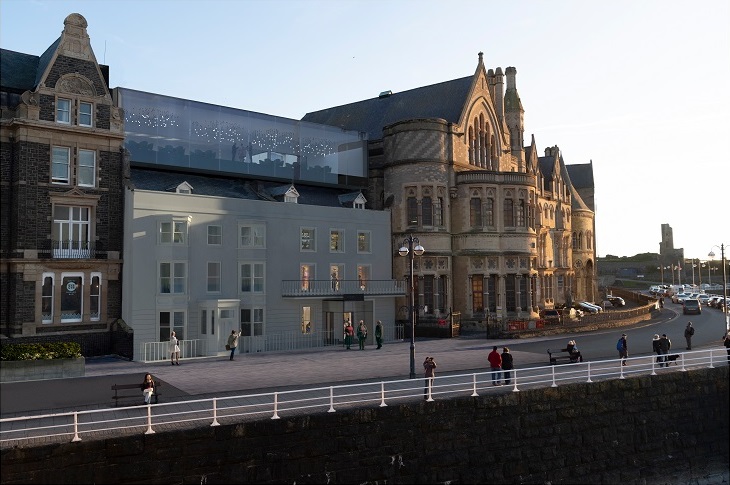 Artist's impression showing the proposed atrium behind and above 1 and 2 New Promenade as part of the Old College redevelopment.
Aberystwyth University has unveiled the latest designs for its ambitious plans to refurbish Old College, one of Wales's most iconic buildings.
Detailed proposals for the multi-million pound project were revealed at the launch of a 28-day public consultation held in the Old College on Tuesday 11 December 2018.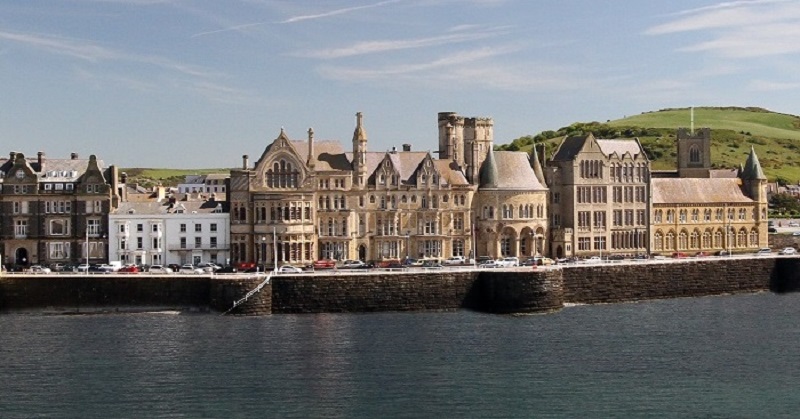 The Old College and 1 and 2 New Promenade as it is today.
The project to breathe new life into Old College will provide new cultural, learning, and enterprise facilities for the University, the local community and the wider region.
The proposed redevelopment will act as a catalyst for economic regeneration, creating up to 40 new jobs and attracting over 200,000 visitors every year.
The plans include the creation of a museum telling the story of the first University College of Wales, spaces for art and other exhibitions, a science and discovery centre, conference and debating facilities, and a 24-hour study space for students.
Working with project partners including National Museum Wales, Hay Festival, National Library of Wales and Ceredigion Museum, the University will showcase Welsh language and culture to international audiences and programme activities for families and schools.
The stunning wood-panelled Old Library will be used as a space for events and festivals as well as offer a wedding venue and the upper floors will offer high quality, four-star accommodation in 33 rooms.
Other features of the redevelopment include 12 new business units with European Regional Development Funding through the Welsh European Funding Office (WEFO), as well as artist studios, community facilities, a bistro-cafe and bar.
In a striking addition to the original plans for transforming Old College, heritage architects have also incorporated into the proposals the two adjoining Georgian villas owned by the University.
A six-storey atrium will be created above and behind 1 and 2 New Promenade, retaining the historic villas but providing contemporary lift and stairwell access to Old College as well as a rooftop function room with stunning sea views.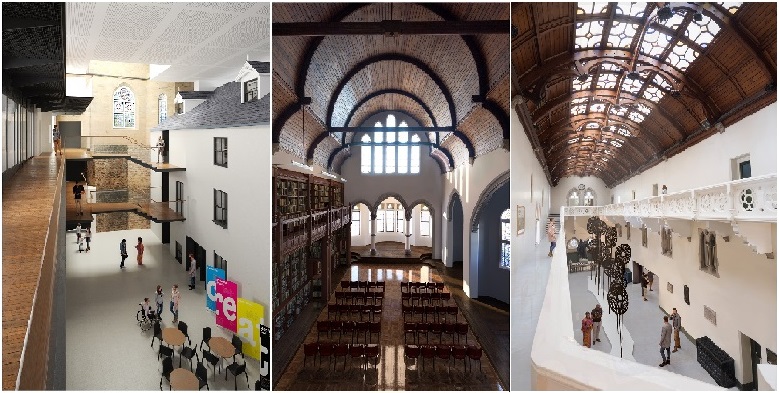 (left to right): Artist's impression showing the six-storey atrium at the rear of 1 and 2 New Promenade, artist's impression showing the Library as a potential wedding venue and artist's impression of the Quad.
Professor Elizabeth Treasure, Vice-Chancellor of Aberystwyth University, said: "Old College is one of Wales's most recognisable buildings and the birthplace of the University of Wales but we need to reinvent its purpose for a new generation. Our redevelopment and fundraising plans will lead to the creation of new facilities and opportunities for the University and for students, as well as being a major regeneration project for the local community which will attract visitors from far and wide. By breathing new life into Old College, we will also be safeguarding a key part of the heritage and providing a more sustainable future for this Grade I listed building."
Drafted by a team of experienced heritage architects and consultants, the detailed proposals to redevelop Old College and the inclusion of 1 and 2 New Promenade will cost an estimated £26.2m.
Costs will be met partially through the University's capital investment programme but the main source will be external funding, including grants from trusts and foundations as well as the launch of a major fundraising appeal in the New Year.
The New Life for Old College project was initially granted round one development funding by the National Lottery of £850,000 in July 2017, allowing Aberystwyth University to progress with its plans for the building. Detailed proposals will be considered by the Heritage Lottery Fund at second round, where a final decision on the full funding award of £10.5 million is expected to be made in autumn 2019.
The aim is to reopen the building in the 2022-23 academic year when the University celebrates its 150th anniversary.
Dr Rhodri Llwyd Morgan, Director of Welsh Language and External Relations at Aberystwyth University, said: "This is an inspiring project with enormous cultural, educational and economic potential. Our proposals have been developed with input from the local community here in Aberystwyth and from our alumni, in particular our Old Students' Association. We look forward to receiving further feedback in the coming weeks on our proposals and to launching our fundraising appeal soon after to ensure a sustainable future for this much-loved building."
As part of the public consultation, the detailed plans and images are available online www.aber.ac.uk/oldcollege and are on display in Old College from 12 December 2018 until 24 January 2019 (with the exception of the Christmas break 22 Dec 2018 – 2 Jan 2019). An application for planning permission and listed building consent will then be submitted to Ceredigion County Council.