Aberystwyth University hosts third David Trotter memorial lecture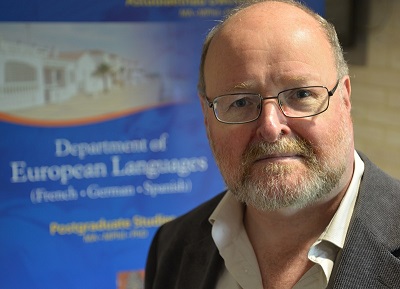 The late Professor David Trotter
Dr Laura Wright from the University of Cambridge will deliver the third David Trotter Memorial Lecture at Aberystwyth University on Thursday 25 October 2018.
A Reader in English Language, Dr Wright will lecture on 'A Christmas tradition that you will probably not wish to revive'.
Hosted by the Department of Modern Language, the lecture takes place at the Seddon Room in the Old College and starts at 6pm, with a drinks reception from 5.15pm. All are welcome to attend.
Dr Wright is an expert on the history of the London dialect, including mixed-language code-switching texts written in Anglo-Norman, Medieval Latin and Middle English, as well as the 17th, 18th and 19th century London English.
Dr Guy Baron, Head of the Department of Modern Languages at Aberystwyth University, said: "Professor Trotter was an extraordinary academic whose legacy continues today in the form of the Anglo-Norman Dictionary Project that continues to generate large amounts of funding from the AHRC.
"He led the Modern Languages Department for many years and always fought hard for his staff and for the benefit of the department. He was a wise and well respected academic but always had a keen sense of humour that was never lost within the serious confines of academic life."
Professor David Trotter was a leading international authority on French language and lexicography and head of the Department of Modern Languages at Aberystwyth University.
A former president of the Société de Linguistique Romane (2013-15) and a corresponding member of the Paris-based Académie des Inscriptions et Belles-Lettres, Professor Trotter was a recipient of the Prix Honoré Chavée and a fellow of the Learned Society of Wales.
He was a graduate of Queen's College Oxford and was appointed chair of French at Aberystwyth in 1993.