Aberystwyth welcomes medical students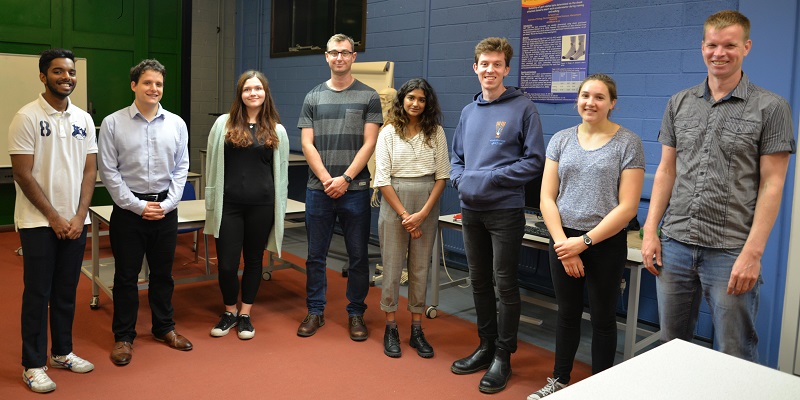 Cardiff University medical students with Dr Marco Arkesteijn (right), Lecturer in Sport and Exercise Biomechanics at the Institute of Biological, Environmental and Rural Sciences, during a familiarisation visit to the University's sports science and medical research facilities.
Aberystwyth University is one of three Welsh universities involved in a pilot scheme designed to bring young doctors to Mid and North Wales.
The CARER (Community & Rural Education Route) programme has been established in response to a critical shortfall in the number of family doctors able to serve the increasing patient demand generated by a growing and aging population in rural Wales.
Led by Cardiff University in partnership with Aberystwyth and Bangor universities, the programme gives Cardiff medical students the opportunity to have a year of their education delivered in GP practices in rural/community settings.
The new scheme, starting in September 2018, will see seven students placed in Aberystwyth. They will complete their third year in the surrounding area before returning to Cardiff to finish their degrees.
During their time at Aberystwyth, the medical students will have use of the University's study and recreational facilities, along with its student support services.
Professor Elizabeth Treasure, Vice-Chancellor of Aberystwyth University said: "We are delighted to welcome the first cohort of Cardiff University medical students to Aberystwyth, and to make available to them the excellent study, support and recreational facilities we have to offer. From experience, we know that medical students tend to want to continue working near to where they study. By offering this opportunity to study in Mid and West Wales, we very much hope they will also see a professional future here, and in so doing help address the shortage of healthcare professionals working in the region."
Professor Siladitya Bhattacharya, Head of Cardiff University's School of Medicine, said: "A number of GP surgeries in North and Mid Wales face closure due to fewer GPs who can replace those who retire or leave. While the Government's Train Work Live campaign has seen an increase in the number of junior doctors choosing to work in Wales, recruitment is still a problem in rural areas. At Cardiff University School of Medicine we want to train an outstanding medical workforce to serve all communities across the whole of Wales."
Welsh Health Secretary, Vaughan Gething said: "I am very pleased to see this scheme providing the chance for our next generation of doctors to study in rural Wales. These excellent examples of collaboration between our universities will greatly help towards bringing GPs to traditionally hard to recruit areas in North and West Wales."
The first programme of its kind in Wales, CARER will initially be available to existing third year medical students only.
Ella Wooding, a Cardiff University student taking part in the CARER scheme, said: "I have really enjoyed the GP teaching I have had in the first two years of medical school, and so I thought that CARER sounded like a fantastic opportunity! I also thought it would be a good chance to explore more of Wales and experience something different to Cardiff life."