Rutherford Fellowships awarded to Aberystwyth University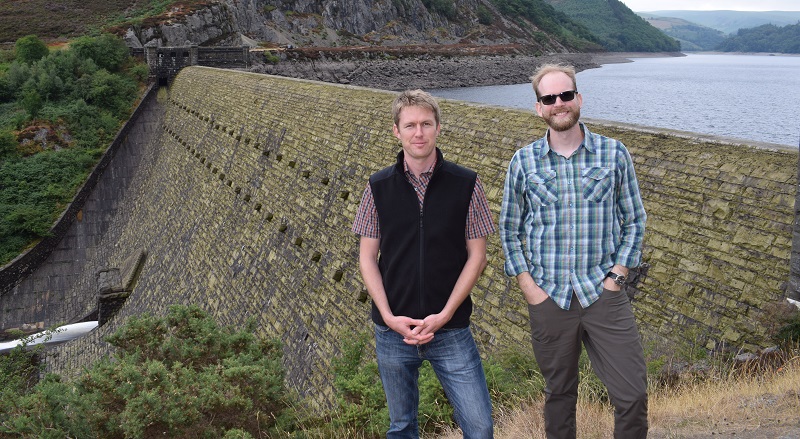 Rutherford Fellows Dr Benjamin van der Waal and Dr Peyton Lisenby visiting the Elan Valley wetlands, rivers and dams as part of their research programme at Aberystwyth University.
Aberystwyth University has been awarded five new fellowships under the Rutherford Fund Strategic Partner Grants scheme administered by Universities UK International (UUKi).
The short-term fellowships are funded by the UK Department for Business, Energy and Industrial Strategy (BEIS) through the Rutherford Fund, with the aim of attracting global talent and strengthening the UK's research base.
Aberystwyth is one of only 19 universities in the UK to be selected for the prestigious research fellowships.
Professor Chris Thomas, Pro Vice-Chancellor for Research and Innovation, said: "The Rutherford Fund opens up exciting new opportunities for international and interdisciplinary collaboration with strategic overseas partners, especially in the Global South. The development of these new research networks will further strengthen our links with the global research community and enhance our reputation as an international research institution that has an impact on real lives."
Two of the five Rutherford Fellows have been based in the Department of Geography and Earth Sciences at Aberystwyth during the summer of 2018.
Dr Benjamin van der Waal from Rhodes University in Grahamstown, South Africa, and Dr Peyton Lisenby from Macquarie University in Sydney, Australia, have both been working with Aberystwyth's Professor Stephen Tooth on the science and management of wetlands in arid environments.
Dr Paul Harvey from Macquarie University will join the research project as a Rutherford Fellow on 25 August 2018.
Professor Stephen Tooth of the Department of Geography and Earth Sciences, said: "The first three Rutherford Fellows are working with us to try and embed scientific understanding of water and sediment transport processes into wetland rehabilitation and conservation strategies. These wetlands play an important role in terms of supporting people's livelihoods as well as biodiversity but many are being damaged or destroyed through poor land management or are vulnerable to future climate changes. Through collaborative international research, our aim is to inform the work of policy makers and landowners as we respond to what is increasingly becoming a global challenge."
In November 2018, a further two Rutherford Fellows from the University of Namibia will arrive at Aberystwyth University. They will spend five months working on research projects related to the management of water resources in arid environments alongside staff from the Department of Geography and Earth Sciences and the Institute of Biological, Environmental and Rural Sciences (IBERS).