Welsh rugby union legend awarded Honorary Fellowship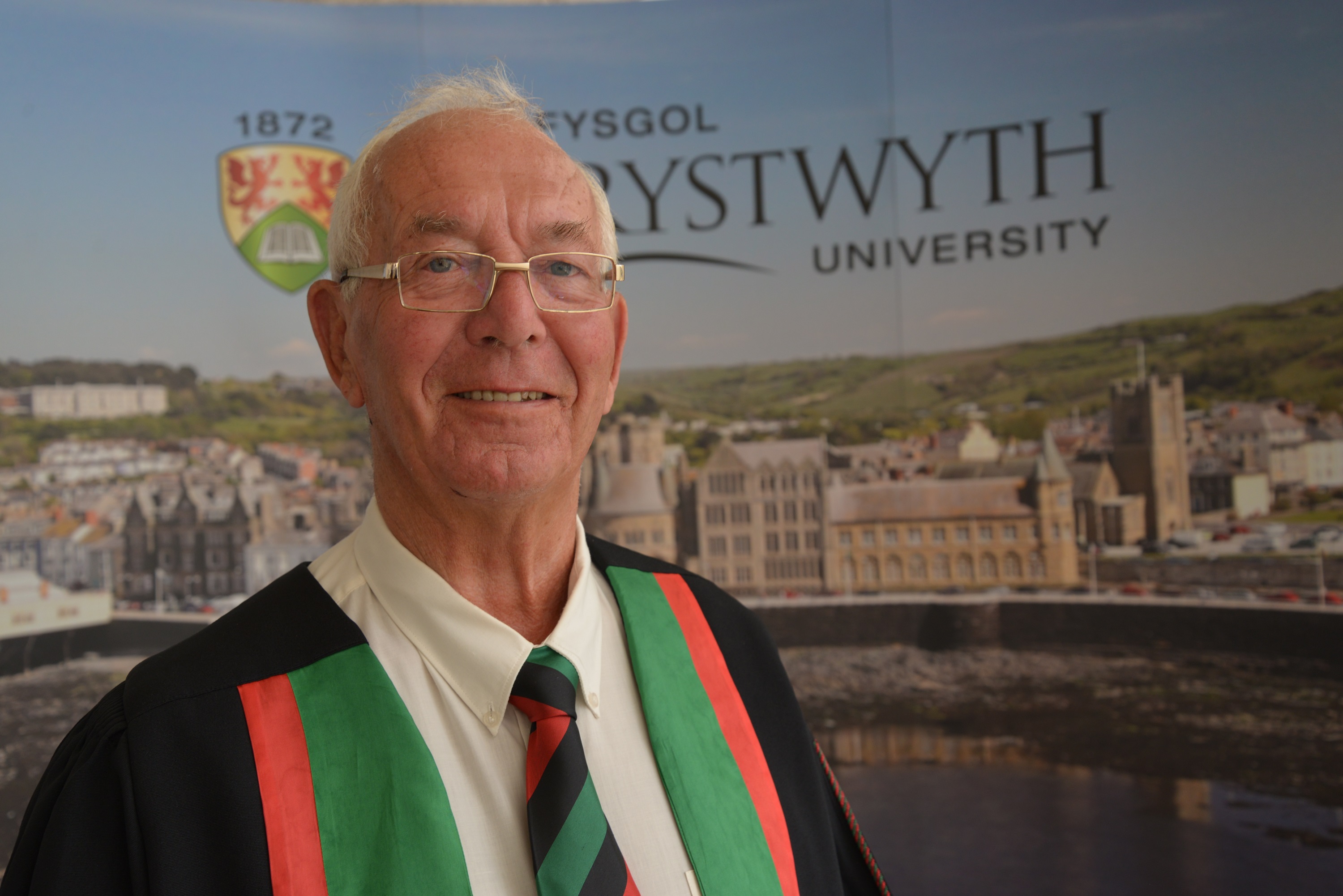 Former Welsh rugby international John Dawes was made an Honorary Fellow of Aberystwyth University during Graduation 2018.
Former international rugby union player and coach, John Dawes OBE, has been honoured as Fellow of Aberystwyth University.
An Aberystwyth alumnus (Chemistry, 1962), John Dawes won his first Wales cap in 1964 aged 23.
He went on to win a further 21 caps for Wales over the subsequent decade - six as captain, including the Grand Slam winning side of 1971.
John Dawes captained the 1971 British Lions tour of New Zealand, where they became the first and only team to date to win a series in New Zealand. He also coached the British Lions tour to New Zealand in 1977.
After retiring as a player, he was the coach of the Wales national side from 1974-1979, winning the Five Nations Triple Crown four times in five seasons as well as two Grand Slams.
He was made an OBE in the 1972 New Year's Honours List for services to sport.
John Dawes OBE was presented by Dr Rhys Thatcher from the Institute of Biological, Environmental and Rural Sciences on Wednesday 18 July 2018. The full conferral presentation is available below, in the language in which it was delivered.
Presentation of John Dawes OBE by Dr Rhys Thatcher:
Is-Ganghellor, darpar raddedigion, gyfeillion. Pleser o'r mwyaf yw cyflwyno John Dawes yn Gymrawd Prifysgol Aberystwyth.
Vice-Chancellor, prospective graduates and supporters. It is an honour and a privilege to present Sydney John Dawes as a Fellow of Aberystwyth University.
John Dawes enrolled at the University College of Wales, Aberystwyth (as Aberystwyth University was known then) in 1959, graduating three years later with a degree in Chemistry. Following graduation he moved to Loughborough to complete a Post Graduate Certificate in Education. During his university years John managed to balance his studies and playing rugby, achieving success in both.
Following his year at Loughborough College, and at the age of 23, John won his first cap for Wales; the match was against Ireland and the result was a 15-5 win for Wales. This was the start of an illustrious career resulting in 22 caps for his country including six as captain.
In 1971, John was appointed captain of the British and Irish Lions side for the tour to New Zealand. This side, coached by Carwyn James (a name which is familiar with the sport and exercise science graduands in the audience), became the first and so far the only Lions team to win a series in New Zealand. He also captained the Barbarians side that beat New Zealand in Cardiff, 23-11, in 1973.
Today John holds a proud record for any Welshman; as both a player and a coach he has never lost to an England side.
After retiring as a player, he became coach of the Welsh national side in 1974, a post he held until 1979. During his time as coach, Wales won the Five Nations Triple Crown on four occasions, including two grand slams. In 1977 he returned to New Zealand as coach of the British Lions, unfortunately on this occasion the Lions were unable to repeat their 1971 success.
The list of awards and honours John has received in recognition of his contribution to Rugby is as impressive as his playing and coaching record.
He received an OBE for services to sport in the 1972 New Year's Honours List
In 2006 he was named the greatest ever Welsh Coach and inducted to the Welsh rugby international players Hall of Fame
In 2010 John's tribute dinner in Llandovery was attended by his HRH The Prince of Wales
In 2013 Lewis School, where John studied from 1951 – 1959 and started his rugby career, named their sporting facilities 'The John Dawes Centre for Sporting Excellence'
In the same year he was inducted into the Loughborough Sporting Club Hall of Fame, followed in 2016 by his induction into the World Rugby Hall of Fame
He can now add Fellow of Aberystwyth University to this list.
Is-Ganghellor, mae'n bleser gennyf gyflwyno Sydney John Dawes i chi yn Gymrawd Prifysgol Aberystwyth.
Vice-Chancellor, it is my absolute pleasure to present Sydney John Dawes to you as a Fellow of Aberystwyth University.
Aberystwyth University Honours 2018
Nine individuals are being honoured by Aberystwyth University during the 2018 graduation ceremonies, which take place at the University's Arts Centre from Tuesday 17 July until Friday 20 July.
Six Honorary Fellowships will be presented to individuals who have, or have had a connection with Aberystwyth or Wales, and who have made an outstanding contribution to their chosen field.
One Honorary Doctorate will also be presented; recognising an individual who has been outstandingly successful in their field, or who has a long record of renowned research and publication.
Two Honorary Bachelor degrees will be presented. These are presented to individuals who are members of Aberystwyth University staff without an entry-level degree in recognition of long-service, contribution and dedication to the Institution; and members of the local community who have made a significant contribution to Aberystwyth and the area.
Honorary Fellowships:
Honorary Fellowships are being presented to:
Professor Ann Sumner - art historian, exhibition curator and museum director
Bonamy Grimes MBE - web entrepreneur and co-founder of flight price comparison website Skyyscanner
Euryn Ogwen Williams - broadcaster and seminal figure in Welsh media
John Dawes OBE - former international rugby union player and coach
Professor Menna Elfyn - award-winning poet and playwright
His Honour Judge Milwyn Jarman QC - leading judge.
Author and scholar the late Professor Meic Stephens was presented with an Honorary Fellowship of Aberystwyth University on Thursday 3 May 2018 at a special ceremony in Cardiff. Sadly, Professor Stephens died on Tuesday 3 July 2018.
Honorary Doctorate
John Thompson - technology entrepreneur and software designer.
Honorary Bachelor Degrees:
Eric Harries - retired Station Manager of Aberystwyth Fire Station, who organised and led 50 humanitarian missions to Eastern Europe to help the innocent victims of war.
Sue Jones-Davies – actor, singer, town councillor and former Mayor of Aberystwyth.
AU31518