Welsh actor and singer Sue Jones Davies awarded Honorary Bachelor of Arts Degree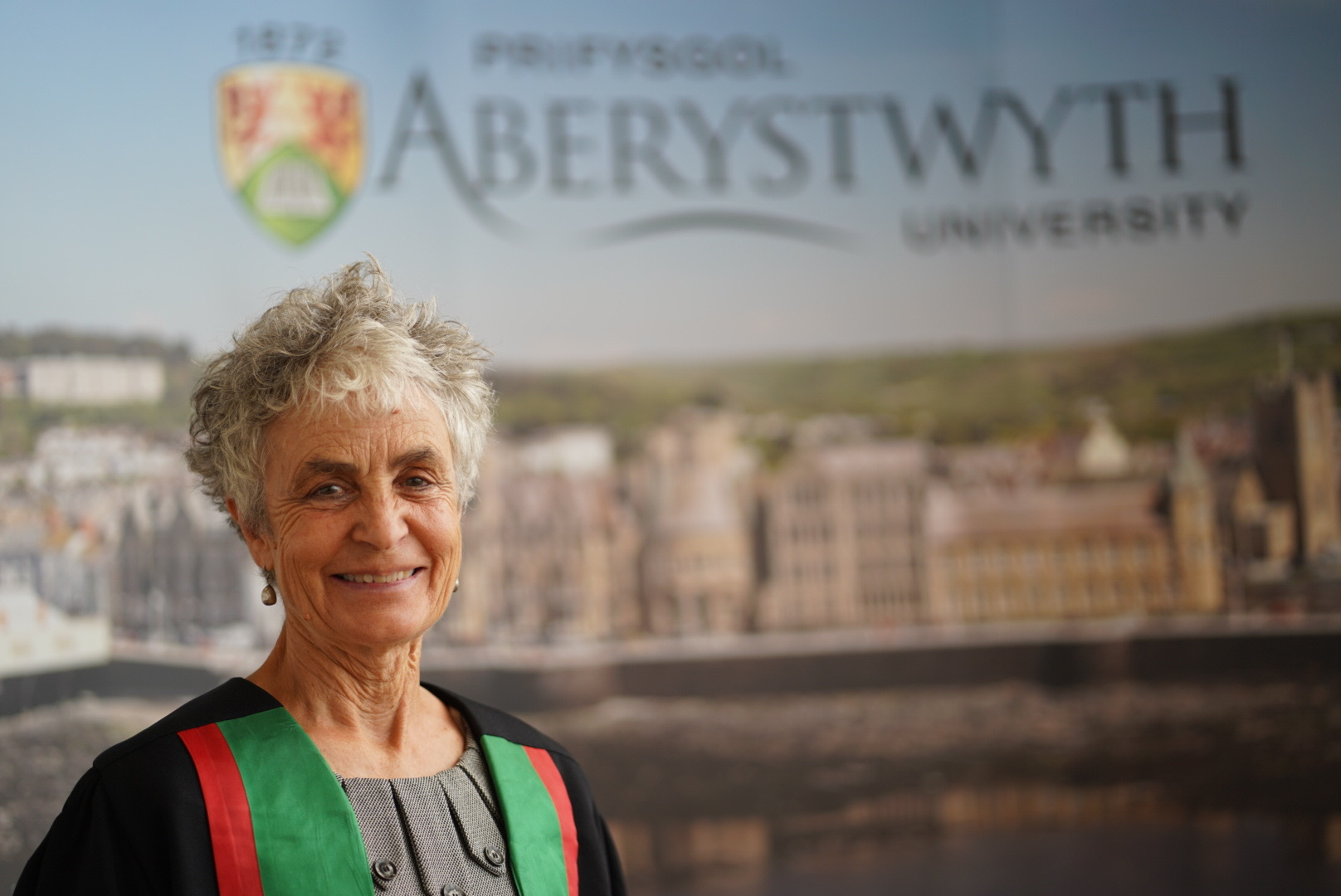 Sue Jones-Davies
Actor, singer and former mayor of Aberystwyth, Sue Jones-Davies, has been awarded an Honorary Bachelor of Arts Degree from Aberystwyth University.
Sue graduated from Bristol University in 1971 before embarking on a career as an actor and singer. She has worked in television, film, radio and theatre in both English and Welsh.
On stage, she appeared in the original London production of Jesus Christ Superstar. On television, she acted in How Green was My Valley, the ITV series Rock Follies, and played Megan Lloyd George in the BBC series The Life and Times of David Lloyd George. 
Her most notable film appearances were as the messiah's girlfriend, Judith Iscariot, in the cult Monty Python film Life of Brian (1979) and in Solomon and Gaenor (1999) which received an Oscar nomination for Best Foreign Language Film. 
In the 1970s, she sang with The Bowles Brothers Band, and now sings in the Welsh-language acoustic band Cusan Tân.
She teaches yoga in the Aberystwyth area, where she is part of the Yoga i Bawb group, which aims to bring yoga to all parts of the community.
Sue has also been a key member of the Front of house team at Aberystwyth Arts Centre on the University's Penglais campus for many years.
An Aberystwyth town councillor for Plaid Cymru, Sue was Mayor of Aberystwyth from 2008-2009.
Sue Jones-Davies was presented by Dr Anwen Jones, Head of the Department of Theatre, Film and Television Studies at Aberystwyth University on Wednesday 18 July 2018. The full presentation is available below in the language in which it was delivered:
Presentation of Sue Jones-Davies by Dr Anwen Jones:
Pro Chancellor, Vice-Chancellor, prospective graduates and supporters. It is an honour and a privilege to present Sue Jones-Davies for an Honorary Bachelor of Arts Degree of Aberystwyth University.
It is indeed a particular pleasure for me as Head of the Department of Theatre, Film and Television Studies to present a candidate who clearly embodies the artistic vitality and the creative verve of the discipline to which she has dedicated an impressive professional life. In physical stature, Sue is, like myself, compact, but her persona and charisma as a performer, whether singing or acting, has depth, breadth and magnitude.
Since graduation from Bristol University in 1971, Sue has worked extensively across a wide variety of creative media, including television, radio and theatre both in English and Welsh with equal flair and impact. Mae meistrolaeth Sue ar feysydd amrywiol theatr, ffilm a theledu yn dystiolaeth o'i hyblygrwydd fel perfformwraig o'r radd flaenaf a hynny mor rhygl yn y Gymraeg ac yn y Saesneg.
Cychwynodd ei gyrfa llwyfan yn Theatr y Palas, Llundain ac wedyn ar lwyfannau Chichester. Her first stage role was in Jesus Christ Superstar and her first theatre roles were Petra in Ibsen's The Enemy of the People and Bianca in Othello. Clearly, Sue could handle the challenge of strong female roles but she could also respond with flexibility to the varied demands of differing art forms such as the musical, on the one hand, and the Shakespearean canon on the other; strength and flexibility then, cryfder a hyblygrwydd, emerge as some of Sue's key attributes.
Sue always occupied a challenging and tantalisingly provocative artistic space; she was, and is, exciting in artistic terms. The company she has kept such as that of Sian Phillips and Stanley Baker in the series, How Green was my Valley and the lives she has presented such as that of Megan Lloyd George in the BBC series on the life of Lloyd George reveal the way she was robustly embedded in Welsh cultural and performative life and yet so clearly on her own artistic terms. Efallai nad yw'n syndod i'w rôl mwyf adnabyddus ddod yn ei chyfraniad i'r ffilm dadleuol, The Life of Brian. I am sure that the Aberystwyth Arts Centre, where we celebrate all of today's achievements, is proud to have screened The Life of Brian in 2009.
Sue has lived her professional life intensely, with integrity and in the light of her own principles and it is no surprise that she has made significant contributions to the political life of Aberystwyth and beyond in her role as town mayor, and Plaid Cymru counsellor and in her dedication to ecological, human rights and feminist causes. Ar droad y mileniwm, ail hyfforddodd Sue fel athrawes yoga a bellach fe nodweddir ei gyrfa gan yr un egwyddorion ag erioed; hyblygrwydd a chryfder. At the turn of the millennium, Sue re-trained as a yoga instructor so her career and contribution to the arts continues to be characterised by those enduring and admirable characteristics; flexibility and strength.
Dirprwy Ganghellor, Is-Ganghellor, darpar raddedigion, gyfeillion. Pleser o'r mwyaf yw cyflwyno Sue Jones-Davies am radd Baglor er Anrhydedd yn y Celfyddydau Prifysgol Aberystwyth.
Aberystwyth University Honours 2018
Nine individuals are being honoured by Aberystwyth University during the 2018 graduation ceremonies, which take place at the University's Arts Centre from Tuesday 17 July until Friday 20 July.
Six Honorary Fellowships will be presented to individuals who have, or have had a connection with Aberystwyth or Wales, and who have made an outstanding contribution to their chosen field.
One Honorary Doctorate will also be presented; recognising an individual who has been outstandingly successful in their field, or who has a long record of renowned research and publication.
Two Honorary Bachelor degrees will be presented. These are presented to individuals who are members of Aberystwyth University staff without an entry-level degree in recognition of long-service, contribution and dedication to the Institution; and members of the local community who have made a significant contribution to Aberystwyth and the area.
Honorary Fellowships:
Honorary Fellowships will be presented to:
Professor Ann Sumner - art historian, exhibition curator and museum director
Bonamy Grimes MBE - web entrepreneur and co-founder of flight price comparison website Skyscanner
Euryn Ogwen Williams - broadcaster and seminal figure in Welsh media
John Dawes OBE - former international rugby union player and coach
Professor Menna Elfyn - award-winning poet and playwright
His Honour Judge Milwyn Jarman QC - leading judge.
Author and scholar the late Professor Meic Stephens was presented with an Honorary Fellowship of Aberystwyth University on Thursday 3 May 2018 at a special ceremony in Cardiff. Sadly, Professor Stephens died on Tuesday 3 July 2018.
Honorary Doctorate
An Honorary Doctorate will be presented to technology entrepreneur and software designer, John Thompson.
Honorary Bachelor Degrees:
An Honorary Bachelor of Science Degree will be presented to retired Station Manager of Aberystwyth Fire Station, Eric Harries, who organised and led 50 humanitarian missions to Eastern Europe to help the innocent victims of war.
An Honorary Bachelor of Arts Degree will be awarded to Sue Jones-Davies, actress and singer, town councillor and former Mayor of Aberystwyth.