Aberystwyth research showcased on the Today programme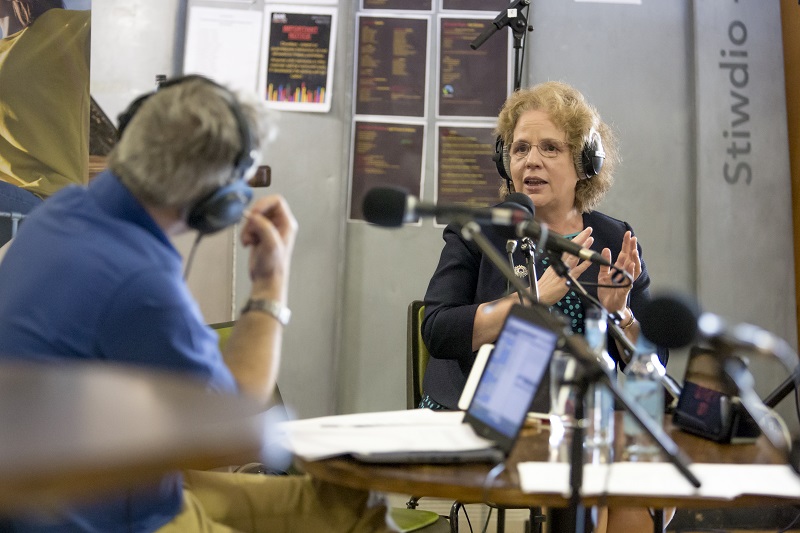 The Vice-Chancellor of Aberystwyth University, Professor Elizabeth Treasure, being interviewed on BBC Radio 4's Today programme by Justin Webb.
Staff and students from Aberystwyth University were featured in a special edition of BBC Radio 4's flagship news programme Today which was broadcast live from campus on Thursday 17 May 2018.
Justin Webb co-presented the programme from the Aberystwyth Arts Centre, with Martha Kearney presenting from London.
On air from 06:00-09:00, the three-hour broadcast looked in detail at the new system of student finance and maintenance grants which will be introduced in Wales in September 2018.
The Vice-Chancellor of Aberystwyth University, Professor Elizabeth Treasure, was interviewed about the reforms during the programme, as well as the Welsh Government's Cabinet Secretary for Education, Kirsty Williams AM, and Professor Sir Ian Diamond, Vice-Chancellor of Aberdeen University who chaired the review of student finance on behalf of the Welsh Government.
Speaking live on air, Professor Treasure said: "The Diamond review in Wales demonstrated that students were more concerned about how they live day to day, in order to make the most of their time at university and undertake their studies properly. This means-tested progressive scheme gives everybody some cash in the form of a grant and is then progressive up to a high level. I think it could enable students to concentrate on their studies by not being worried about money and how they pay for their food, and allow them to concentrate on developing higher-level employability skills.
"Aberystwyth is one of a group of smaller universities who are really good at teaching - as demonstrated by our award as University of the Year for Teaching Quality (The Times and Sunday Time Good University Guide 2018) - and who are also good at research, and what you get at a university like this is a really good student experience and contact on a day-to-day basis with our top researchers."
While the Today programme was on air, Dr Arwyn Edwards from the University's Institute of Biological, Environmental and Rural Sciences (IBERS) and two of his PhD students were busy sequencing DNA from samples of soil from Justin Webb's garden in London and Professor Treasure's garden in Aberystwyth.
Their findings were announced live at the end of the Today programme and showed the diversity differences between the two samples, including the fact that the Aberystwyth soil from Aberystwyth was ten times more acidic than the sample from London.
Dr Arwyn Edwards, a researcher and senior lecturer in Biology, also talked about the wider applications of sequencing the DNA of soil: "Traditionally we've been limited to actually growing things, and you can only grow about 1% of all the diversity present in a soil sample because we just don't know what these bugs like to grow on. But to discover new antibiotics, it's really important to be able to get to the remaining 99% to be able to sequence DNA directly and to identify antibiotics that could be really important in fixing antibiotic resistance."
A selection of wheat, oats and other resistant plants from IBERS were also on show during the programme, with Justin Webb interviewing Dr Fiona Corke about her work as Glasshouse Manager of the National Plant Phenomics Centre at Gogerddan funded by the Biotechnology and Biological Sciences Research (BBSRC).
Dr Corke explained how the fully automated glasshouse allowed researchers to closely monitor plants as part of their research on developing plants that are drought resistant and can thrive in low nutrient environments.
The programme's daily Maths Puzzle was devised by the Department of Mathematics and presented by lecturer Dr Gwion Evans, who asked why 13 was considered a 'happy number' in mathematical circles.
You can try to solve the puzzle and find the answer on the BBC Radio 4 Today website: www.bbc.co.uk/programmes/articles/1gzspVTkw3XJXzYHXm83D1S/puzzle-for-today.
Aberystwyth Students' Union Wellbeing Officer Molly Jean Longden recorded a package for the programme, speaking to students about dealing with stress at exam time and the support available through the University.
If you missed the programme or want to listen again, it's available on the BBC iPlayer Radio until 15 June 2018: www.bbc.co.uk/programmes/b0b2gspb.