All Our Trans Tomorrows shortlisted for equality award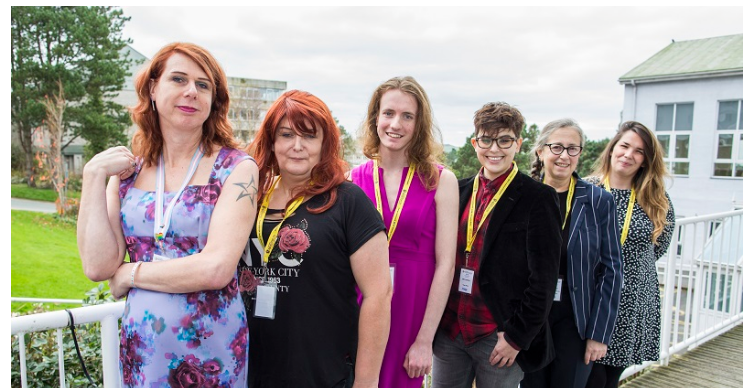 Contributors to All Our Trans Tomorrows (left to right) Kate Rose from the Welsh Government, Kate Hutchinson of Diversity Role Models, Crash Wigley from Stonewall Cymru, CN Lester, Debra Croft, former Director of Equality at Aberystwyth University and Ruth Fowler Communications and Equalities Officer at Aberystwyth University
A conference to support transgender people and their allies organised by Aberystwyth University has been shortlisted for an award.
All Our Trans Tomorrows has been shortlisted for the Equality and Diversity Category of the Universities Human Resources (UHR) Awards 2018.
Featuring keynote speeches and workshops from transgender activists and academics, the one day conference provided resources to help inform professional staff and members of the public about the issues faced by transgender people.
Free to delegates, many of the attendees were primary and secondary school teachers and individuals working within social care, along with university staff and students.
The event, the first of its kind in Wales, was hosted by the University's Human Resources Equality and Diversity team in November 2017.
Ruth Fowler, Equalities and Communications Officer in the Human Resources Department and Chair of the planning group for the conference, said: "We were thrilled to organise and welcome so many attendees to this ground breaking conference in November 2017.
"The level of support and positive feedback - 97% of the delegates rated the conference as excellent or good - has enabled us to start planning the October 2018 conference. I feel so proud of all of the hard work by the steering group consisting of representatives of the University, Welsh Government and other organisations in Mid-Wales, who contributed to making the conference happen and lead to this award nomination."
The Universities Human Resources (UHR) Awards 2018 ceremony takes place at the annual UHR conference in Bristol on Thursday 24 May 2018.
All Our Trans Tomorrows is just one element of the University's wider equality strategy.
In the last two years, Aberystwyth University has risen more than 200 places in the Stonewall Workplace Equality Index.
In January 2018 Aberystwyth University was voted one of Stonewall's Top 100 employers for inclusivity in the workplace, climbing 60 places to 56th in the UK, and the 8th best university.