Scholarship donor talks about creating a legacy in his lifetime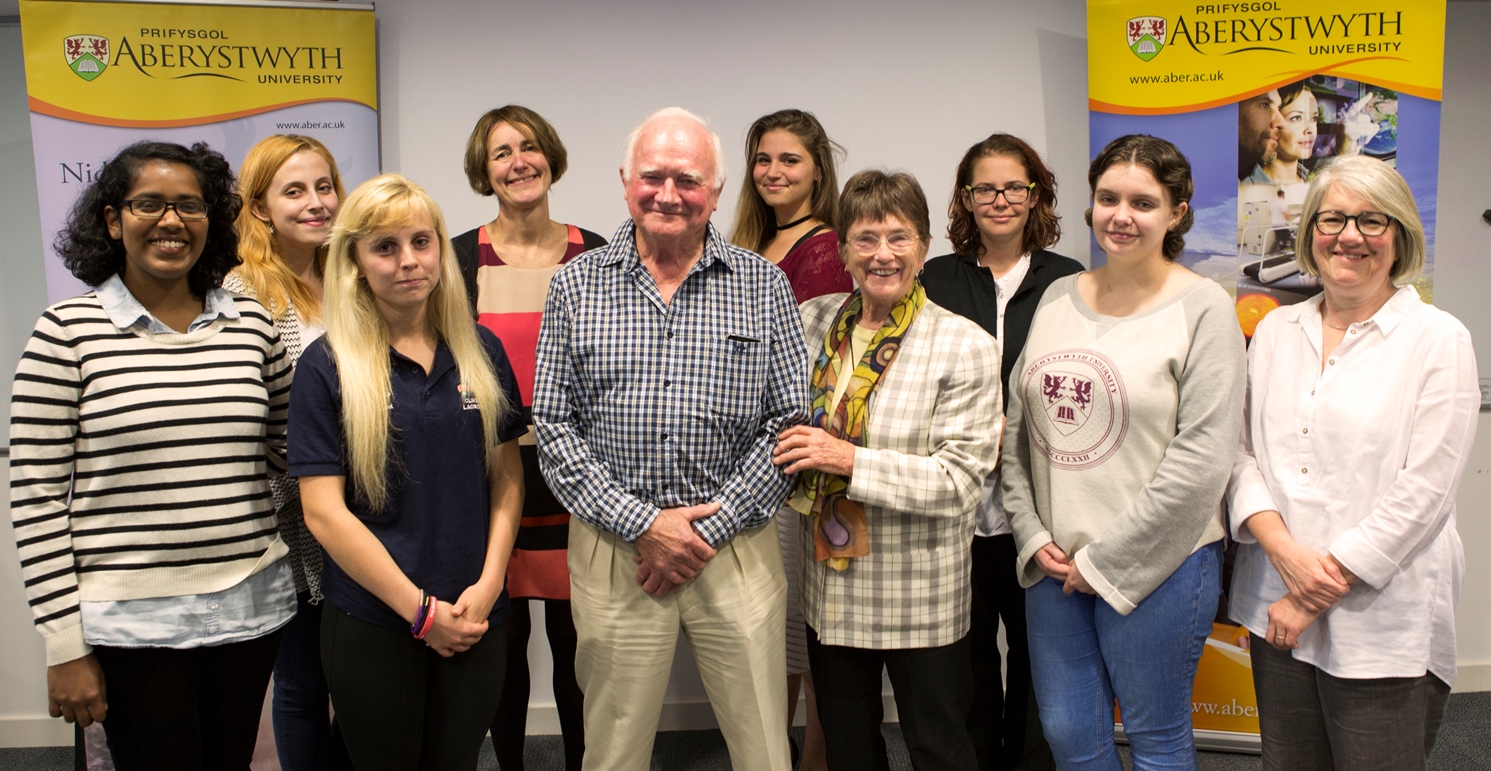 Left to right (back row) Lilla Vér, Louise Jagger (Director of Alumni Relations at Aberystwyth University), Elena Zolotariov, Magdalana Chmura (front row) Naveena Vijayan, Mackenzie Peace, Peter Hancock, Pat Pollard, Lauren Marks (Aberystwyth University Students' Union) and Caryl Davies (Director of Student Support Services at Aberystwyth University)
In the midst of the season of giving, the geologist behind Aberystwyth University's biggest single philanthropic donation from a living donor has been talking about why he decided to set up the scholarship.
Peter Hancock and his partner Pat Pollard (née Trevitt) gave £506,000 to the University in 2015, with the first scholarships awarded to three final year students in February 2016.
At the start of a new academic term in October 2016, a further five students made successful applications for support from the Peter Hancock Scholarship Fund.
The next round of applications will open in January 2017 when students currently in their second year will be able to apply for a scholarship to be paid during their third year.
Peter Hancock, who graduated with an Honours degree in Geology in 1962, said: "It is satisfying to be able to give something back to the University which recognised my own potential over fifty years ago and helped me financially with a scholarship at a critical juncture in my degree.
"My partner Pat, also an Aber graduate (Botany and Geology), and I are both working with the University to develop and monitor the scholarship. We can also provide mentoring and be a sounding board to those scholarship recipients. That's what's so rewarding about creating a legacy in one's own lifetime – you can see the results and be part of the process."
Olu Ashiru from West Yorkshire received a scholarship from the Peter Hancock Fund in his final year of his Computer Science degree at Aberystwyth University.
Within two weeks of graduating in July 2016, he started work as a Software Engineer with the BBC's Online Media Services department in London.
Olu says the support made a real difference: "Being successful in getting the scholarship fund meant I could afford to reduce the amount of hours I was working part-time (while studying full-time) and hence focus on successfully finishing my university undergraduate degree."
Sabine Hein also received an award in her final year and is currently doing a Master of Science in Medicinal Plants and Functional Foods at Newcastle University.
"The fund helped me greatly, it meant that I could fully concentrate on my final year studies and graduate with the grade I needed," said Sabine.
"It eased the pressure of needing to do many hours at a part-time job and meant I can dedicate more of my time and hours to Aberystwyth University. It also set me up on the right path to do postgraduate studies."
Earlier this year, Peter and Pat travelled from their home in New Zealand to Aberystwyth to meet this year's five scholarship students.
"We were very pleased to discover their enthusiasm for their studies, and their aspirations and plans for their careers," said Peter.
"Their views on the candidate selection process, building recognition and status of the scholarship and publicising it to the next cohort of upcoming Honours students were well considered and helpful. Furthermore, it is a delightful and unexpected bonus of intellectual stimulation for us to hear the students' discussion on their subject areas and dissertation topics, and welcome our feedback and encouragement."
Peter also had some words of advice for students planning to apply for the scholarship in 2017: "If you feel that you have potential to get a good Honours degree and have ambition and the potential for a successful career that will make a positive contribution to society - but you are in need of financial assistance to complete your Honours or equivalent year successfully - then you should apply. Winning the scholarship will give you not only financial support but it will also be an accolade recognising you as a person of potential."