Aberystwyth geography degrees amongst first in UK to receive new accreditation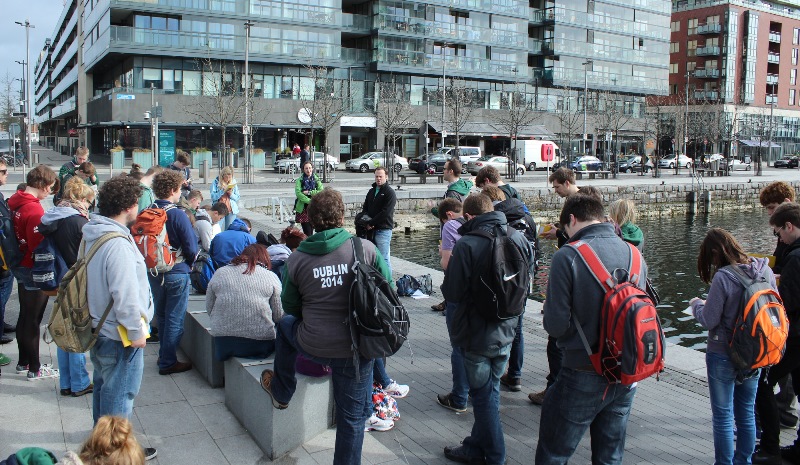 Professor Peter Merriman (Director of Undergraduate Studies in the Department of Geography and Earth Sciences), who led the accreditation process, carrying out field teaching in Dublin
Geography degrees at Aberystwyth University are amongst the first in the UK to be accredited by a new scheme launched by the Royal Geographical Society and the Institute of British Geographers (RGS-IBG).
Single-honours degrees in Geography (English and Welsh medium), Human Geography and Physical Geography at the Department of Geography and Earth Sciences have all received the accreditation after a review in autumn 2016.
Founded in 1830, the RGS-IBG is dedicated to the development and promotion of geographical knowledge, together with its application to the challenges facing society and the environment.
The new RGS-IBG university geography programme accreditation scheme recognises degree programmes that deliver the geographical knowledge, understanding, skills, approaches and other attributes expected of high quality geography graduates.
The Department of Geography and Earth Sciences is one of only two departments in Wales to receive the accreditation, and one of only twenty-two departments across the UK.
Professor Rhys Jones, DGES' Head of Department said: "I'm delighted by the recognition all of our Geography degrees have received from the RGS-IBG. It is a testament to the excellent quality of the education that students receive at Aberystwyth. The accreditation will also be a massive benefit to our students when they apply for their first job after graduation."
Established in 1917, the Department of Geography and Earth Sciences is one of the oldest and largest in the UK and will be celebrating its centenary in 2017.
The Department's commitment to excellent teaching and outstanding student experience was demonstrated by its 95% overall Student Satisfaction in the NSS 2016.
And the latest Research Excellence Framework (REF2014) classed 78% of its research as being "world leading" or "internationally excellent", placing it amongst the top 10 Geography departments in the UK based on the quality of research and the number of active researchers.
AU39116