Aberystwyth students victorious in Mauritius national anti-corruption debate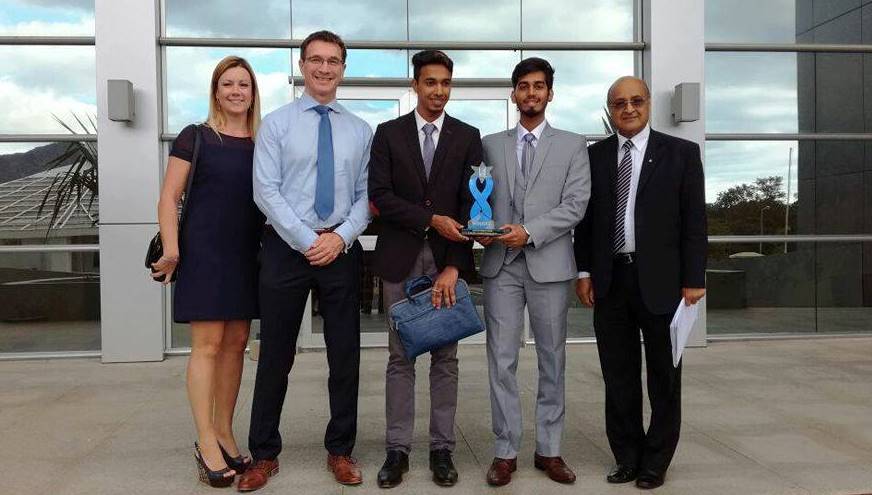 Left to right: Dr Natalie Roberts Quality Assurance and Enhancement Manager at Aberystwyth University (AU) Mauritius Branch Campus, Dr David Poyton, Dean of AU Mauritius Branch Campus, with the victorious students Khalil Beebeejaun and Dooshan Paddia, and Professor Ved Prukash Torul, Lecturer in Law at AU Mauritius Branch Campus
Students from Aberystwyth University's Mauritius Branch Campus have been declared winners of a debating competition organised by the Mauritius Independent Commission Against Corruption.
Dooshan Paddia (second year Business Finance) and Khalil Beebeejaun (second year Law) were triumphant in the eight team final which took place on Wednesday 30 November 2016.
The Dean of the Branch Campus, Dr David Poyton said: "Dooshan and Khalil performed superbly. They were great ambassadors for the University and were ably supported by their colleagues in the audience.
"Their success is a testament to their hard work and dedication, not only to the competition but also to the launch of the students Anti Corruption Club. Our colleague Professor Ved Prukash Torul must also be commended for his support and guidance," added Dr Poyton.
The debate included themes relating to government, media and citizen involvement in the fight against corruption, and the winning team was coached by Professor Torul, Lecturer in Law at AU Mauritius Branch Campus.
Professor Torul said: "This is the culmination of a relentless effort and perseverance of Khalil and Dooshan to prove their mettle in the debating skills and stood confidently to convince the members of the jury overwhelmingly that they convincingly deserve to win the debate on anti-corruption."
"I wish them well and encourage them to take initiatives to create a role model at the University," added Professor Torul.
On their way to the final, the Aberystwyth team defeated teams from Middlesex University, London College of Accountancy, Apollo Bramwell Nursing School, University of Technology of Mauritius, and the Mauritius Institute of Education, amongst others.
Now in its second year, the anti-corruption debate saw 52 teams competing, representing 12 different universities.
This year was the first time Aberystwyth University Mauritius Branch Campus students have taken part.
Khalil Beebeejaun is President of the Aber Anti-Corruption Club and Dooshan Paddia is Vice-President of the Club.
Speaking after their success Khalil Beebeejaun said; "This debate has been a fun and enriching experience. We went there as a team to represent our university and from the start itself, we were motivated to win. Undeniably, the hard work and dedication we along with the lecturers and staff have put in this competition have proved to be fruitful.
"These competitions are very helpful as our oratory skills and the way we structure our arguments have drastically improved. It is undisputed that these skills will help anyone studying any subject to excel in his/her courses.
"Our mission now is to encourage more students to participate in these competitions for their own benefit and we'll work even harder to help them shape and deliver their arguments. Consequently, Aberystwyth University will shine again and again."
Their victory follows the successful International Conference on the Elimination of Violence against Women, hosted at the branch campus on the 25th November 2016.
It also comes hot on the heels of the victory of Aberystwyth University School of Law students in the Welsh National Mooting Competition which was held at Aberystwyth on Saturday 19 and Sunday 20 November 2016.