Aberystwyth School of Art exhibition marks centenary of Welsh artist John Elwyn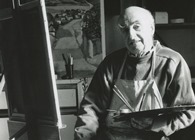 The artist John Elwyn
An exhibition to commemorate the centenary of the birth of Ceredigion artist John Elwyn opens today, Monday 28 November 2016, at Aberystwyth University's School of Art Museum and Galleries.
Born in Adpar in south Ceredigion, where his father ran a woollen mill on the banks of the river Teifi, John Elwyn trained at Carmarthen, Bristol and the Royal College of Art in London.
He subsequently lived and worked in Hampshire until his death in 1997.
The exhibition John Elwyn: 'A Quiet Sincerity' has been curated by the artist's friend and biographer, Professor Robert Meyrick, who is Head of the School of Art at Aberystwyth University.
"John Elwyn is of one of Wales' most distinguished artists whose paintings have contributed significantly to the British landscape tradition," said Professor Meyrick.
"He painted subjects that reflect his Welsh heritage and empathy with the Welsh people, their language and social traditions.
"Like John Constable in Suffolk, Samuel Palmer in Kent and Graham Sutherland in Pembrokeshire, John Elwyn found continued inspiration in a familiar environment.
"His paintings present a peaceful vision of life in rural Ceredigion. For seven decades, he drew upon his wide experience of the working life of the farmyards and cattle pastures of the Teifi and Ceri valleys."
Writing in 1952, the artist John Petts praised John Elwyn for his 'quiet sincerity' and for the feeling conveyed in his paintings of 'love and compassion for humanity and consciousness of the relations of men and women to nature, buildings, and everyday life in Wales.'
His friend Sir Kyffin Williams RA wrote that 'John Elwyn was a real artist who knew what he wanted to do and quietly settled down to do it. What he achieved was work of such merit that it will take its place permanently in the artistic history of Wales. John was a clear-headed man who looked at his own world of Wales and loved what he saw. He loved the people, the farms, the chapels, the winding roads and the small and tidy fields and guided by this obsession he gave to Wales something of great worth.'
Professor Meyrick added: "John Elwyn remained true to his convictions. He may have painted landscapes of the mind, but they have a place in reality, based as they are on real places and real situations. The paintings reflect his own experiences and as such are imprinted with his warmth of personality and reverence."
John Elwyn: 'A Quite Sincerity' is at the School of Art Museum and Galleries at Aberystwyth University from 28 November 2016 until 17 February 2017 and is open to the public, Monday to Friday, between 10am and 5pm.
Please note that the School of Art Museum and Galleries, which are located in the Edward Davies Building on Buarth Mawr, Aberystwyth (SY23 1NG), are closed over Easter, Christmas and the New Year. Admission is free.