Aberystwyth University Fine Art graduate reaches the semi-final of Landscape Artist of the Year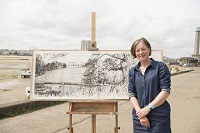 Kim Whitby
An Aberystwyth University Fine Art graduate will compete in the semi-final of Landscape Artist of the Year, which airs tonight (Tuesday 22 November) on Sky Arts at 8pm.
Kim Whitby graduated with an MA in Fine Art from the Aberystwyth School of Art in 2014 and was brought up in Aberaeron.
Kim is one of 300 'wildcard' artists who pitted her skills against 49 other invited 'wildcard' entries and eight professional artists at the National Trust's Stowe stately home in Buckinghamshire, which was screened earlier this month.
Tonight's semi-final, in Margate, Kent, which is also home to Turner Contemporary gallery, sees the artists create a piece of work depicting the town's seafront.
If Kim is successful, she will go on to take part in the final on Tuesday 29 November at 8pm.
Hundreds of entries were received for the 2016 Landscape Artist of the Year competition, which highlights artistic talent from every corner of Britain and Ireland, and how the British countryside has inspired past and present generations of artists.
The winning artist will receive a £10,000 commission to interpret Petworth House in West Sussex for the National Trust's national art collection and £500 to spend on CassArt materials.
AU36416