Law students crowned Welsh mooting champions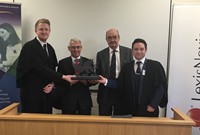 L to R: Jake Moses, HHJ Milwyn Jarman QC, HHJ John Diehl QC and Jake Woodcock with the LexisNexis Welsh National Moot Trophy in the Aberystwyth Law School Moot Court
Law students from Aberystwyth University have been crowned Mooting Champions of Wales for a second year running.
Third year undergraduate law students Jake Woodcock and Jake Moses were victorious in the Welsh National Mooting Competition held at Aberystwyth Law School on Saturday 19 and Sunday 20 November 2016.
Representing Aberystwyth University's Mooting Society, Woodcock and Moses beat off stiff competition to reach the final against Bangor Law School.
The mooting competition final was held in Aberystwyth Law School's Moot Court and proceedings were presided over by His Honour Judge Milwyn Jarman QC and His Honour Judge John Diehl QC.
The moot problem for the final was a fictitious criminal law case which involved a 14-year-old defendant charged as an accessory to a gangland murder.
It was the second consecutive win for Jake Moses, who was defending the title he won with Josh Lovell in 2015.
On winning the competition Jake Moses commented: "I am delighted to have won the Welsh National Mooting Competition for a second year. I am extremely grateful to the Mooting Society for all of its support and for organising such a fantastic weekend - it is a real feather in the Law School's cap.
"Mooting has helped me in a great many ways, from public speaking to revision. It has many transferable skills that can be used outside the Courtroom. I cannot stress enough the positive impact it has had on my university life."
Jake Woodcock commented: "It feels great to have represented Aberystwyth University at the Welsh National Mooting Competition 2016. To be on the winning team has given me a sense of pride and achievement that I have not before experienced, nor will I ever forget. I would like to thank all that took part in making the day a great success. I would urge any present and future students studying at the Aberystwyth Law School to join any of the societies on offer and gain the valuable experience that I am so grateful for."
Sponsored by LexisNexis, the Welsh National Mooting Competition was originally set up by Aberystwyth students in 2009 and marked the first time that a national inter-varsity mooting competition had been held in Wales.
Now in its eighth year, the prestigious annual Welsh National Mooting Competition sees teams from several Welsh Law Schools and the Open University competing against each other arguing fictitious legal cases in mock court proceedings.
Moots are judged on the quality of the presentation of the legal arguments, rather than on winning the legal case.
Dr Glenys Williams, Theme Leader in Law and Criminology at Aberystwyth Law School said: "After rigorous early rounds of mooting, we are, of course, delighted that the Welsh National Moot Competition was won by the Aberystwyth team. Jake Moses and Jake Woodcock did an excellent job representing the University, and coped very well with the questions thrown at them by the judges. The standard of the mooting, together with the amount of work and effort put in by all the teams was commended by the judges. Thanks go to them and to those who worked so hard to organise this very successful event."
As the winning team hosts the following year's event, the Welsh National Mooting Competition will once again be hosted by Aberystwyth Law School in 2017.