Aberystwyth University supports Pony Club programme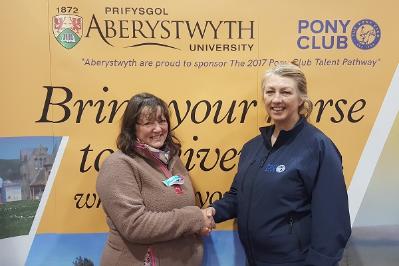 Julie McKeown, Head of Marketing at Aberystwyth University, and Jackie Minihane, Training Officer at The Pony Club. pictured at 'Your Horse Live'.
Aberystwyth University will be helping to develop the horse riders of the future thanks to a new partnership with The Pony Club.
The joint initiative was unveiled on Saturday 12 November 2016 at Your Horse Live – one of the biggest events in the equine calendar which is held annually in Stoneleigh, Warwickshire.
The aim is to help develop the talent of riders across the UK, with Aberystwyth University supporting The Pony Club's Talent Pathway 2017 programme which provides top class coaching for members.
Julie McKeown, Head of Marketing at Aberystwyth University, said: "We are delighted to announce this new partnership with The Pony Club and we look forward to working closely with them sharing equine expertise for the benefit of young, up-and-coming riders. Here at Aberystwyth University, we've always been very proud of our equine heritage and nurturing the talent of the future is part of our core mission."
Iain Heaton, Director of Operations for The Pony Club, said: "Our partnership with Aberystwyth University, who are one of leaders in the education field, will help us create the perfect platform to further the development of Pony Club Members who show the promise to compete at a high level. Through the scheme, we hope that each of the riders will gain in confidence and learn new skills to assist them on their journey to reaching their highest aspirations."
Aberystwyth is one of the few universities in the UK to offer stabling facilities to students regardless of their chosen degree subject.
Myfi Powell is a third-year Fine Art Student at Aberystwyth's acclaimed School of Art and she says being able to bring her horse with her has been beneficial in more than one way.
"I didn't bring my horse in the first year, but after learning more about the yard and visiting the stables I brought Rebel last year and I was so much happier for it. I gained a new group of friends and it was lovely to have somewhere to step away from work and have some time to myself."
Since graduating with a degree in Marketing and Psychology from Aberystwyth, Sophie Spiteri competes at International level in eventing competitions. She says that it would have been impossible if it wasn't for Aberystwyth University.
"I made lifelong friends on that stable yard and everyone was so supportive; if someone had a looming deadline you would all chip in so they could concentrate on their studies. We were all in the same boat so it brought us closer together. It made my time at University the best experience I could have ever hoped for. Competing is a still a passion of mine and if I hadn't chosen Aberystwyth I know I wouldn't be at the International level I am now."
Aberystwyth University is the longest established provider of equine courses in the UK and an accredited British Horse Society (BHS) centre.
Facilities on campus include a large equine teaching centre, a dedicated equine research centre, indoor and outdoor arenas, horse walker, weigh bridge, stables and foaling boxes with CCTV, demonstration areas and laboratories.
To find out more about Equine and other programmes at Aberystwyth University, take a look at our online prospectus at www.aber.ac.uk/prospectus or come along to one of our Open Days (www.aber.ac.uk/openday) and see the facilities for yourself.  Visit www.aber.ac.uk/equine for details about our livery.